Understanding the evidence on the impact of low-traffic neighbourhoods (LTNs) on cities and communities is an important part of their successful delivery. This page provides a handy reference list of existing research on low-traffic neighbourhoods to meet the evidence needs of any practitioners implementing them.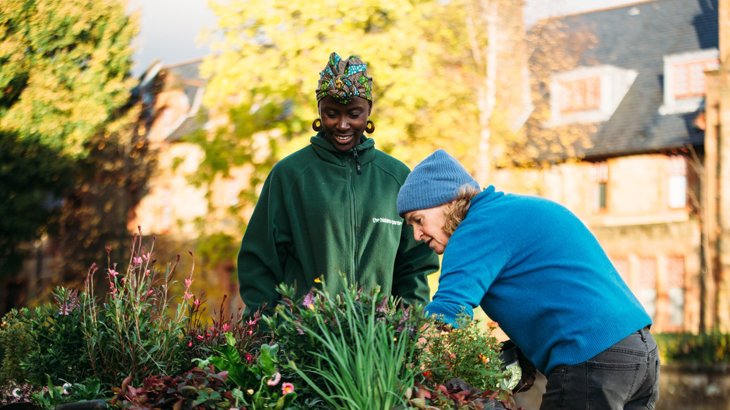 There's lots of research and evidence to support low-traffic neighbourhoods and the positive impact they can have on communities.
The evidence listed here covers topics that commonly feature in discussions around the delivery of low-traffic neighbourhoods. We also provide links to the original research.
  
The evidence on this page covers the following topics:
Evidence overview
Centre for London has published a comprehensive review of LTN rollout in London.
This 2022 report covers information and links to evidence on the public perception of LTNs, the impact of LTNs, and the potential future of LTNs in London.
Traffic reduction
A large-scale study on traffic evaporation
The paper was carried out by Cairns, S., Atkins, S., and Goodwin, P., in 2001.
It reviews over 70 case studies and collates expert opinions to assess the perception and impact of traffic volumes and travel behaviour change resulting from road space re-allocation schemes.
  
A 2023 study on changes in motor traffic levels inside London's LTNs and on boundary roads
This study by Thomas and Aldred reviews and analyses data from 46 LTNs in 11 London boroughs that were introduced between May 2020 and May 2021 to explore changes in motor traffic levels.
The analysis covers internal and boundary roads, looking at both actual changes in motor traffic, and what changes might have been expected based on background trends in London's three 'functional zones' (Central, Inner and Outer).
It presents both mean and median averages.
  
A 2020 study on the immediate and long-term impact of LTNs in three outer-London boroughs
This study by Aldred and Goodman looks at trends in car ownership and active travel among LTN residents between 2016 and 2019.
The research captures the evidence on whether low-traffic neighbourhoods are associated with an increase in walking and cycling and a decrease in car use among residents in LTN areas of Outer London.
  
The vehicle numbers before and after the implementation of the Walthamstow Village LTN
This comprehensive dataset shows the impact this scheme had on traffic reduction, with the data originally published in this report.
The DfT Gear Change report summarises changes in traffic levels within and outside of 12 LTN areas introduced between 2020/2.
This is part of a wider review of government spending for walking and cycling initiatives one year after announcing additional funding.
Centre for London's 2022 report also summarises changes in traffic levels within and on boundary roads of 10 LTN areas in London.
A number of Local Authorities have dedicated LTN pages that publishes recent motor traffic and active travel data. These include:
This 2021 poll of residents in Hackney, London, explores changes to walking, cycling and driving habits following the introduction of LTNs.
Public health and air quality improvement
A study analysing three years of data from the annual People and Places survey in London
It examines the active travel and physical activity impacts of active travel investment in outer London.
The comparison looks at changes in the amount of time spent walking and cycling and general physical activity levels in the local population.
Waltham Forest, a borough within the study, conducted air quality measurements pre and post the introduction of an extensive LTN scheme.
View the changes in Nitrogen Dioxide exposure within the borough published by air quality consultants (2018).
A two-part study by Kings College London in 2018 modelled the potential health improvements for Waltham Forest residents as a result of the LTN implementation.
The first report is a health assessment based on changes in air quality.
And the second report is a health assessment based on changes to the population's active travel habits.
  
Evaluation of LTN impacts on nitrogen dioxide and traffic
Researchers from Imperial College London evaluated the impacts of three LTNs in the London Borough of Islington on air pollution and traffic flows in and on the boundaries of intervention areas.
Street crime
A study into the impact of LTNs on street crime
The research has been carried out using police data from Waltham Forest.
It examines police street crime data from 2012 to 2019 to understand how this was affected by the introduction of LTNs in the area.
This includes overall street crime as well as different categories such as violence and sexual abuse and bicycle theft.
Goodman et al. used a similar methodology to explore the short-term association between the introduction of LTNs and street crime.
For this, they assessed the change in crime levels in 72 LTNs implemented during 2020 in London.
The economic benefits of walking and cycling
A useful resource on the economic benefits of walking and cycling is the repository of evidence compiled by Transport for London (TfL).
The page has a range of evidence and case studies from London and elsewhere.
And this includes a handy summary pack on the economic benefits of walking and cycling.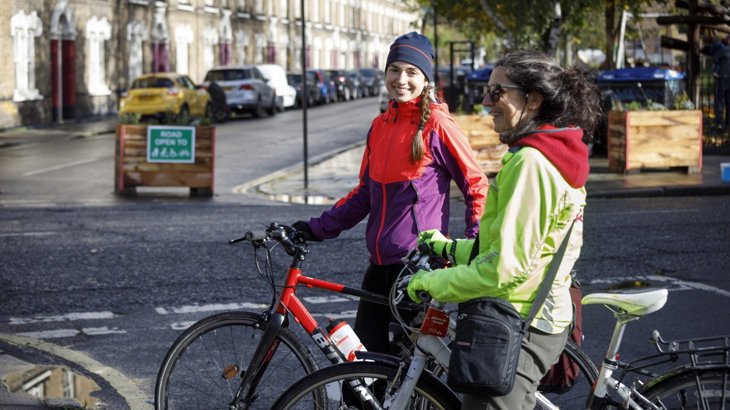 Emergency service access
Mini Holland in Waltham Forest blog
This blog presents the response time data from the Waltham Forest Fire Brigade before and after a number of LTN road closures.
The raw Fire Brigade response time data from Waltham Forest from 2011/12 to 2015/2016 can be accessed from their Freedom of Information request.
  
The impact of LTNs on emergency response times and patient safety
This was discussed at the London Ambulance Service Trust Annual Public Meeting on 29 September 2020.
The recording of the session (see from 1:07:33 to 1:10:19) shows the response of the London Ambulance Service Trust to recent installations of LTNs in London.  
Goodman et al. used data from 2012-2020 to explore Fire Brigade response times and reasons for delays in Waltham Forest.
They have also conducted research on the impact of 72 LTNs implemented in London in 2020 on fire brigade response times.
For this, they examined response times in October 2020-February 2021 ('post'), as compared to the same months in the previous two years ('pre').
The London Fire Brigade has published response times across the whole of London. Their 2020 report includes a specific section that addresses the impact of LTNs on incident response times.
    
Freedom of information request on ambulance response times
In November 2020 Cycling UK conducted a freedom of information request to the 12 UK ambulance trusts.
The trusts were asked:
to identify any active travel schemes introduced without their consultation
to identify any active travel schemes that caused emergency response delays and any outstanding problems relating to such schemes.
Whether they supported the principle of such active travel measures or their withdrawal.
Diverse communities and their travel behaviour
The 2011 Fairness in a Car-Dependent Society
This report by the Sustainable Development Commission explores the existing inequalities in the UK transport system.
It analyses current travel patterns and how the system serves the most vulnerable groups in society in comparison to those of the top socio-economic groups.
For example, the report compares statistics such as likelihood to own a car or be killed on the roads among these groups. 
It also includes key statistics on the transport behaviour of disabled, young, older, low income, Black, Asian and other minority groups.
  
A report by Transport for London (2019)
For London-specific data, this report examines qualitative and quantitative research on the barriers to accessing public transport by seven groups of Londoners.
The groups include:
Black, Asian and Minority Ethnic (BAME)
gender (women and men)
older Londoners (aged 65+)
younger Londoners (aged 24 and under)
disabled Londoners
Londoners on low incomes
and lesbian, gay and bisexual (LGB) Londoners.
Each population group is discussed separately in the report.
  
An analysis of equity and emergency LTNs in London
In November 2020, Aldred and Verlinghieri published a report which looks at how equitably low-traffic neighbourhoods have been distributed.
They examine where in London LTNs have been implemented (between March and September 2020), and disparities between boroughs.
In addition, they conducted a demographic analysis of travel survey data comparing residents of residential and minor roads (where LTNs are most likely to be implemented) and main roads or high streets.
This compares four protected characteristics:
age group
income group
ethnic group
and disability status.
In February 2021, Rachel Aldred and colleagues expanded on this research.
They explore the extent to which London's emergency LTN implementation between March and October 2020 was associated with age, ethnicity, disability, employment and car ownership (Census 2011) and small-area deprivation (Index of Multiple Deprivation 2019).
They used these to assess how equitable London's LTNs have been implemented:
City-wide across London
Within individual boroughs
At a micro level, between LTNs and the areas immediately adjacent to them.
  
The impact of emergency LTNs on disabled people
Published in January 2021 by Transport for All.
This report explores how disabled people have been impacted by LTNs installed during the Covid-19 pandemic.
Results are based on qualitative interviews conducted with over 85 disabled participants from across the impairment groups.
The report explores:
the barriers disabled people face to active travel
the impact of LTNs on disabled people
reflections on the engagement, consultation and EQIA process
recommendations for the future.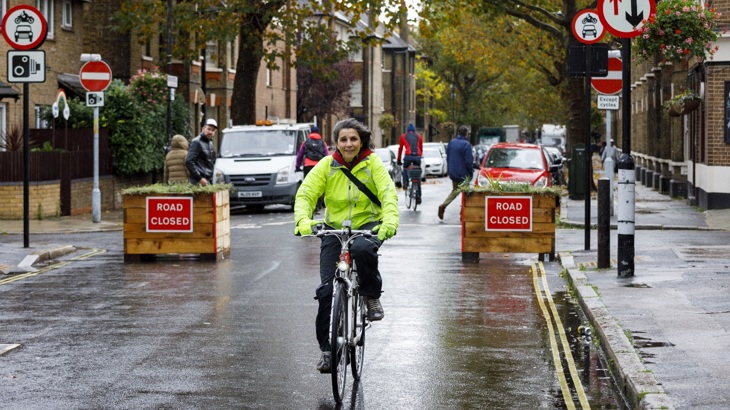 Road traffic trends
Road Traffic Estimates: Great Britain 2020
The Department of Transport has published statistics of road traffic trends across GB in this report.
The document analyses the long term changes of road traffic across different road networks, including key trends of traffic on minor/urban roads.
An article from the Guardian reviews the changes in background levels of traffic on quiet roads to assess rat-running.


Health Impacts of Cars in London (2015)
This Government report provides an in-depth analysis of car usage and ownership in London.
The report includes statistics on the purposes and lengths of car trips made by Londoners, calculating the proportion of all car trips that could be quicker if done by bike or foot.
Further evidence on potential modal shift can be found in Transport for London's Analysis of Cycling Potential 2016 report which analyses current travel patterns and identifies the potential for growth in cycle travel in London.
  
The Impact of low traffic neighbourhoods and other active travel interventions on vehicle ownership
Within London, a 2020 study by Goodman et al. examined whether active travel interventions, including LTNs, have had an impact on car ownership in the capital.
The research examined vehicle registration data from 2015-2019 in Outer London boroughs to understand if LTNs have had an impact on motor-vehicle use.
Support for low-traffic neighbourhoods
Public opinion reports
In their review of London LTNs, Centre for London's report contains a review of public views on LTNs based on feedback from opinion polls and surveys.
You can see evidence on public opinion on LTN schemes from a recent YouGov poll on the Guardian website.
For broader evidence on public attitudes towards cycling and cycle infrastructure, see our Bike Life reports and our Streets for everyone case studies. 
  
Resident perceptions of low traffic neighbourhoods survey results
The Department for Transport has carried out a survey to measure resident perceptions of low traffic neighbourhoods where they were introduced as part of the Emergency Active Travel Fund in 2020.
The research includes four locations in England: Birmingham, Bournemouth, Ipswich and Salford.
The findings cover:
public perception of government action in local neighbourhoods
support for road traffic reduction and road space reallocation schemes
perceived problems in local areas
perceived impact of low traffic neighbourhoods
and awareness or support for local and national low traffic neighbourhoods.
Road safety on residential roads
The impact of routing apps on driver behaviour across Los Angeles in 2018
A team of researchers at the University College of Berkeley examined the impact of wayfinding routes on traffic flows, including how the use of apps affects the amount of vehicle traffic on local neighbourhood streets.
  
Injury risk posed by motor traffic to pedestrians and cyclists on major and minor roads
This is a 2019 UK-based study by Rachel Aldred using police injury data captured between 2005 and 2015.
This analysis of pedestrian and cyclist injuries on urban minor roads adds to the picture of road safety on residential streets.
  
December 2020 Travel in London report
Published by Transport for London (TfL), it includes statistics on injuries and collisions on neighbourhood roads using data from between 2016 and 2018.
This evidence is related to maps of the current state of traffic and road danger reduction in residential neighbourhoods across London published in TfL's Strategic Neighbourhood Analysis in June 2020.
The report analyses residential neighbourhoods across the capital to gauge the potential for LTNs in each area.
The Strategic Neighbourhood Analysis includes two maps of through traffic and walking and cycling collisions within residential neighbourhoods in the capital.
  
The impact of introducing low traffic neighbourhoods on road traffic injuries
Using data from Waltham Forest, Goodman et al. examined STATS19 police data from 2012-2019 to understand the road safety impacts of LTNs through injury numbers.