Low traffic neighbourhoods are being introduced in cities and towns across the UK. They aim to make our spaces safer for everyone. But these changes are facing some public backlash. So we're here to bust a few common myths and explain why they should be given a chance.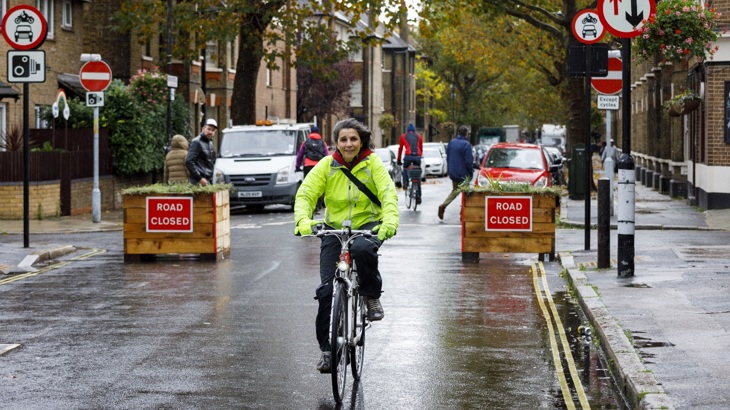 Making space on our streets is key to achieving cleaner air and a lower carbon footprint whilst building healthier, safer and more resilient communities. During covid-19 and beyond. Image: © Crispin Hughes
The Government has increased spending on making it easier for people to walk and cycle in response to the Covid-19 pandemic.
And creating low-traffic neighbourhoods (LTNs) is a part of this response.
   
What is a low-traffic neighbourhood?
In short, it's a scheme where motor vehicle traffic in residential streets is greatly reduced.
Networks of streets are opened up so people can safely travel through the area on foot, bicycle, by wheeling or by bus.
This is done by using temporary or permanent barriers called "modal filters".
These are things like bollards or planters. Or they can be camera operated.

What people think about low-traffic neighbourhoods
In some areas, these schemes are causing some public backlash and are facing opposition.
They are, after all, changes that affect how people get around.
There are also a number of myths that are popping up.
And these are making residents sceptical of the changes made.
So here, we're busting those myths because it's important that we give low-traffic neighbourhoods a chance.
Myth: Local businesses suffer because of motor traffic restrictions
Evidence shows that those who walk to a high street spend 40% more than those who drive.
Per square metre, cycle parking delivers five-times higher retail spend than the same area of car parking.
Converting car parking spaces to a place with seating and planters where people enjoy spending time, can improvement retail performance.
A study in Leicester found shop vacancy rates were five times higher on streets with high levels of traffic.
And retail turnover in pedestrianised areas generally out-performs the spending in non-pedestrian areas (Wiggins, 1993).
Busted: Reduced motor traffic can increase the amount that people spend in their local shops.
Myth: Low-traffic neighbourhood filters hugely affect local businesses who rely on regular deliveries made by a larger vehicle
Direct access to all properties is maintained. You may just have to take a slightly different route to get to some properties or businesses.
For businesses, this can be an opportunity to reduce the frequency of deliveries they receive.
Or they can change the way they make deliveries to a cleaner mode of transport for example by using a cargo bike.
Busted: You still have easy access to properties and business in a low-traffic neighbourhood. 
Myth: Blue badge holders aren't allowed access to low-traffic neighbourhoods
All residents are able to access their home by car as will visitors, and this always includes blue badge holders.
Deliveries from outside the area and service vehicles such as waste collection trucks will also have access but their routes may need to change.
The aim is not to remove all traffic completely, but to reduce the number of vehicles using the roads.
By encouraging those residents who are able to walk, wheel or cycle to do so should mean quieter streets for everyone.
And this includes those who need to make any essential journeys by car.
Busted: You can still access your home by car. This includes anyone with a Blue Badge and visitors to your house.
Myth: Having a car gives people, particularly those who have mobility issues or are worried about using public transport, more independence
Data shows that people feel walking and cycling give them more freedom and independence than driving.
Walking and wheeling are the most commonly used mode of transport for disabled Londoners.
For example, the proportion of disabled Londoners who drive a car to get around London is 28%, compared to 45% for non-disabled Londoners.
Outdoor spaces free from traffic are vital to maintaining good mental and physical health.
Research shows that those who regularly walk and cycle have a significantly lower risk of feeling stressed, anxious and depressed.
Busted: Being able to walk, wheel or cycle more of your every day, shorter trips can give you more independence and are great for your mental health.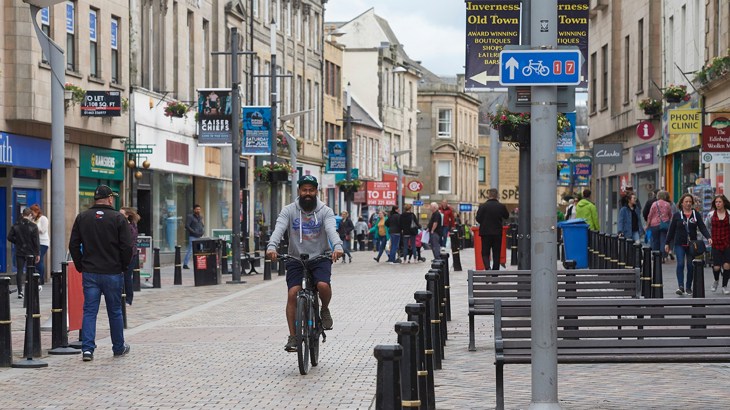 Evidence shows that those who walk to a high street spend 40% more than those who drive.
Myth: Closing roads to motor vehicles moves traffic to adjacent roads and causes gridlock
In the long-term, low-traffic neighbourhoods have created a reduction in the overall amount of motor traffic.
The increased congestion that can be seen in the first few days or months was a temporary effect.
Previous studies show that measures used in low-traffic neighbourhoods such as installing planters or bollards can change how people drive their cars.
Some people stop making particular trips, combine multiple trips into one, travel at a less congested time, or switch to public transport, walking or cycling.
For example, in a new low-traffic neighbourhood in Walthamstow Village, the number of cars using the main roads in the area did initially increase by between 3% and 11%.
But the number of vehicles on residential roads also decreased by 56%.
This means that across the overall area, there are around 10,000 fewer vehicles every day, an overall reduction in traffic of 16%.
Over time, traffic levels have started to fall back to previous levels on main roads too.
This is called "traffic evaporation" and has been observed schemes across the world.
Busted: Low-traffic neighbourhoods can help reduce the overall amount of motor traffic in an area.
Myth: Emergency services are affected by low-traffic neighbourhood measures
It is vital that emergency services are able to quickly and easily access streets.  
During the design phase of the low-traffic neighbourhood, the emergency services (ambulance, police and fire brigade services) have the opportunity to feed into the design.
This is to make sure they can still access the area.
Local authorities should continue to work together with the emergency services in relation to existing and future low-traffic neighbourhoods.
Busted: Emergency Services will still have quick and direct access to streets in a low-traffic neighbourhood.