Hadrian's Cycleway, National Cycle Route 72, takes you on a ride through some of England's most wild and dramatic countryside.
Follow the line of the Roman frontier for 170 miles (274 kilometres) from Ravenglass in Cumbria to South Shields in Tyne & Wear.
Along the way you'll take in magnificent coastal views, breathtaking countryside, Roman forts and museums, inspiring modern attractions, quaint villages and attractive market towns, all set in a World Heritage Site. This cycle route has it all.
Hadrian's Cycleway begins at the Glannaventa Roman Bath House, a short ride or walk from Ravenglass.
The route passes Ravenglass station and crosses the estuary on the railway bridge.
From here you will travel on mainly quiet roads and off-road paths through the villages of Holmrook, Drigg and Seascale, then past Sellafield nuclear plant before turning away from the coast towards the small town of Egremont.
Further on you will join the Sea to Sea (C2C) Route 71 and the Tracks of the Ironmasters which will take you into Whitehaven.
Western Lake District Tourism has plenty of suggestions for places of interest to visit around Ravenglass and Whitehaven including the heritage Ravenglass and Eskdale Railway and Muncaster Castle.


Distances
The route, from Ravenglass in Cumbria to South Shields in Tyne & Wear, is 174 miles (280 km).
Most people are able to complete the route in 3 days, but for those wanting to stop at the numerous attractions along the way, it is likely to take 4-5 days.
Please note there are sections of the Hadrian's Cycleway route that are not part of the National Cycle Network.
Ravenglass to Whitehaven - 22 miles (35.5 km)
Whitehaven to Maryport - 15 miles (24 km)
Maryport to Silloth - 16 miles (25.5 km)
Silloth to Angerton - 12 miles (19.5 km)
Angerton to Carlisle - 23 miles (37 km)
Carlisle to Brampton - 15 miles (24 km)
Brampton to Haltwhistle - 14 miles (22.5 km)
Haltwhistle to Hexham - 22 miles (35.5 km)
Hexham to Prudhoe - 11 miles (17.5 km)
Prudhoe to Newcastle - 13 miles (21 km)
Newcastle to South Shields - 11 miles (17.5 km)

Terrain
The route is a mixture of on-road and traffic-free sections.
It runs mainly on country lanes and quiet roads, interspersed with sections of traffic-free path, promenade and riverside path.
As most of the route is either on minor roads or well surfaced off-road tracks most bikes are suitable. We would recommend all tyres apart from full slick or racing bike tyres.
The coastal sections at either end of the route are relatively flat, but there are a few steep, short hills in the central section.


Route section suspended south of Sellafield station
The section of Hadrian's Cycleway, route 72, between Sellafield station and Seascale has been suspended until further notice because of coastal erosion.
If you need to travel between Sellafield and Seascale, we recommend using the train between these two stations.
The England Coast Path, which follows the same route in this location, utilises a narrow bridge and stepped route through the area – this alternative England Coast Path is only suitable for walking, and not for people using bikes or adapted cycles.
Finding a solution at Sellafield
We are currently conducting outline feasibility studies and investigating options to reinstate the National Cycle Network, with alignments being considered along the coast or inland.
The study will run until Spring 2024, when our findings will be published, and further feasibility and construction work will be funding dependant.
Seascale to Ravenglass:
Please also note that some of the roads between Seascale and Ravenglass are no longer part of the National Cycle Network following Reclassification.
Consequently, until an alternative route is found, Hadrian's Cycleway, route 72, will end at Sellafield railway station and the route signage will be covered over from this point south, down to the original end point at Ravenglass.
Whitehaven to Silloth
From Whitehaven you continue on a mixture of quiet roads and off-road paths, passing through the towns of Workington and Maryport, where you can visit the Senhouse Roman Museum, and then the small coastal resort of Allonby.
The section between Maryport and Allonby provides great off-road cycling with beautiful views out across the Solway Firth. 
Cycle hire for all types of cyclist is available at Solway Cycle Hire in Allonby for those who would like to stay in the area.
If you're looking for places to stay and things to do along the Solway coast then have a look at the Visit Allerdale website.
It has plenty of suggestions for additional cycle routes in the area as well.


Silloth to Carlisle
At Silloth the routes heads away from the coast for a while taking you down quiet roads through the north Cumbrian countryside.  It then joins the Solway coast at Anthorn with spectacular views across to Scotland. 
The route goes past the RSPB Campfield Marsh reserve and just beyond you will come to Bowness-on-Solway and the start of Hadrian's Wall.
The cycleway now follows the route of Hadrian's Wall taking you into the centre of Carlisle. If you are stopping in Carlisle then a visit to Carlisle Castle is easily done.
 
Carlisle to Hexham
Heading towards Haltwhistle and Hexham from Carlisle sees the end of the flat, low lying terrain along the west Cumbrian coastal plain.
Now there are some hills to tackle as you make your way across the North Pennines. 
However, there are plenty of reasons to stop and explore.  Between Brampton and Gilsland you pass Lanercost Priory,  and a little further on near Greenhead you can visit both Thirlwall Castle and Walltown Roman Army Museum.
Roman attractions are numerous along this section with visits to Birdoswald Roman Fort, Housesteads Roman Fort and Vindolanda all possible.
To find out more visit Hadrian's Wall Country website.


Hexham to South Shields
It's downhill all the way now (nearly) with Hadrian's Cycleway taking you from Hexham along the Tyne Valley and into Newcastle.
From North Shields, you'll need to take the ferry across the Tyne to South Shields. Ferries depart every 30 minutes. For more information visit the Tyne and Wear transport website.
Once you reach South Shields, it's a short ride to the Roman Arbeia Gatehouse.
Alternatively, you can stay in North Shields and continue on route 1 to Tynemouth and Tynemouth Castle.
Hadrian's Wall Cycleway Development Project
In 2018, the European Agricultural Fund for Rural Development supported the upgrade of route signing associated with Route 72, Hadrian's Cycleway, in Cumbria. Over 130 new signs were installed along the route.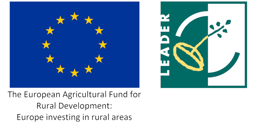 Please note
We have taken all responsible steps to ensure that these routes are safe and achievable by people with a reasonable level of fitness.
However, all outdoor activities involve a degree of risk. To the extent permitted by law, Sustrans accepts no responsibility for any accidents or injury resulting from following these routes.
Walking and cycling routes change over time. Weather conditions may also affect path surfaces.
Please use your own judgement when using the routes based upon the weather and the ability, experience and confidence levels of those in your group.