Between London, Hertfordshire and Buckinghamshire, find the gravel quarries that built London, the canal built to link England's two biggest cities, and lakes with a special place in the history of carp fishing.
No longer industrial, polluted and abandoned, the Colne Valley Regional Park is now a place for outdoor recreation and wildlife.
For relaxed family cycling and all ability wheeling we recommend the Ebury Way between Rickmansworth and Watford and the Rickmansworth Aquadrome.
Information on this page
Places to see and explore
The Grand Union Canal, built between 1795 and 1811
Denham Country Park (visitor centre and café)
Watersports at Hillingdon Outdoor Activities Centre (temporarily closed due to HS2 construction)
Watersports and fishing at various lakes in the Colne Valley
Rickmansworth Aquadrome
Batchworth Lock canal centre (museum, shop and working boat)
Croxley Common Moor
Oxhey Activity Park for skating, scooting and BMXing.
Local amenities
Cowley: The Malt Shovel pub
Uxbridge local shops and services
Uxbridge: Swan & Bottle pub
Harefield: Coy Carp pub and Jacks Mill café (open weekends and bank holidays)
South Harefield, Moorhall Road: The River Garden pub
Rickmansworth Aquadrome café and toilets
Rickmansworth local shops and services
Batchworth lock café at lock 81
Watford Cycle hub at King George V playing fields
Oxhey Activity Park café and toilets
Watford local shops and services.
Public transport
By train: Denham (Chiltern railways to High Wycombe and Marylebone), Rickmansworth (Chiltern railways to Aylesbury and Marylebone), Bushey, Watford High Street, Watford Junction (TfL rail services to London Euston)
By tube: Uxbridge (Piccadilly and Metropolitan lines), Rickmansworth, Croxley, Watford (Metropolitan line).
Find out more about using public transport to get to the National Cycle Network on our Get started on London's National Cycle Network page.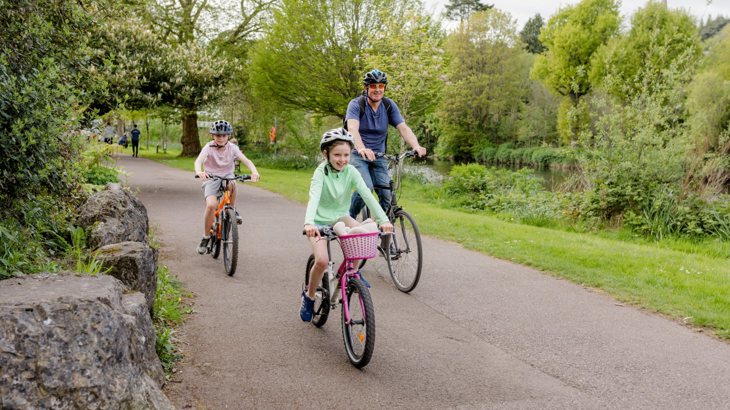 The Ebury Way, located between Rickmansworth and Watford, is a great stretch of this route for relaxed family cycling. Credit: Sarah Kate Photography
Local loops
We recommend these local routes for family friendly, traffic free and accessible adventures:
Continue on the National Cycle Network
Want to explore more of the National Cycle Network from this route? 
Follow these directions to find other National Cycle Network routes near here:  
From Watford, continue north on Route 6 to St Albans, Manchester and the Lake District. At St Albans join the 10km traffic free Alban Way to Hatfield (Route 61).
From Uxbridge, join Route 61 westbound to Slough and Windsor and link up with Route 4 in the Thames Valley.
Away from the National Cycle Network, the Grand Union Canal towpath continues eastbound for 11 miles from Uxbridge to the River Thames at Brentford. Take the Paddington Branch for 19 traffic-free miles from Uxbridge to Paddington.
Continue walking
Want to explore more of London's walking network from this route?    
Find out which other routes you can join from Route 6:  
Join the London Loop eastbound at Harefield or southbound at Uxbridge
Join the Hillingdon trail at Springwell lake or Harefield
Discover these self guided walks in the Colne Valley Regional Park, including the Colne Valley Trail
Continue north or south on The Grand Union Canal Walk
Join the Slough Arm of the Grand Union Canal at Uxbridge
Travel from West Drayton to Cookham on The Beeches Way in Buckinghamshire.
Find more useful information about walking in London on our Get started on London's National Cycle Network page.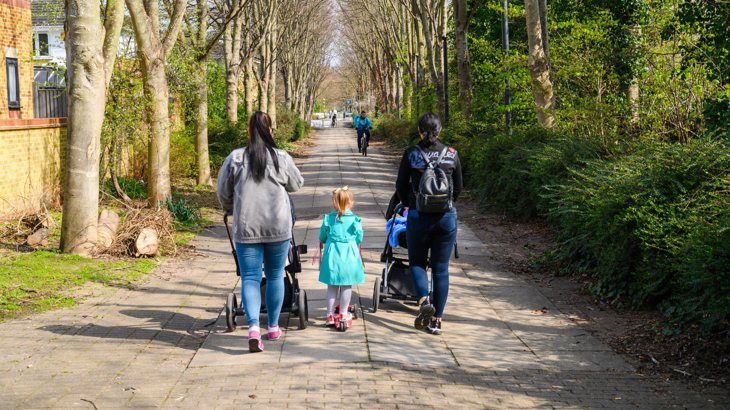 London's National Cycle Network connects you with many green and accessible paths for walking and wheeling. Credit: photojB
Accessibility information
Barriers
There is a barrier at the entrance to Denham quarry woodlands. This can be avoided by remaining on the towpath.
At Harefield, there is a barrier and kissing gate. These can be avoided by remaining on the towpath.
At Riverside Recreation Ground in Watford, there is a staggered chicane barrier.
Surface
The canal towpath between Rickmansworth and Uxbridge is mostly narrow and unsealed, and can be muddy in winter.
The Ebury Way between Rickmansworth and Watford is mostly unsealed, and some parts can be muddy in winter. Close to Rickmansworth, there is a short narrow section which reduces to 2m in width.
Denham quarry woodlands has a 1km with a narrow surface and tree roots making the surface uneven. This can be avoided by remaining on the towpath.
Steeps and steps
At Stockers Lock in Rickmansworth, a short steep slope connects Rickmansworth Aquadrome to the towpath. The towpath is steep and narrow next to the lock.
The turnover bridge near Denham has steep steps. This can be avoided by remaining on the towpath.
Take care
This route has these busier on road sections:
At Iver lane, there is an uncontrolled crossing with no pavement
At South Harefield, the route uses busy Moorhall Road for 200m. This can be avoided by remaining on the towpath
At Watford, there is an uncontrolled crossing over the busy Thomas Sawyer Way.
Black Jacks lock – Harefield - Springwell Lane section
For approximately 3km, this route leaves the canal to take a parallel route to the east. The below can be avoided by remaining on the canal towpath:
Between Black Jacks lock and Harefield there is 300m of poor surface and a barrier
Between Harefield and Springwell Lane there is a kissing gate and 1km of very poor surface, and a steep incline on Springwell Lane.
Please note
We have taken all responsible steps to ensure that these routes are safe and achievable by people with a reasonable level of fitness.
However, all outdoor activities involve a degree of risk. To the extent permitted by law, Sustrans accepts no responsibility for any accidents or injury resulting from following these routes.
Walking and cycling routes change over time. Weather conditions may also affect path surfaces.
Please use your own judgement when using the routes based upon the weather and the ability, experience and confidence levels of those in your group.