We're working hard to become a charity for everyone. Here, we share some of the best tools and guides you need to make walking and cycling truly for everyone.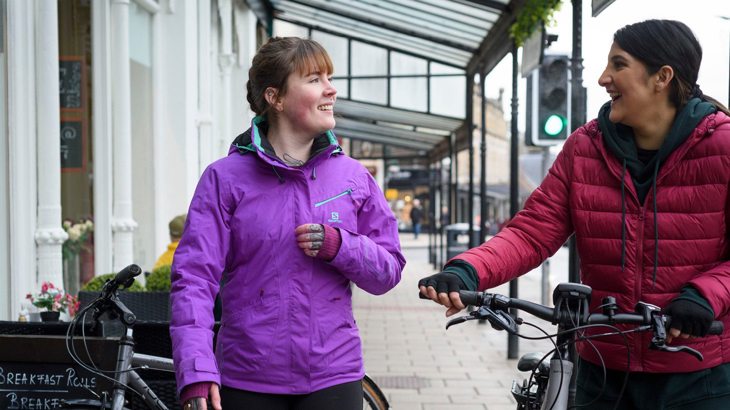 Collecting data for different groups
Different have different needs, barriers and solutions in relation to travel.
If we don't collect data for different groups (known as disaggregated data) transport systems tend to be designed for the 'default user' - assumed to be white, middle-class, able-bodied and male.
Understanding the travel patterns and needs of diverse populations can help create more inclusive walking and cycling.
  
Cycle Propensity Tool – Travel to school and gender equality
The Propensity to Cycle Tool is widely used in England and Wales to understand where to build cycle routes for work that are most likely to increase the number of people cycling.
It includes a gender equality scenario which we would advocate that more local authorities use to inform their cycling infrastructure plans, as well as the new base layer on cycling to school.
  
Sport England Active Lives Online Tool
The Sport England Active Lives Online Tool allows users to explore data on participation in sport and exercise, including walking and cycling in multiple ways.
For example, you can review the data for different activities, different locations and different demographic groups.
  
Bike Life is the largest assessment of cycling in urban areas across the UK and Ireland. Bike Life from 2022 will include data on walking in addition to cycling.
Data collected is representative of the cities and towns and the people who live there.
We have used Bike Life data to understand how we can make cycling more inclusive and are currently developing similar guidance for walking.
Inclusive policy and budgeting
Inclusive budgeting is a tool to understand and make visible the differential impacts of budgets across different populations, in order to enable a more equitable distribution of funding and resources to respond to different groups' needs.
  
Gender Responsive Budgeting - Vienna, Austria
Vienna was one of the first cities to integrate gender mainstreaming principles in urban policymaking and planning.
The city adopted gender budgeting in 2006, requiring all city districts and departments to assess public spending and the provision of public services to ensure they do not exacerbate gender or other inequalities.
For example, the collection of gender-disaggregated data on public transport usage found that women walk and use public transport more than men.
As a result, city officials allocated more investment in pedestrian safety improvements, for example widening pavements; introducing more drop kerbs to better accommodate prams, wheelchair users and older people; altering traffic lights to prioritise pedestrians.  
A handy guide to Gender Responsive Budgeting by the Women's Budget Group and Oxfam can be found on the WBG website. 
  
Racial Equity and Social Justice Initiative, Madison, Wisconsin
The Racial Equity and Social Justice Initiative in Madison, Wisconsin provides tools to build in equity into the design and delivery of policies, plans, and budgets.
For example the tools have been used for a policy review of the traffic calming programme, and to ensure inclusive stakeholder engagement for planning an accessible playground, with a particular focus on communities of colour and disabled people.
Participatory safety audits
Perceptions and experiences of safety are nuanced and shaped by identity.
Participatory safety audits are a practical tool that can help evaluate people's perceptions and experiences of safety in different places.
  
The US-based Safe Routes Partnership recommend conducting Safe Routes to Parks walk audits with local communities to understand how accessible, safe and inclusive their parks and green spaces are.
They have produced a toolkit on how to plan and conduct a safe route to parks walking audit to assist in the development of appealing routes to green spaces that ensure people are safe from traffic and personal danger.
  
UN Women recommend conducting gender safety audits with local women and girls to identify areas where they feel unsafe in public spaces and on public transport.
By systematically collecting data on areas where women and girls have safety concerns, local authorities can take action to make women and girls feel safer.
This may include improving street lighting, investing in bystander intervention training and reviewing protocols to ensure women's safety on public transport networks.
Inclusive design
The design of streets and neighbourhoods and transport networks and systems is critical to make public space more welcoming, inclusive, comfortable and safe.
  
Cards for humanity is a practical tool to help you design more inclusively.
Inclusive design allows everyone to access, use and enjoy a service experience. No matter what their situation or context.
  
Black Females in Architecture (BFA) is a network and enterprise founded to increase the visibility of black and black mixed heritage women within the architectural industry and other built environment fields.
In so doing, BFA actively addresses issues of inequality and diversity within the industry.
  
Queering Public Space, a collaboration between Arup and the University of Westminster explores the relationship between queer communities and public spaces.
This research explores how LGBTQ+ people can feel safer and included in urban public spaces, to establish a set of recommendations that help address this deficiency.
  
Get Home Safe guidance
Atkins' 'Get Home Safe' report calls on transport planners and urban designers to take action to create safer first and last-mile journeys for women.
The report identifies six areas local authorities can focus on to create safer journeys for women:
landscape
human presence
digital
infrastructure
community/social
and Tender Loving Care (loving our streets).
Social support
Physical infrastructure is necessary but not always sufficient to increase the diversity of people walking and cycling.
Social support in the form of targeted campaigns, community outreach, education, as well as peer mentoring and support schemes – is often required to normalise walking and cycling and make people feel walking and cycling is for 'people like me.'
  
Founded in 2019, Black Girls Hike provides a safe space for Black women to explore the outdoors.
Challenging the status quo, and encouraging Black women to reconnect with nature, we host nationwide group hikes, outdoor activity days and training events.
  
The Wheels for All initiative is a nationally recognised programme that embraces all children and adults with disabilities and differing needs, to engage in a quality cycling activity providing fun and stimulating cycling across the UK.
  
The Bristol Bike Project is a community bike project in Bristol that was founded in 2008 to help asylum-seekers access affordable and sustainable transport.
As a member-led co-op, it offers a range of community programmes and opportunities for people to learn how to do cycle repairs and mechanics
  
The Women of Colour Cycling Collective
The Women of Colour Cycling Collective is a support network for minority ethnic women and non-binary people who cycle in the UK.
Through group rides, social gatherings and classes (e.g. basic repairs and mechanics), the collective aims to bring together, support and empower diverse female and non-binary cyclists.