Do School Streets cause traffic displacement? How do School Streets affect road safety on surrounding roads? The Road Safety Trust commissioned Sustrans to research School Streets and traffic displacement. Here's what we found.
Why do we need School Streets?
Road safety remains a severe problem in the UK, particularly during the school run.
One way of addressing school road safety is through School Streets.
School Streets are timed access restrictions to the street outside a school to motor vehicles, usually during drop-off and pick-up times.
Restricting the number of vehicles on the school run creates a safer and friendlier atmosphere.
Sustrans has supported over 70 local authorities to implement School Street, resulting in schemes being implemented in over 500 schools.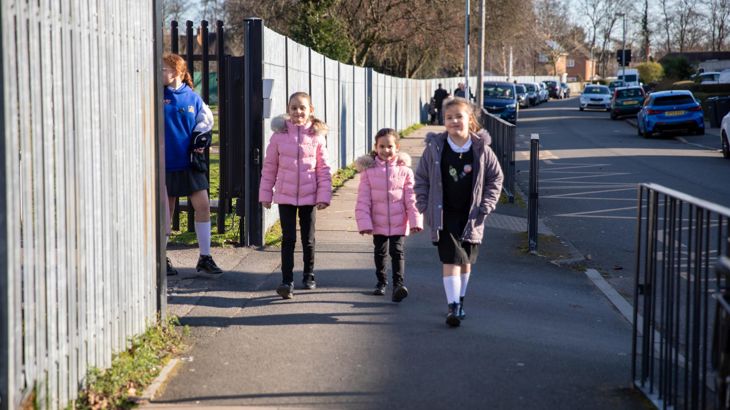 Children enjoying School Streets in Birmingham. Photo credit Mudasar.din
Understanding the effects of traffic displacement
There is limited understanding of the wider implications for road safety of School Streets, particularly on the surrounding road network.
The displacement of traffic to adjacent streets is an area of particular interest.
The concern is that the displaced traffic could make the surrounding streets more dangerous.
To analyse the impact of School Streets, Sustrans monitored two Birmingham City Council car-free School Street schemes.
At the two selected schools, Hillstone Primary School and Somerville Primary School, we monitored:
traffic speed
traffic volume
illegal or hazardous parking and driving behaviour
traffic interactions.
We also surveyed parents and local residents, and interviewed local authority team members and school staff.
Sampled areas included the immediate area affected by the road closure and other areas of concern on the edge of the school street.
A local road not directly impacted by the school run was also monitored for traffic speed and volume for comparison purposes.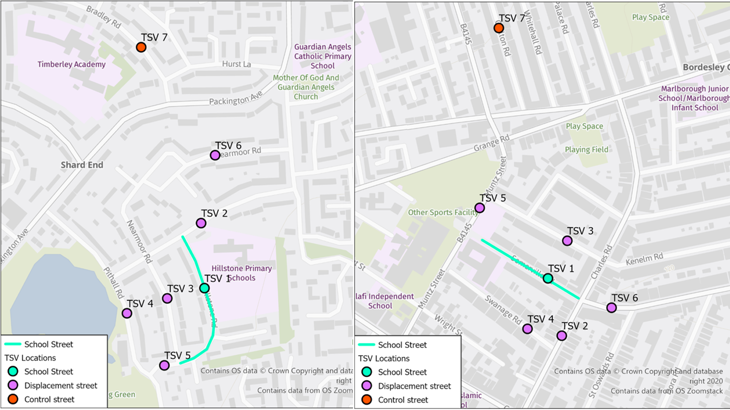 We monitored the traffic on Hillstone Primary School and Somerville Primary School School Streets, as well as surrounding areas and control streets for comparison
Positive conclusions
The research showed that School Streets lead to overall drops in traffic volume, and despite traffic being displaced to some degree to surrounding streets, this does not create road safety risks that cannot be adequately mitigated.
A further benefit was an improvement in perceptions of safety on the school road and the surrounding streets after School Streets were implemented at both schools.
Over time, the overall impact of both School Streets changed in both direction and extent, suggesting that there is a 'bedding in' period for such schemes.
Strong support from local residents
The surveys carried out on residents showed an overall rise in the percentage of people who believed the school road and surrounding roads were safe following the introduction of the School Street.
47%
of respondents said that Somerville Road was safe (a rise from 19%)
40%
of residents thought the surrounding roads were safe at Somerville Primary School (a rise from 29%)
I get to meet some lovely parents and I get to meet all the lovely children and it's a nice part of the day.
Sharing best practice
At the end of this project, Sustrans produced a Technical report covering the monitoring project and the results which can be found on the Road Safety Trust website. 
We also produced A Practitioners Guide, setting out best practices for school street schemes.
The Practitioner's Guide advice for running a school street project.
The knowledge has been collated from experienced officers across the UK.
The advice is also relevant to all authorities at any stage of their school street project.
The document is split into common topics discussed by Sustrans officers, local authority partners and schools we work with.
Each topic should be considered and planned carefully for each School Street project.
Topics covered in the guide include:
responsibilities
monitoring
behaviour change
communications
branding
stewarding
barriers and signage
Automatic Number Plate Recognition (ANPR)
long term.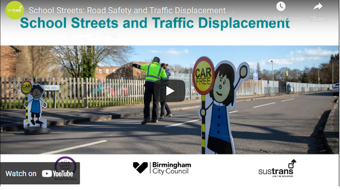 For more information on how Sustrans can help you implement School Streets, contact our Education team.