Supported by a grant from the Big Lottery Fund The Connect 2 programme completed many high-quality walking and cycling routes between 2009 and 2013. We worked closely with a range of partners during 2009-2013, extending the National Cycle Network into more than 80 communities across the UK, supported by a grant from the Big Lottery Fund.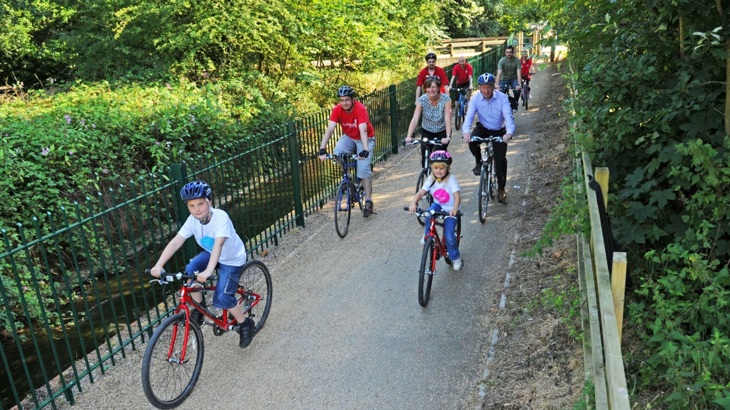 Connecting communities with safe routes 
We provided safe crossings of barriers such as busy roads, rivers and railways, making it easier for people to access safe, convenient traffic-free cycling and walking routes. These improvements were delivered under the Connect2 programme which created:
84 new walking and cycling networks
80 major new safe crossings of roads (and countless more smaller crossings)
over 100 brand new or renovated bridges.
The project focused on providing cycling and walking infrastructure such as new bridges and crossings that overcame busy roads, rivers and railways, making it easier for millions of people to walk and cycle for everyday journeys to shops, work, schools, friends and family.
Measuring impact
However, few studies have shown how environmental changes like this lead to behaviour change in relation to physical activity. The wider impact on public health has therefore been difficult to discern.
To show evidence of the impact on people and their communities, leading experts from a number of top universities formed the iConnect consortium, which was funded by the Engineering and Physical Science Research Council (EPSRC). The iConnect study aimed to measure and evaluate the changes in travel, physical activity and carbon emissions related to schemes across the UK.
Research papers from the iConnect consortium are beginning to shed further light on the effects of schemes that aim to overcome local severance by supporting walking and cycling. Our new report picks out the research headlines relating to physical activity and highlights some of the most significant findings of the papers in respect of three key areas.
Good planning and design of walking routes impact on the increase in physical activity
The research indicates that walking and cycling routes can have the most impact on physical activity when they run close to the places where people live. Routes that change the environment in a highly visible and dramatic way (e.g. changing the context of local areas, or including superior design features) are also shown to enhance impact.
Understanding the transition from recreational to functional trips
We have concluded from the research that schemes of this nature increase cycling and walking, and that benefits build-up over time. Much of the focus of the development of the route is for functional trips.
Recreational trips are a good starting point in respect of population level physical activity, but we need to understand better the transitions of users from trip-making for recreational purposes to functional purposes. Networks need to grow and to connect in order to optimise impact.
The impact on the community
The research shows that interventions that support walking and cycling enable people to become more active. Increases in physical activity levels are observed throughout the community.
Scheme promoters should seek to ensure that walking and cycling routes address the needs of the whole population. This includes recognising that the nearer people are to a route, and the more they use a route, the more likely they are to view the environment as 'supportive'. This perception encourages further use of the route by those individuals.
Contextualising the research by making the link between findings and the practical aspects of delivery
To give these findings some context we set them alongside some specific examples of schemes from the programme where these results are best illustrated. In making explicit the link between the research findings and the practical aspects of delivery, we are seeking to build awareness of the effectiveness of infrastructure that overcomes severance through walking and cycling in supporting engagement in physical activity.
The scheme case studies link these findings to the sorts of changes that can easily be made to local environments to improve connectivity.
Our urban landscapes are too frequently unsympathetic to local trips made by active modes
Investment in a supportive environment clearly brings health benefits, and can also bring mobility, environment and economic benefits. Experience suggests that engagement with the communities within reach of the walking and cycling networks can amplify these benefits.
Involving communities in the design stages, and then engaging them as the network is developed may help to lock in these benefits. This makes the case for supporting capital investment programmes with a revenue funding stream for engagement activities.
Transferable and scalable principles
The lessons learned from this programme, including findings yet to emerge from the iConnect research programme and from ongoing monitoring of the walking and cycling routes, are applicable at individual scheme level, at local area level, and at national level. 
The work of Sustrans and iConnect to analyse these projects and the wider National Cycle Network, serves as a knowledge base that helps to make the case for environmental interventions that support and promote walking and cycling. This learning can help to facilitate the effective delivery of capital investment. In particular, this evidence leaves us very well-placed to optimise public health benefits.
Sustrans will be happy to discuss with commissioners and partners developing, planning and delivering solutions that support walking and cycling.
If you would like to discuss these reports, please get in touch.