Research from Sustrans and A Place In Childhood places the spotlight on the importance of designing the built environment for and with young people.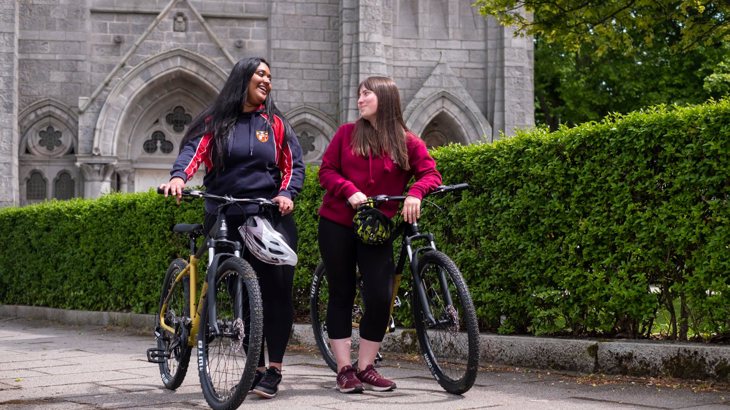 The publication details the needs of young people when walking, wheeling or cycling. Credit: Brian Sweeney/Sustrans.
The publication details the needs of young people when walking, wheeling or cycling.
It showcases effective approaches to incorporating their perspectives in projects.
In doing so it addresses a portion of society which has historically been neglected in urban planning and transport provision.
The importance of independent mobility
In this report, children and young people's 'independent mobility' refers to the freedom that people aged 11-16 have to roam public space and reach key destinations without the accompaniment of an adult.
We know this has been declining across the UK for at least the last 50 years, and the consequences for young people's quality of life are well documented.
However, we still have some way to go towards building a picture of what youth-friendly infrastructure looks like, and understanding the key ingredients for bringing this about.
Dr Jenny Wood, the study's author, said:
"Developing independence is an important part of growing up, and yet without opportunities for active travel young people are often dependent on parents or carers getting them from A to B by car.
"This participatory research project shows that young people are very good at showing us what could be better in the places they live, but all too often their views are assumed or ignored.
"While most research on this topic has so far focused on travel to school, this work covers any and all the places young people in our case studies wanted to access.
"The results set a framework for how we can make positive interventions in infrastructure to get more young people walking, wheeling and cycling."
Young people are very good at showing us what could be better in the places they live, but all too often their views are assumed or ignored.
What did the research set out to explore?
What do young people and their parents/carers need from active travel infrastructure to be healthy, happy and safe when travelling independently on their everyday journeys?
Current issues: What are the things which deter young people from travelling independently and parents/carers from allowing it?
Priority areas for action: What changes would have the biggest positive impact on young people's confidence and motivation to walk, wheel and cycle?
How would new and improved active travel infrastructure change the travel experience?
What did we do? The research approach
The research took a 'participatory' approach, meaning it placed young people and parents/carers' lived experiences at the heart of answering the above questions.
The researchers worked with groups of 'young consultants' and parents/carers in four Scottish communities which spanned different socioeconomic and rural-urban scales.
Each community worked to co-produce 'active travel maps' of their areas which display and describe the experiences of living in each place.
The results from each location are brought together with evidence from published research to highlight the key changes to the built environment and social factors which would encourage independent active travel.
What did we find?
The findings emphasise that young people's travel is about far more than simply getting from A to B.
Getting out and about depends on the quality and availability of motivating and accessible destinations.
For independent active travel these need to be connected by safe and enjoyable routes.
Equally important are the broader cultural factors. These include:
Tackling antisocial behaviour in communities
Building an inclusive cycling culture
Ensuring adequate internet and mobile technology coverage in public space
Encouraging families to become more familiar with active travel opportunities with their children.
The report also showcases the detailed place-specific outputs from working with young people and parents/carers in this participatory way at a local level.
Differences in terms of urban/rural differentiation, socioeconomic status of area, age and gender are explored alongside the overall picture for the UK and Scotland.


Read the full report: Enabling Independent Travel for Young Scots.

Find out why getting transport right for young people is so important.