Started in 2021, the E-Move project is funded by the Welsh Government. It's providing people in many areas of Wales with a free electric cycle loan. Reporting on the project's first year, our team in the Research and Monitoring Unit (RMU) had the opportunity to collaborate with an MSc researcher from Cardiff University and analyse interview data from participants of the project.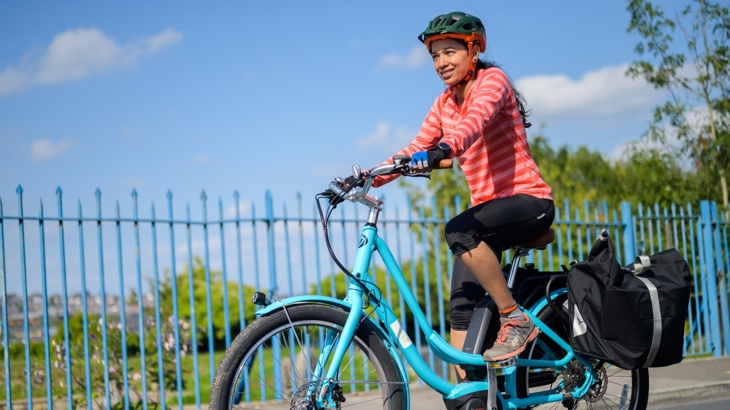 The E-Move project has helped many people in Wales get around actively with a free e-bike loan. Credit: photojB
Since the project began, we've interviewed people who have borrowed e-bikes and e-cargo bikes to try and better understand their experiences with the loan, and e-cycles in general.
With the permission of interview participants, our team shared interview data with Jack Kinder, an MSc student at Cardiff University.
Jack was interested in researching e-cycles and their potential impact on rural communities in Wales and transport-related carbon emissions.
In his thesis, he analysed the data on E-Move using a theory of behaviour change called practice theory.
This theory considers the way we behave as a complex issue that is not just dependent on our individual agency but also on the way our societies are structured.
It sees decision-making as a function of a series of social practices that are influenced by wider environmental and social conditions, as well as our individual life experience.
Identifying societal barriers
From the E-Move participant interview data, there were several barriers identified that people commonly faced when it comes to cycling.
These barriers include:
the quality of the user's bike
terrain and landscape
lack of dedicated cycling infrastructure
not feeling welcome on roads
negative views about cycling
perceived danger
stigma from other road users and people cycling.
These barriers are also often the reason why people choose to use motorised transport over cycling in rural settings.
There is a fairly flat route between my house and town, but I prefer not to go down the main roads because I don't feel particularly safe on a bike with the traffic.
It was also identified that there are barriers to cycling and e-cycling that affect different demographics, such as women or older people, more than others.
These barriers include:
trip-chaining (trips with multiple stops) where childcare is involved
the size and bulkiness of cycles, and the effort of moving them
perceived danger of sharing road space with motorised vehicles.
You see a few people cycling, but it's so hilly that it's impractical unless you are 21 and super-fit.
Overcoming barriers with e-cycles
Electrically assisted cycles have the capability to overcome a number of the barriers found.
E-Move has been successful in reducing the physical exertion barrier and allowing people to cycle further and more often.
What I loved about it is that I could go further and faster... Usually, I'd be able to pootle around Aberystwyth for an hour but with the e-bike I could go quite a lot further which is something that I enjoyed... I'm 70 now so it just gives me a bit of a boost particularly with all the hills.
It has extended the length of time older participants feel confident to cycle for, and has improved their sense of independence.
The electrical assistance in e-bikes and electric cargo bikes has also improved acceleration, making users feel more comfortable cycling alongside road traffic.
A couple of times I'd just go into Newtown to do some shopping, which I wouldn't have done on a standard bike... by the time you've put 5kg of shopping on, you're not going to do that on a standard bike 8 miles out of town, so yeah very positive!
Some e-cycles even have child seat attachments, and participants said that e-cycles made their child-caring responsibilities easier to fulfil than using a car or taxi.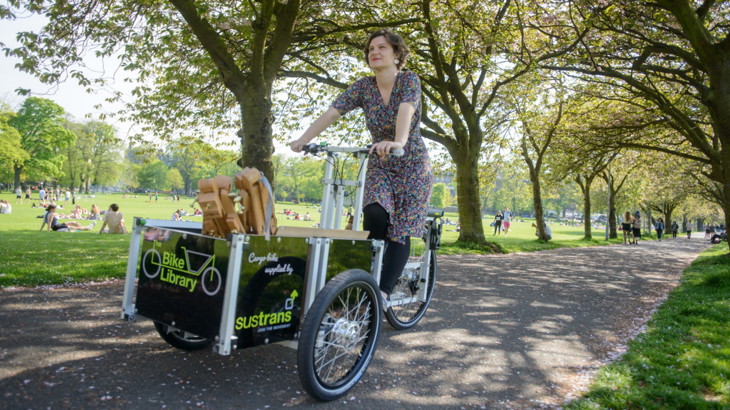 E-cargo bikes make it possible for people to leave the car behind and cycle instead when transporting things. Credit: John Linton
Extending the E-Move project
The success of E-Move has led to the project being extended for a third year.
But as identified in our RMU team's research, there are still some challenges with e-cycles that need to be addressed.
The first and most pressing for many of the participants has been the purchase cost of electric cycles.
This becomes apparent as their loan period comes to an end and participants consider buying an e-bike to continue cycling.
To make it a more realistic habit to maintain, we have invested in more affordable models for participants to try out and consider for the future.
A number of other challenges were identified, such as concerns for personal safety and uncertainty of where e-bike users belong on the road.
When it comes to our work at Sustrans, we continue to recommend all cycle users to find training with an accredited provider.
We are also challenging the UK Government's funding cuts to active travel which will only make it harder for people to travel actively.
Addressing these issues will help more people to walk, wheel or cycle their everyday journeys.
Analysing the data collaboratively
This collaborative approach between Sustrans and Cardiff University was an excellent opportunity for an academic institution to dig deeper into the data where Sustrans might not have the resources to do so.
It was also a great opportunity for Jack to work with real-world data, the analysis of which will have a real-world impact.
In conclusion, the thesis found that E-Move should be expanded so that it can reach as many people as possible.
E-cycles have shown to be an effective way of reducing the physical exertion barrier and increasing the enjoyment of cycling.
They offer significant positives to help people swap everyday journeys away from motorised vehicles.
By delivering e-cycle loans to as many people as possible, we can help people overcome their barriers to cycling and support them to travel actively.
E-Move has entered its third year after an extension to 2024 made by the Welsh Government.
Find out more about the E-Move community e-cycle project.