New research by Sustrans Scotland has revealed that despite well-documented health and environmental benefits, active travel continues to be portrayed in the media as risky and unsafe.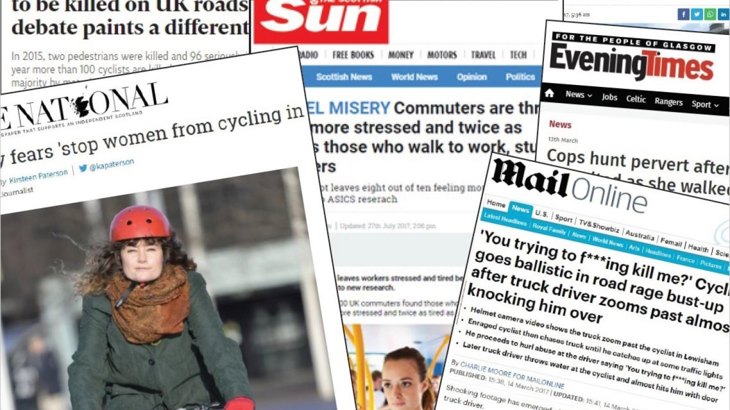 The research, funded by Transport Scotland and conducted by Sustrans Research and Monitoring Unit (RMU) analysed 600 articles over a 12-month period from online news outlets papers across the UK and Scotland to explore how walking and cycling is represented, and how people who walk and cycle are portrayed to the general public.  
The research is to be presented in full at the international cycling conference Velo-City 2019 in Dublin.
Researchers analysed articles from four perspectives:
Thematic: looking at the broad news angle;
Sentiment: understanding whether the news article or feature is broadly positive or negative;
Discourse: looks in more detail about how walking and cycling are represented.  
Visual analysis: examining the types of images used when portraying people walking and cycling. 
It is the first media analysis of this type to look at portrayals of active travel in the Scottish media. 
Key findings
News articles seem to zone in on 'criminal acts' – where a crime is committed by or against a cyclist or person walking, or a person walking or cycling witnesses a crime, or 'safety' – reporting an incident or event which results in injury or harm. 
The majority of articles (61%) about walking and cycling are broadly negative. However, there are some regional variations.
UK National papers have a greater percentage of positive articles about walking, whereas both the Scottish National and regional papers have a much higher percentage of articles that are positive towards cycling.
There were positive themes too. The theme of 'infrastructure' featured in 64% of positive articles about active travel and 'health' is featured in over 93% of articles providing a positive view of active travel.
'Infrastructure' articles coded as 'negative' were not necessarily anti-walking or cycling, instead of discussing the poor infrastructure that needs to be improved to make these areas safer, again highlighting the perceived 'dangers' of active travel.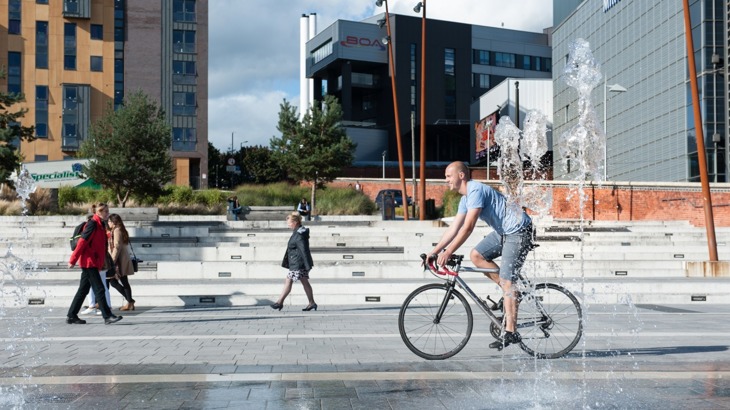 Images of active travel in general and cycling, in particular, were predominantly of white males.
'Health' articles were mainly focussed on walking, and found in UK National media. There may be an opportunity to further promote the health benefits of cycling in Scottish media.
One of the key findings was in the 'visual' analysis. Images of active travel in general and cycling, in particular, were predominantly of white males. 
Of those portrayed actively walking or cycling, 50% of images contained only men, while 27% showed only women. This gap widens when looking exclusively at cycling images (63% male and 18% female). Active travel articles significantly over-represent images of white individuals (96%) in comparison to BAME individuals (4%), highlighting the lack of diversity. 
According to the research, images can often make people walking and cycling look vulnerable, or less than human "through the use of isolated or car-dominated locations, a 'voyeuristic' camera angle, and content such as showing only someone's feet, which makes it difficult for readers to connect and relate to the individual pictured."
We in the sector also need to make sure we don't inadvertently reinforce stereotypes, or add to a climate of fear rather than celebration.
Will Wright, lead researcher, will present the findings in full at Velo-City 2019, in Dublin, an international conference organised by the European Cycling Federation (ECF) with over 1,200 delegates from 45 countries worldwide. 
Commenting on the findings, Sustrans UK Deputy CEO, and National Director, Scotland, Northern Ireland and the Republic of Ireland, John Lauder said: "It was encouraging to see that the Scottish media is reporting health messages on cycling and that the UK media recognise the benefits of walking.
"But there is still work to be done on ensuring both cycling and walking are not stereotyped and associated imagery is much more widely representative. We in the sector also need to make sure we don't inadvertently reinforce stereotypes, or add to a climate of fear rather than celebration".
Sustrans Research and Monitoring Unit Deputy Director, Nathan Farrell said: "This is one of the most comprehensive overviews of the media portrayal of active travel in Scotland. It explores some of the key challenges that emerge when reporting on cycling. In particular, it highlights how the media's preference for the types of dramatic and sensationalist stories that appeal to audiences often underplays the more widespread health and environmental benefits of cycling.
"Ultimately, the research points towards the need for a more engaged dialogue between active travel advocates and media practitioners in order to more accurately represent the benefits of cycling".