School Street and Play Street schemes provide spaces for children and adults to play and socialise. They create happier, safer and healthier streets that enable communities to connect and flourish.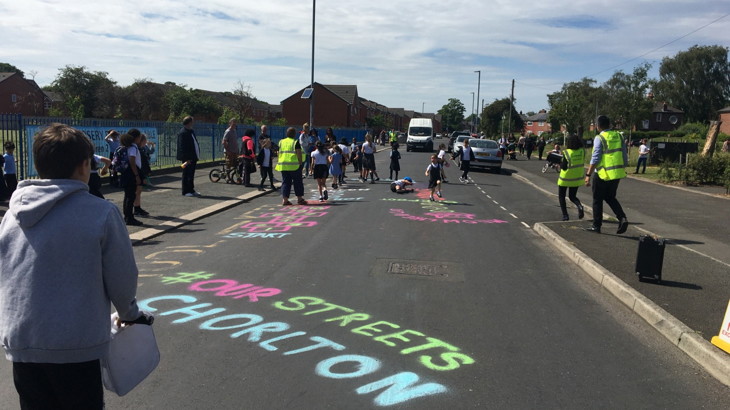 Barlow Hall School Street trial. © Our Streets Chorlton, all rights reserved
A rising interest in School Street and Play Street schemes
In recent years we've seen a surge of interest from communities and authorities wanting to implement School and Play Street schemes.
A survey carried out during our Big Pedal School Street event in March 2019, revealed that 90% of parents and residents would support a regular street closure outside the school.
Since then, Sustrans has supported local authorities and schools across the UK to promote and implement a safer school environment.
We have partnered with Playing Out to produce a thorough insight into the stewardship role, helping those who are rolling out School and Play Street schemes across the UK.
The importance of the stewards' role 
Stewarding is an essential role to make sure everyone is safe during the event.
The role of a steward covers:
supervising a closure point
managing vehicle access
walking traffic through the site
talking to the public
and other tasks.
Stewards are often volunteers, they could be a local resident, someone from the wider community, school staff or parents.
The only requirements are to be friendly, attentive and great at communicating.
Very occasionally local authorities will provide a traffic management team to help at a School Street event.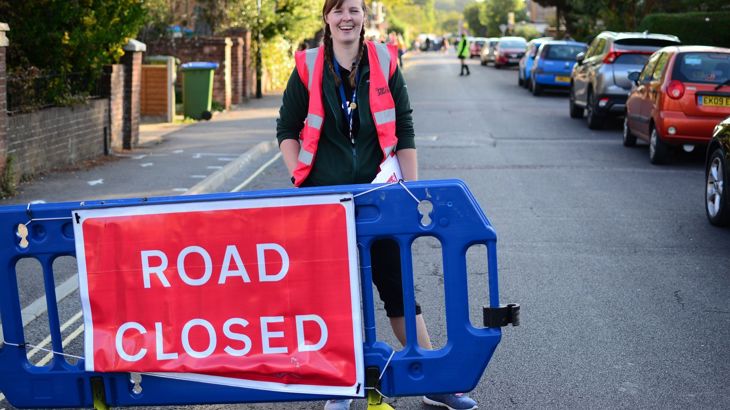 Jenny Shirley Warren Stewarding Sept 2020
There was a massive difference! The atmosphere felt very calm and peaceful – parents spoke with each other, pupils were able to play in the road and had a wonderful time.
How this video can help you
This detailed video explains what will be expected of you as a steward.
It covers the important steps stewards must take in planning and operating an event.
It also reflects best practice for traffic management.
This video has three parts:
Preparing a traffic management plan (for planning your closure points)
Signage and barriers (different types and how to use them)
The stewarding role (managing vehicles and conversations with people driving cars).
Why this training video?
The training process for stewards is essential to ensure all schemes run effectively and safely.
Sustrans and Playing Out have extensive knowledge and experience in providing stewardship training for street events, both for, and alongside local authorities.
We want to make this knowledge available to everyone who may benefit from it.
We fully support and encourage local authorities, schools and residents to share this resource to get more stewards involved in School Street and Play Street schemes.