Since 2009, Sustrans Scotland's I Bike programme has been equipping school pupils with the skills they need to travel actively, safely and confidently. We take a closer look at West Calder High School in West Lothian, who have used bikes to bring about transformative change with their young people.
In 2020 - 2021, I Bike engaged 215 schools, delivering over 2,200 activities with 75,000 pupils. Photo credit: Michael Kelly
The first step
Many of the pupils at West Calder High School in West Lothian live further than two miles away, so they tend to travel by car or bus.
To foster a culture of active travel, the school decided to give them more experiences of the outdoors.
With the help of Sustrans, they launched I Bike in 2021 and set out to teach every single school pupil how to cycle confidently.
We take every opportunity to get young people outside doing physical activity in groups, whatever it might be, and I Bike sits really neatly within that vision as well.
The I Bike programme
Delivered by Sustrans Scotland, the programme is an intensive school project that aims to empower pupils and staff to travel actively.
Funded by Transport Scotland and run in partnership with local authorities, I Bike provides sustainable active travel initiatives to improve the health and wellbeing of children and young people.
Embedding cycling into the curriculum
Time and time again, research shows that physical activity is important in the health, wellbeing and development of children and young people.
According to the Mental Health Foundation, physical activity can increase mental alertness, energy, positive mood and self-esteem, as well as reducing stress and anxiety.
Cycling is a fundamental part of the S1 and S2 curriculum at the school, which means every young person will learn how to cycle a bike.
As well as teaching them how to cycle confidently and safely, pupils can elect to learn basic bike mechanics.
Plus, to encourage more girls to learn how to cycle, the school got involved in the #AndSheCycles campaign.
Speaking of the campaign's positives, Greg McDowall, Head Teacher of West Calder High School, said:
"As a group, it's a great way to bond children together.
"What better way to speak to somebody than through cycling?
"They feel tiredness, they feel exhaustion, the joy of riding fast – that's where they thrive and push themselves past their normal limits."
West Calder High School in West Lothian, Scotland, has embedded cycling into the curriculum with support from I Bike. Photo credit: Michael Kelly
Forming bonds through #AndSheCycles
The Sustrans Scotland #AndSheCycles initiative is inspired by the Green Schools Ireland campaign of the same name.
Groups of young women across Scotland, including from I Bike schools, now meet regularly to engage in girls-only cycling-based activities and act as cycling ambassadors at their schools.
The groups are diverse and attract girls of differing cycling experience.
West Calder runs three groups, two for semi-competent cyclists and one learn-to-ride session.
In the first year, 20 girls from S1 took part, growing to 60 in the following year.
That means half of the girls in the S1 cohort are now cycling every single week as part of their curriculum.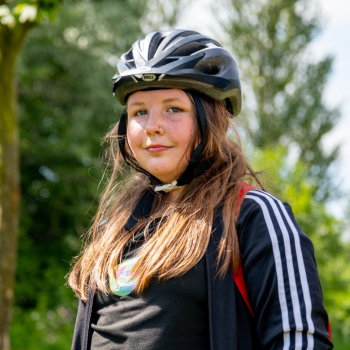 Kayla-Marie's story
When I was little, I used to cycle a lot. I had a small bike and I used to ride it all the time.
One day when I was doing tricks and all that, I crashed on my bike and quite hurt myself. So, I didn't really cycle that much again until this programme started.
Now I cycle a lot, at least twice a week, from my house to school.
I live quite far away. I quite like to cycle to skateparks, pump tracks and on paths at the park.
I feel way more confident cycling because of the #AndSheCycles sessions.
I used to not be able to do ramps or pump tracks but now I feel like I can do it.
Overcoming the barriers to cycling
A number of barriers to cycling were identified and examined in a recent I Bike impact report, including:
Concerns around safely cycling on the roads and the lack of infrastructure
According to the report, more than 72% of the parents said not enough on-road cycle paths was a barrier to their child cycling to school more often.
However, 77% of parents said I Bike had an impact on increasing their child's awareness of the need to be safe when travelling actively.
According to the report, 88% of teachers thought I Bike had an impact on increasing cycling skills.
Plus, when pupils learn how to cycle in primary school, this helps to foster an active travel culture in secondary schools.
No one would expect an adult to cycle to work in a shirt and a blazer, so why should schoolchildren?
Pupils at West Calder are allowed to wear hoodies and joggers so they can more easily take part in physical activities.
For me, it's my project for these girls and boys to cycle more, to enjoy the outdoors and just to be healthier.
A recipe for success
The overall success in empowering young people at West Calder High School to make healthier and happier choices is a result of the school getting involved in a number of great initiatives.
As well as I Bike and #AndSheCycles, the school welcomed the Access to Bikes initiative.
The school has gifted 10 bikes to young people in the community whom they thought would benefit most from them, plus there are 20 bikes on long-term loan.
The variety and success of these active travel programmes, and the increase in the number of pupils that are now cycling, has resulted in the school starting a bike bus.
On the last Friday of every month, young people meet up and cycle over two miles together to reach the school.
There are plans to extend the route so young people are cycling further and longer.
During the summer holiday, pupils and their families are invited to go on led rides with the school and they are provided with bikes and helmets.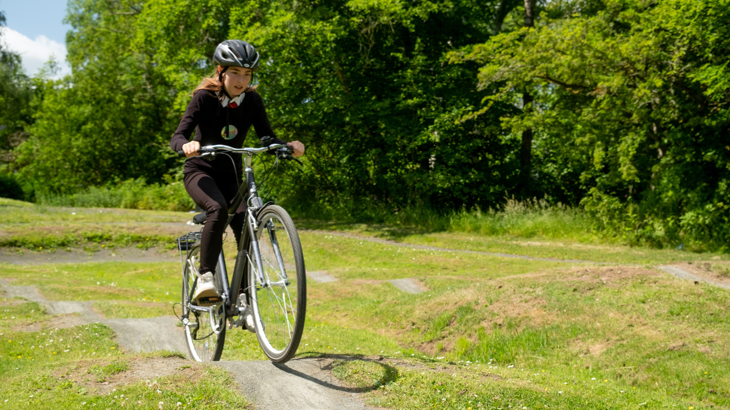 A number of interventions, including #AndSheCycles and Access to Bikes, have given pupils the confidence to cycle for everyday journeys. Photo credit: Michael Kelly
Improving the lives of young people
Students and teachers at West Calder High School have embraced the I Bike, #AndSheCycles and Access to Bikes initiatives.
This has been key to growing a culture of active travel there, and the school has reported improved mental wellbeing among the pupils because of the opportunities to explore the outdoors on their bike.
Their experience serves as a great example for other schools looking to encourage more young people to walk, wheel and cycle.
The first step is to normalise cycling and start with the basics, such as teaching pupils cycle safety and how to ride a bike.
The rewards and successes could be transformative.
Find out more about the I Bike programme or get in touch with the team via email.