Discover the groundbreaking Minecraft Street Builders project, a pioneering initiative reshaping youth engagement in engineering and street design. Through this collaboration, we're bridging the gap between youthful imagination and seasoned engineers, while laying the foundation for an inclusive urban landscape.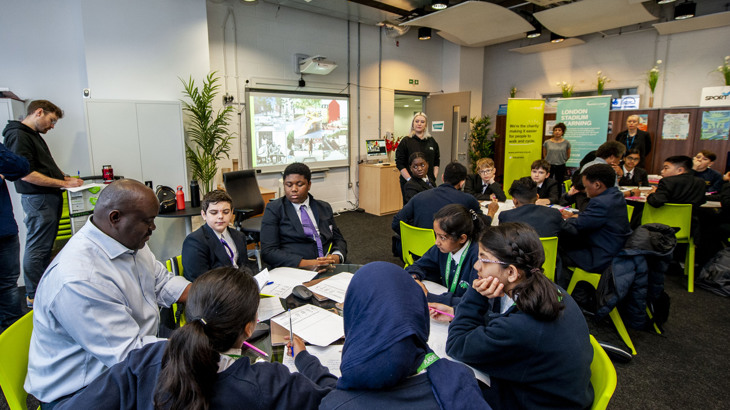 Children from Newham, taking part in the Minecraft project. Credit: Paul Tanner.
Encouraging young people to discover highways engineering through Minecraft 
Through this project, we created opportunities for school students to meet and work with the local authority engineers who design borough streets.
Using the power of Minecraft, young people informed the engineers on what their perfect street would be and the engineers advised the young people on how to make their design jump off the page and become reality.
This approach is designed to spark interest and curiosity among the young people and inspire them to consider highways engineering as a viable and fulfilling career path.
Using Minecraft Street Builders we also strengthened highways engineers' confidence and experience in effectively engaging with 13 and 14-year-olds, an age group with whom they rarely come into contact.
Designed by children for everyone
If we focus on what makes a good place for children to live in, we can create a city that benefits everyone.
Children are an indicator species, meaning that if a city successfully meets the requirements of children, it will be a safe and healthy place for all residents.
This includes considerations such as kerbs for pushchairs and wheelchairs, green spaces that are great for playing, seating which provides places for socialising and quiet reflection, or artwork and colour which makes us all feel great about where we live.
Children are a kind of indicator species, if we can build a successful city for children, we will have a successful city for everyone.
The Minecraft Street Builders' journey
Sustrans linked 10 male and six female engineers from the London Boroughs of Newham, Hounslow, and Haringey with 13 and 14-year-old students from five different schools in the boroughs.
The project was delivered in two phases:
Phase 1 - Training workshop for engineers
Sustrans conducted a training workshop for engineers focusing on various aspects of designing inclusive and engaging public spaces.
The workshop covered the following topics:
Designing for different users
The workshop explored how gender, age, abilities, and cultural backgrounds can influence individuals' experiences and travel mode choices.
By understanding these nuances, engineers can create spaces that accommodate and cater for the needs of everyone.
Benefits of engagement and co-design
Co-designing street space ensures collaboration between urban designers and the public who live, work and play in the urban space.
It also encourages innovation and empowers people to influence street planning decisions.
It's nice to do something different - when we consult residents it's the noisy ones that come back… we're often batting off negative responses, so it's nice to be around something positive.
Best practice engagement process and methods
We provided engineers with insights into effective engagement strategies and methods including conducting surveys, focus groups and workshops to gather valuable input from the community.
By following best practices in engagement, engineers can create positive and constructive connections and build trust with the public.
Skills and facilitation tips for working with young people
Our workshop equipped engineers with the skills and techniques to effectively engage and collaborate with young people.
We provided guidance on how to facilitate discussions, active listening, and how to empower young individuals to contribute their ideas and perspectives.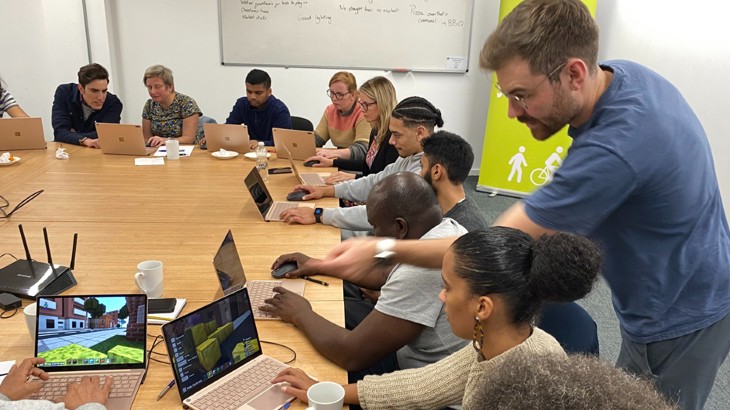 Engineers being trained on Minecraft. Credit: Bronwen, Sustrans
Minecraft as an example of digital engagement
We introduced the engineers to Minecraft as a digital engagement tool to involve the community, especially young people, in designing and envisioning public spaces.
This interactive and creative approach allows for virtual exploration and experimentation, fostering active engagement and encouraging innovative design ideas.
Phase 2 - Workshop with students
The second phase of the project involved putting the engineers' new engagement skills into action.
Together with digital youth engagement experts, BlockBuilders, we brought together 30 Year 9 students, and delivered three separate workshops for each of the three boroughs, at their schools.
We also invited local councillors to attend the event.
The workshop provided a platform for engineers and councillors to engage with young people and gather insights into their needs and preferences regarding street design.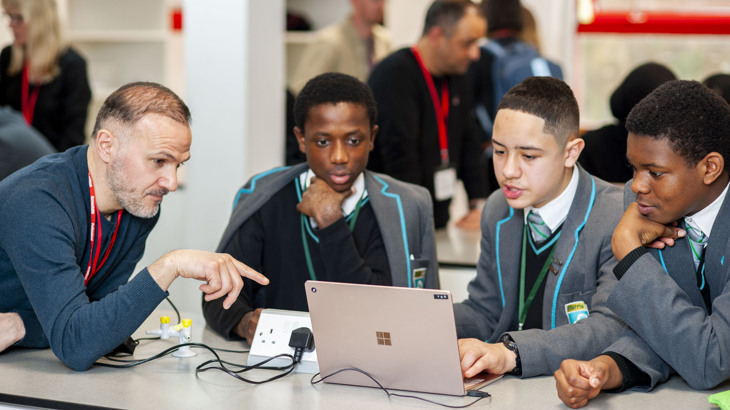 Children from Newham, taking part in Minecraft. Credit: Paul Tanner, all rights reserved
Using Minecraft as a design tool, the young participants took the lead in creating their ideal streets.
Engineers listened to the students' ideas and provided guidance and support throughout the design activity.
The students had the chance to learn about our people-centred design process, and how street design significantly impacts on people's well-being and quality of life.
The workshops also helped raise awareness among the students of potential career paths in STEM (Science, Technology, Engineering, and Mathematics) subjects, and how they are important in real world situations.
I really liked doing the Minecraft session because it made me have an understanding of what you could do to make a safe space.
Transforming traditional engagement
More often than not, secondary school students lack the opportunities to get involved in the decision making taken by their local council, their voice goes unheard, and there is little engagement between engineers and young people.
Following the workshops, engineers reported an increased understanding of the ideas, needs and wants of young people. These will now inform their designs in the future.
They also said that they would be more confident in planning and facilitating engagement with young people and intend to use similar methods in future interactions.
Minecraft creates a powershift
Our Minecraft format worked well as a creative tool to engage and empower young people.
Engineers noted a power shift in the room, as the young participants demonstrated fluency in the software, becoming the experts who explained their designs to the engineers.
This collaborative process allowed both young people and engineers to learn from each other.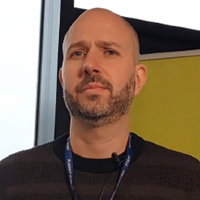 Lee O'Neill, Plashet School in Newham
There's a deficit of female designers and engineers and, as a girl's school, we want to bridge that gap and get our students to aspire to these career paths.
Exposing young women to these types of professions will go a long way to getting girls to think about engineering and urban design.
It was a dynamic environment, lots of energy. Our young people were just getting stuck in, their inhibitions were gone.
Kids play Minecraft at home and events like this really marries their passion for the built environment and their passion for playing Minecraft.
As a teacher I know children and young people need to have a stimulating environment, one that is good for learning.
Projects like this are about giving value to what young people think is important and consulting them on the environment they use every day.
Changing students' mindsets about street design and career paths
Engineers brought their knowledge and experience, not only in terms of their technical abilities in street design, but also in their career paths and life experience.
The workshop provided a space for dialogue enabling students and engineers to talk about what engineering entails, how they experienced it and how they got into the profession.
It was those aspects of this work that made this project particularly impactful for students.
The students also gained insights into how engineering improves lives and their local areas.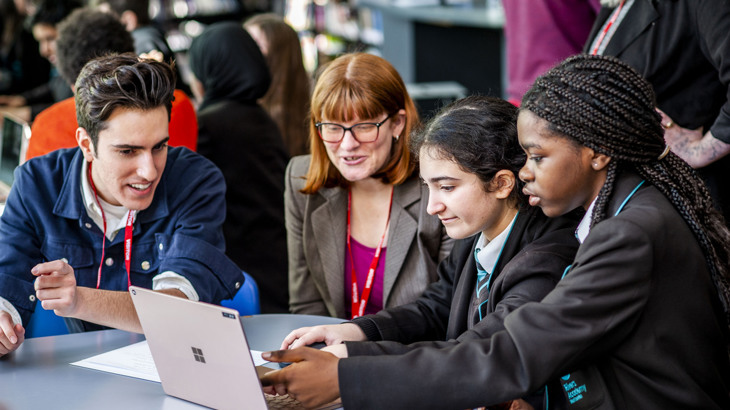 Councillor Katherine Dunne was impressed by the innovative designs. Credit: Paul Tanner, all rights reserved.
The project's legacy
The approach we took in this project has made a significant impact and is now being integrated into our national youth engagement strategy at Sustrans.
This means that the valuable lessons we learned and methods we developed during the project will now shape our work with young people across the country.
To ensure successful implementation, we are investing in iPads and a Minecraft license so we can deliver these workshops across England.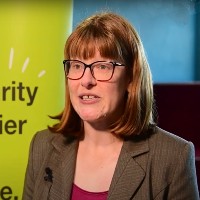 Councillor Katherine Dunne, Hounslow Council

Emissions from transport make up one of the biggest portions of emissions within the borough.
Young people understand that it's their future we're talking about, but also the future of the local environment.
When we talk to them, they really have some fantastic ideas about what they would like to see in their local areas, as well as understanding those global issues
Whenever I talk to young people in schools I feel an enormous sense of energy and some really brilliant ideas coming through.
Work with us to give many more UK schools and engineers this opportunity
We invite you to take the next step towards meaningful youth engagement and inclusive engineering projects.
Let's start a conversation about how we can work together to create positive change and amplify the voices of under-served people in our communities.
Contact us if you're interested in exploring how our team can support you.
Thank you to our partners
We couldn't have done this without the collaborative efforts of the engineering and built environment teams from Haringey, Newham, and Hounslow Councils.
Blockbuilders provided 15 laptops preloaded with the Minecraft world file and shared their invaluable technical expertise throughout the workshops.  
Thanks to the Royal Academy of Engineering's Ingenious Public Engagement Awards who funded the project.
And the wonderful schools we worked with: Harris Academy, Tottenham (Haringey), Oasis Academy and Plashet School (Newham) and Rivers Academy in Hounslow.