Students at secondary schools are less likely to participate in Bikeability training or cycling. We tested a model in partnership with The Bikeability Trust for delivering training and increasing participation.
Sustrans received funding from the DfT through the Bikeability Trust to test a cycling activity model.
The objective was to increase the uptake of Bikeability training among secondary school students from deprived areas, teenage girls, and students with special educational needs.
Recent studies have shown that these students are most likely to miss the opportunity to participate in Bikeability and cycling more broadly.
And our Cycling for everyone report shows people more likely to be at risk of deprivation are less likely to cycle regularly.
The programme has been run at two schools in East Sussex and two in Haringey, London.
This will enable us to determine whether the model is scalable and how it needs to be adapted to different locations.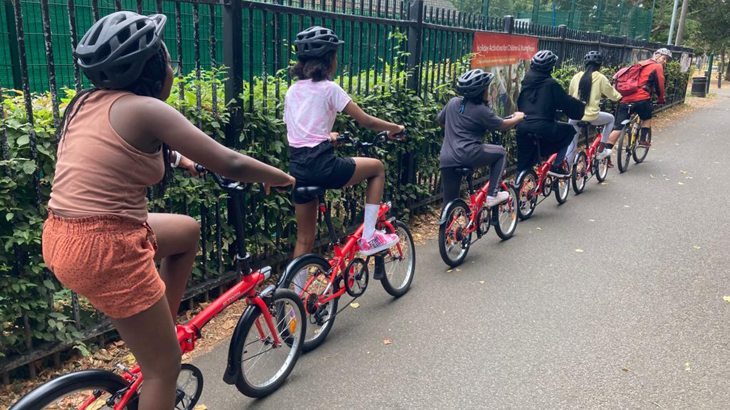 Using foldable bikes with adjustable seatposts provides flexibility. Credit photo: Sylvia Gautherau, Sustrans.
Identifying barriers to cycling
Students were asked what would motivate them to cycle more.
The following points were listed in order of importance among factors that would encourage students to cycle more:
Having someone to cycle with
Knowing safe places to cycle
Help with cycling on roads
Advice on what cycle to buy
Help with the cost of buying a bike
Having safe storage for a bike.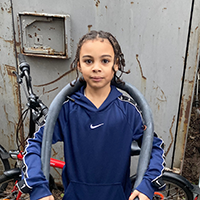 Nalante's Story
Our first encounter with Nalante was when we visited his primary school with the Disco Bike (a static bike that generates music and lights when pedalled).
Since he had never learned to ride, he enjoyed the opportunity to try the static disco bike.
He was delighted when this same disco bike was available at Gladesmore Transition Parent Open Day, where he enrolled for the summer school's Bikeability Course.
By the end of summer school, he had learned to ride and had completed Bikeability Level 1.
He then borrowed a cycle for the remainder of the summer holiday and taught his younger sister how to ride.
Now that he is a cycling enthusiast, he has also learned how to fix punctures through a cycle maintenance course.
Bikeability has given me a new perspective about cycling and I want to do it more and also get involved in helping run a bike library at our school, where students can borrow a bike.
A holistic programme of activities
Sustrans partnered with schools to develop a comprehensive programme of activities to accompany Bikeability training.
In addition to building confidence and self-esteem, the program addressed participants' barriers to cycling.
There were several key elements to all courses:
Providing cycles to pupils without access to their own
Introduction to cycling sessions that discuss barriers to cycling
Route planning sessions that enable pupils to find the safest and most enjoyable route to school
Sessions on cycle skills, including learning to ride and Bikeability levels 1-3, wherever applicable
Exploring safe cycle routes in their local area through led rides
A basic cycle maintenance class taught students how to check and repair bikes with simple faults
Cycle libraries for participating pupils who wish to continue to cycle.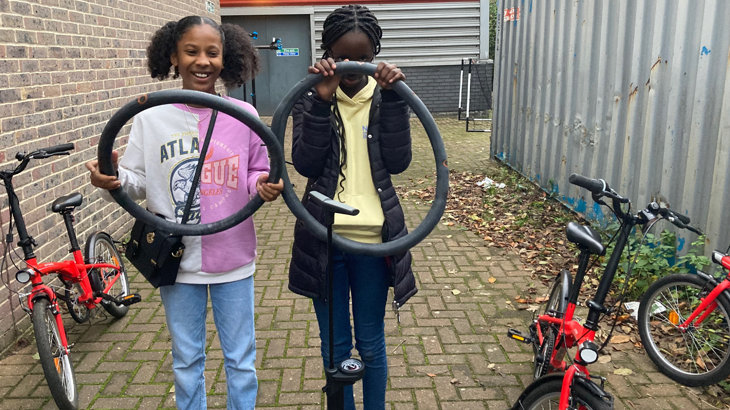 We provided follow-up cycle buses and cycle maintenance projects. Credit photo: Sylvia Gautherau, Sustrans.
Students that struggle with attendance are on time and engaged in Bikeability. Knowing that they have something to look forward to that day has helped some girls to get in to school. It has been brilliant to see the journey that they girls have gone on and how much enjoyment they have got out of the project.
Transition from primary to secondary school as optimal time for behaviour change
In the London-based schools, we focused on promoting and delivering cycle training for students transitioning from primary to secondary school, as this is an ideal time for embedding behaviour change.
This approach also allowed us to embed ourselves within the school-wide transition activities and engage parents in active travel planning.
We delivered activities both in feeder primary schools and in secondary schools.
At primary schools we delivered:
Class talks about cycling to secondary school
Cycle Skills sessions
Disco Bike activities (a static bike that plays music when pedalled).
At secondary schools we delivered:
Stall, disco bike and other activities, including cycle course sign-ups, at the Parent's Transition Open Day
Cycle courses during the Transition Summer School.
The group of students that took part in this Bikeability project has benefited in so many ways. They have built relationships with new students and staff, and they have become more active and gained skills that will enable them to be more active in the future. It has been hugely positive.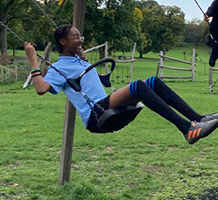 Samiya's Story
Having started out as a beginner during summer school, Samiya decided to advance her skills further and enrolled in Bike Club at Gladesmore Community School in September.
She found moving from pushing and gliding to cycling a bit frustrating at first, but soon caught on and joined the group as they practised cycling skills with games such as cycle in a box.
Samiya's favourite moments were going downhill and leading a ride to the swings in Springfield Park.
Through Samiya's journey, we saw that cycling was the perfect activity for teenagers transitioning from childhood to adolescence, as it allowed them to be playful within an environment where they could also become more independent.
Bike club is super cool... you get to learn tons of new skills, it's fun, and it's good for your mental health.
Key routes to success
Experienced staff and consistency:
Having staff and trainers with experience engaging with teenagers and those with additional needs was key to the project's success.
Also, having consistent staffing allowed students to build relationships throughout the programs. Pupils with SEND significantly benefitted from this.
Celebrating goals:
Having a celebratory led ride event/end goal can be very motivating for participants.
By including an interactive wildlife session from The Sussex Wildlife Trust as an end-of-project goal, we maintained participation throughout the course.
Building sustainability and legacy into the project:
From the outset, bike libraries were set up, and the option of booking future Bikeability courses was made available.
Cycling was embedded into the PE curriculum and school champions attended bike skills sessions to learn how to deliver the training independently.
In addition, we provided schools with cycle maintenance and cycle buses as follow-up projects.
Additional support and resources:
School champions play a vital role in planning and supporting attendance and legacy, and we recommend assigning them a certain amount of work time for this role.
We learned on the London project that using foldable bikes with adjustable seatposts, enabled us to meet the needs of pupils of all sizes and heights.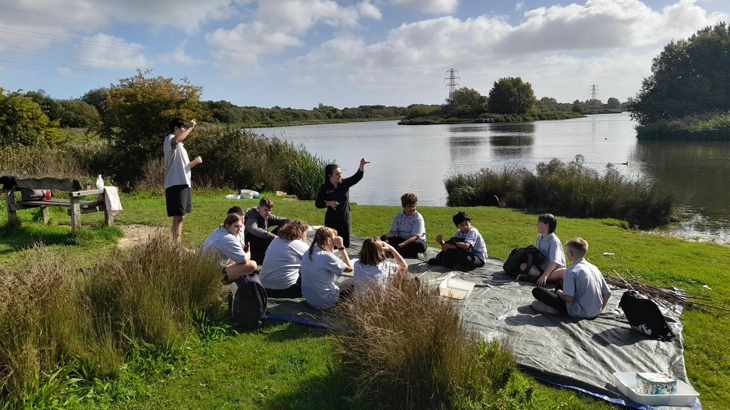 Having a celebratory event on the last day proved to be very motivating for participants. Photo credit: Stuart Langridge
96% said they felt more confident cycling - Sample size 51
92% said they learned new skills - Sample size 49
28% participants said they cycled at least 1-2 day a week compared to 16% before - Sample size 69
85% participants felt farily or very confident to cycle on the road in their local area, compared to 53% before - Sample size 68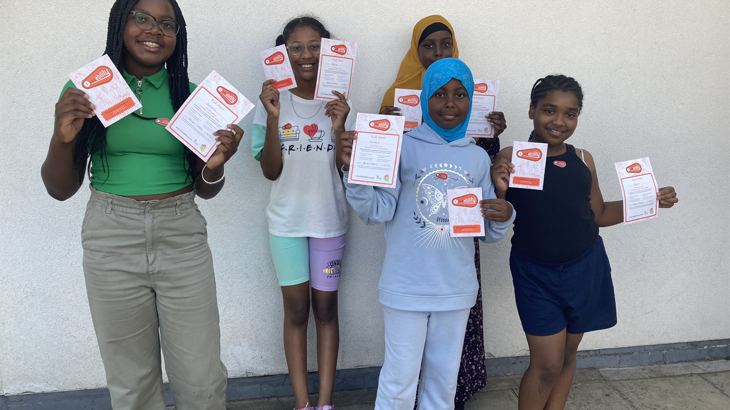 Students' enthusiasm and commitment were key to the success of the project. Credit photo: Sylvia Gautherau, Sustrans.
To conclude, we would like to thank all the school champions, bike trainers, The Bikeability Trust, Sustrans Officers, and of course all the young people who took part and made the project possible.
It is expected that our impact and key findings will be included in the Widening participation project report to be produced by The Bikeability Trust, and we will continue to work with them towards developing a scalable and transferable model for secondary schools.
If you're interested in our programme please contact Sylvia Gautherau and we will get in touch.