#AndSheCycles is a Scotland-wide movement that empowers teenage girls and young women to cycle for everyday journeys. Here's how Tynecastle High School in Edinburgh set up an #AndSheCycles group in their school with support from Sustrans Scotland.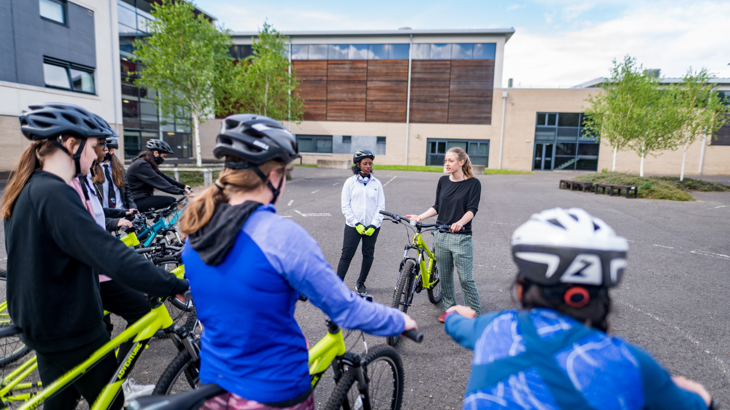 Support is available from Sustrans Scotland to help you start an #AndSheCycles group.
Tynecastle High School in Edinburgh established their own #AndSheCycles club in 2021 with support from Sustrans Scotland.
The #AndSheCycles campaign aims to close the gender gap in cycling amongst teenagers in Scotland.
Led by their schoolteacher, Miss Rose, the girls-only after school club set out to increase their cycling skills.
First, they completed the #AndSheCycles interactive workshop together.
This allowed them to create an action plan for their school outlining some planned activities and any equipment or resources that they would need.
Using this action plan, the group successfully applied for funding from Sustrans and received a fleet of bikes, 15 in total, to use as part of the girls-only after school club.
The group grew from strength to strength and now meet every single week.
The sessions began in the playground to allow the girls to improve their cycling confidence.
Some members of the group learnt how to ride a bike for the first time.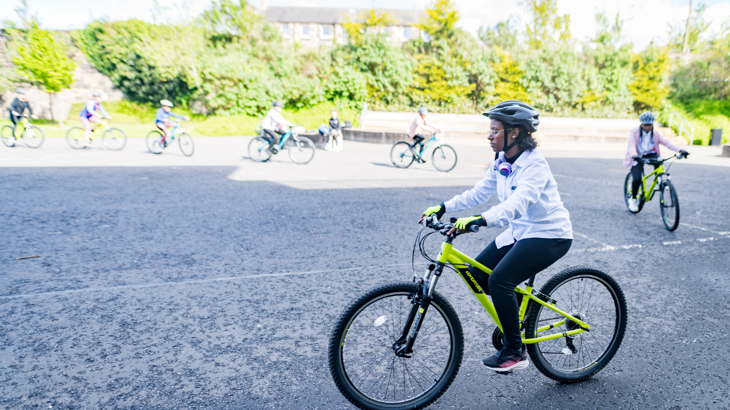 #AndSheCycles groups typically involve skills sessions, led rides and cycling games.
Encouraging girls and young women across Scotland
As the weeks went on, the group explored the local area together with school staff and Sustrans volunteers.
Supported by Sustrans, the school staff were able to go on a cycle ride leader course.
One huge highlight of the club was their participation in the #AndSheCycles Festival.
The annual #AndSheCycles Festival encourages teenage girls and young women throughout Scotland to join the movement and celebrate by going for a cycle ride.
The group from Tynecastle High School rode from their school to meet Musselburgh Grammar School at Portobello beach in Edinburgh.
It was a huge success and such an achievement for all that took part.