Sustrans is helping senior pupils to encourage more girls in their school to get on their bikes.
#AndSheCycles is a national campaign aiming to address the barriers faced by teenage girls and young women when cycling.
What is the #AndSheCycles ambassador programme?
The #AndSheCycles Ambassador Programme is a pupil-led initiative, supported by teachers or group leaders and Sustrans Scotland.
Senior pupils, over 16 years old, will be offered training and support to help set up and run their own #AndSheCycles groups.
Who is suited to be an ambassador?
Any senior female pupil who is passionate about cycling and creating opportunities for girls is suited to being an #AndSheCycles ambassador.
The ambassador will help to close the gender gap in cycling, breaking down barriers by being a positive role model and helping to increase the visibility of teenage girls cycling.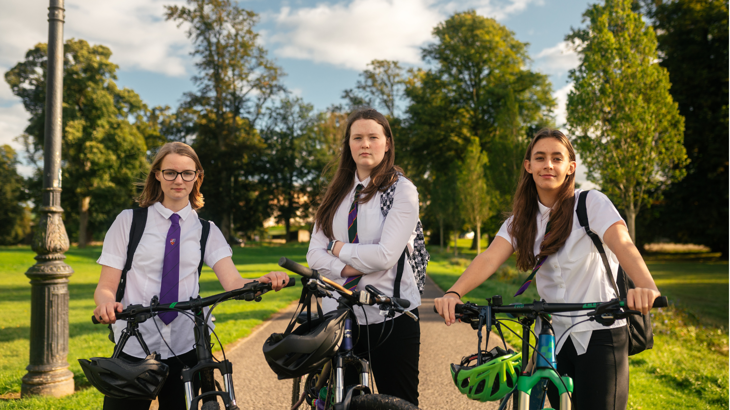 For teenage girls, one of the perceived barriers to cycling is lack of representation.
What are the benefits of the #AndSheCycles ambassador programme?
Through the programme, an ambassador will gain leadership skills, undergo accredited training courses and rack up volunteering hours, all of which align with developing young workforce and look good on UCAS applications.
Sustrans offer free training for ambassadors and school staff, such as cycle ride leader qualification, Bikeability Scotland Instructor and Velotech training.
Additionally, we offer informal bespoke training on how to run sessions, including bike maintenance sessions, skills development and route planning.
How does it work?
The #AndSheCycles ambassadors will help to shape how the groups are run in their school.
For example, they might want to promote cycling to school once a week or plan a sponsored cycle.
Alternatively, they could lead confidence and bike maintenance sessions, as well as regular rides.
A limited amount of funding is available to help with their projects, for example, to help buy competition prizes.