The London Borough of Lambeth commissioned us to transform five temporary low traffic neighbourhoods into permanent, beautiful public spaces. Our proposed designs move away from just installing planters and barriers to restrain traffic and instead focus on adding social value by transforming streets into public spaces where people can stay, talk and build a community.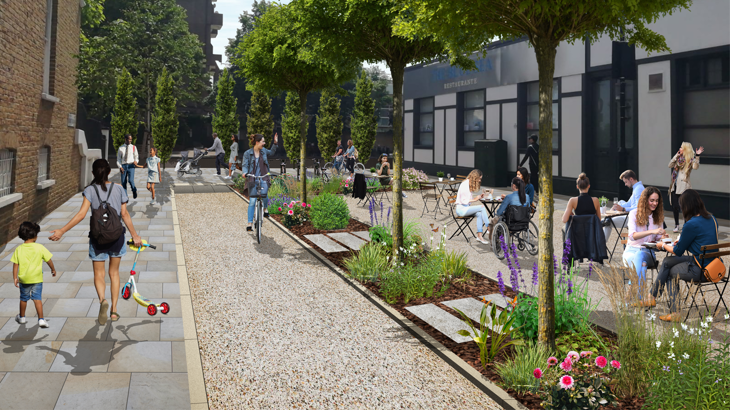 Dorset Rd will become a lovely street where people can walk, cycle and socialise.
Transforming temporary filters into well-designed public spaces
Our challenge from Lambeth Council was to propose transformations for five temporary Low Traffic Neighbourhoods they introduced in 2020 into permanent, well-designed public spaces where people can linger and socialise.
The five Lambeth neighbourhoods are:

Oval Triangle
Tulse Hill
Streatham Hill
Ferndale
Railton

Like many temporary Low Traffic Neighbourhoods that councils implemented in 2020, cameras and planters were used.

These interventions, however, did not fully demonstrate the potential transformation into public spaces that prioritise people over motor vehicles.

Many streets were quieter with no through traffic, but they looked unattractive because of the existing materials used for the road, the road layout itself and the amount of space allocated to parked cars.
Reducing traffic volume
We know that, as traffic volumes drop below 1,000 vehicles a day, streets can be transformed from linear, movement-focused corridors into playful, green, quiet, fun and sociable public places.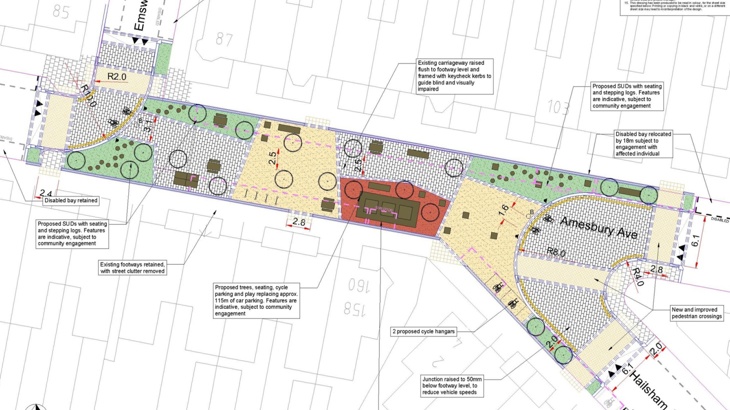 Amesbury Avenue preliminary design ©2022, Feras Fathallah, all rights reserved
Making our streets more democratic
This transformation can make our streets more democratic as they are opened up to many different types of people for a variety of uses.
Disabled people, families with young children and prams, children and older people to name a few, have been excluded from neighbourhoods and neighbourhood design by motor vehicle dominance caused by decades of car-centric planning.
Our designs prioritise the needs of children, older people and disabled people.
What are Low Traffic Neighbourhoods and why are they a good thing?
A Low Traffic Neighbourhood is designed to reduce the number of journeys people make by car.
The streets are filtered to prioritise walking, wheeling and cycling.
Making these the most convenient ways to get around encourages people to leave the car at home.
Cutting down on car journeys for our shorter, everyday trips is critical to addressing the climate emergency, reducing congestion and cleaning up our air so we're not breathing in so much pollution.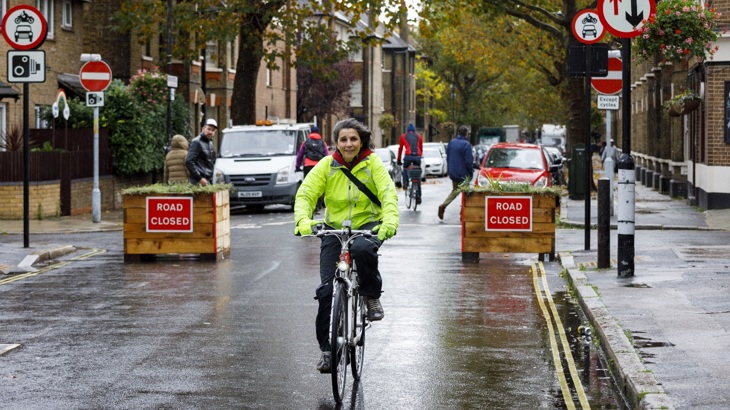 Planters are often used to restrict traffic to low traffic neighbourhood areas
Why do they attract so much attention?
But we appreciate, not all Low Traffic Neighbourhoods have been implemented in the best way, despite good intent and some people have concerns about them.
The main reasons for opposition from some people are:
The feeling of being inconvenienced
LTNs have been implemented too quickly
They see LTNs as not working because they displace traffic on nearby roads.
Data in London shows 47% of Londoners support Low Traffic Neighbourhoods and 16% oppose them.
The Centre for London's report, Street Shift: The Future of Low Traffic Neighbourhoods gives valuable data on Low Traffic Neighbourhoods and car ownership in London.
It's worth remembering that only 54% of London households own a car. So there is a significant number of people who don't have a car.
Perhaps unsurprisingly, people who don't own a car are more favourable towards Low Traffic Neighbourhoods.
Lambeth commits to streets that benefit everyone
We were thrilled to see such bold leadership and ambition coming from Lambeth.
We knew that, to design streets that would benefit all Lambeth residents, it was vital that we gave people who have been traditionally under-represented in the consultation process, the opportunity to make their voices heard.
Perspectives from disabled people
We were aware that many disabled people had been excluded from the planning of trial Low Traffic Neighbourhoods and were therefore unable to experience the associated benefits.
To address this, we started the design process with workshops for local disability groups.
The insights gained from the workshops ensured inclusion considerations underpinned our designs.
Particularly the need to provide a safe walking route through each modal filter which was separated from vehicles, people cycling and street furniture.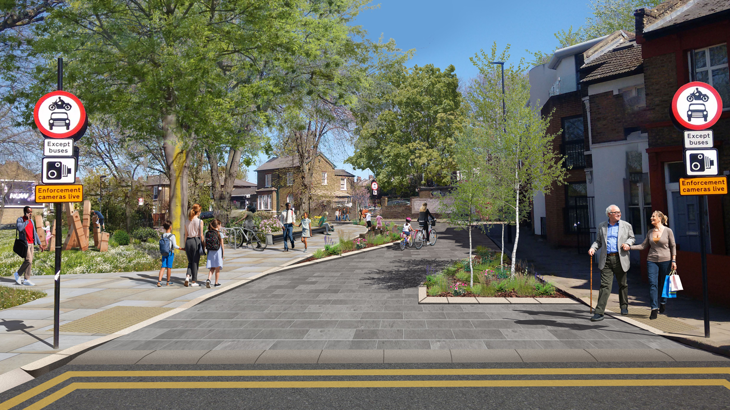 Image from Railton Rd visualisation ©2022, Sustrans, all rights reserved
Redefining priorities for road space
We developed template designs for different ways to filter out motor traffic.
One example was creating a central activity zone in the road space previously occupied by car traffic.
Our design included planting, play features and cycle parking.
We also proposed a raised kerb between this space and the existing pavements, which we decluttered and resurfaced to serve all pedestrians.
We went on to create designs for over 30 filters.
Wherever possible, we extended the area covered by modal filters by creating long pocket parks, improving adjacent crossing points, replacing car parking spaces with cycle hangars or new street trees and suggesting upgrades of camera enforcement to physical enforcement with flower beds.
We also took into consideration alternative routes for emergency services.
Finally, we prepared visualisations that showed how the street space could be transformed, to support Lambeth's public consultation.
Residents' feedback on proposed designs
Lambeth Council commissioned us to deliver on-street engagement at key locations in the Low Traffic Neighbourhoods.
We set up pop-up engagement stations as well as boards displaying the proposed designs and asked the local residents for their ideas for the space.
By talking to the residents we discovered that many of them were not entirely clear about the purpose of the modal filters.
But, when they saw the potential for street transformation, they were really excited about the project and had lots of suggestions on which elements should be included.
What's next?
Construction of some of the permanent filters is now taking place, with more to follow later in 2022.
Watch this space. We'll continue to update this page with news and updates as progress takes place.
In the meantime you can take a look at this fly-though view of our designs (videos credit: Cityscape Digital and Vu City)
| | | |
| --- | --- | --- |
| Railton Rd | Atlantic Rd | Fentiman Rd |
| Shakespeare Rd | Pulross Rd | Dorset Rd |
Some of our other projects