The Scotland-wide cargo bike project brings together knowledge and expertise to encourage more people to embrace this greener way to travel.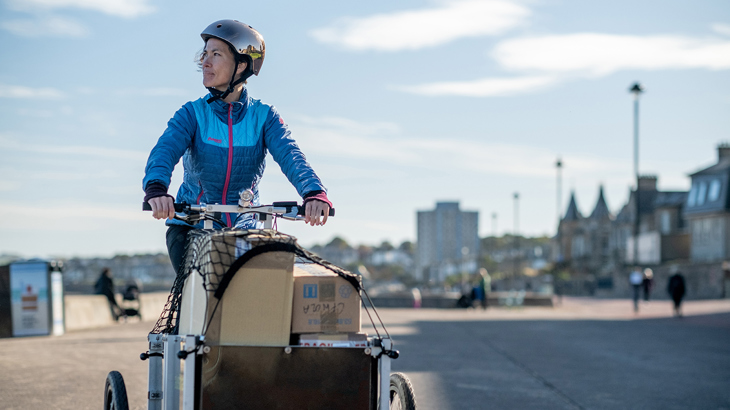 Cargo bikes offer a flexible, efficient and green approach to transport. Photo: Sustrans
Please note that the Cargo Bike Scotland project is currently on hold.
Cargo bikes have a role to play in delivering greener, more liveable cities and towns.
When we talk about cargo bikes, we're often referring to electric cargo bikes, also known as e-cargo bikes.
The electric assistance has made them a much more viable option for both urban goods delivery as well as people wanting to reduce their car use for everyday journeys.
We encourage the use of cargo bikes for a variety of scenarios, such as delivering goods, the school run, shopping and supporting business operations.
The benefits of using cargo bikes
Many e-cargo bikes can carry loads of up to 100kg, sometimes more, and the electric assist makes it easier for individuals to move heavier items.
Some are specially designed to carry children, or can be adapted, making them a great way to reduce trips in the car, save on fuel, and travel actively.
They are highly suited to business use too, as they're smaller than vans so can use cycling infrastructure to avoid congestion.
They also help to reduce motor traffic, which makes places safer, cleaner and more enjoyable to spend time in.
Overall, communities will be more resilient, healthier and better connected with the increased use of cargo bikes.
What is the Cargo Bike Scotland project?
The Cargo Bike Scotland project facilitates knowledge sharing and acts as a point of contact for everyone considering using cargo bikes in Scotland.
Support is provided by sharing examples of best practice and signposting to available guidance and resources.
We also work together with partners in Scotland to address challenges and develop solutions collaboratively.
We'll be actively championing the use of cargo bikes for both personal and business use across Scotland, as well as supporting businesses to overcome the barriers to using cargo bikes as an alternative form of transport.
Ready to join the Cargo Bike Scotland network?
The network will provide support, remove barriers, and raise awareness of the benefits of using cargo bikes.
We welcome everyone in Scotland who is interested in cargo bikes to join our network.
Our Cargo Bike Network Map is a visual tool to allow connections to be created across Scotland.
The map can be used to find cargo bike activity in specific local areas or by activity type.
This will encourage knowledge sharing across organisations with similar aims. 
If you operate a business or a project using cargo bikes then you can add your details so others can find you on our network map.
You can also join our mailing list as an individual to get notifications about upcoming events and further information on our cargo bike work.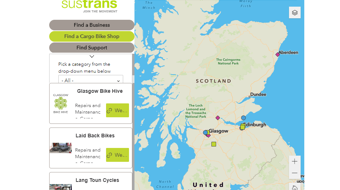 Explore our network map showing cargo bike activity across Scotland
Find businesses that have switched to cargo bikes, find a cargo bike shop or find organisations that can offer cargo bike trials, training or financial support.
Projects are being added all the time, so be sure to keep checking back as more organisations join the network.
Have a look at our network map and find cargo bike activity near you.
Introducing the cargo bike loan scheme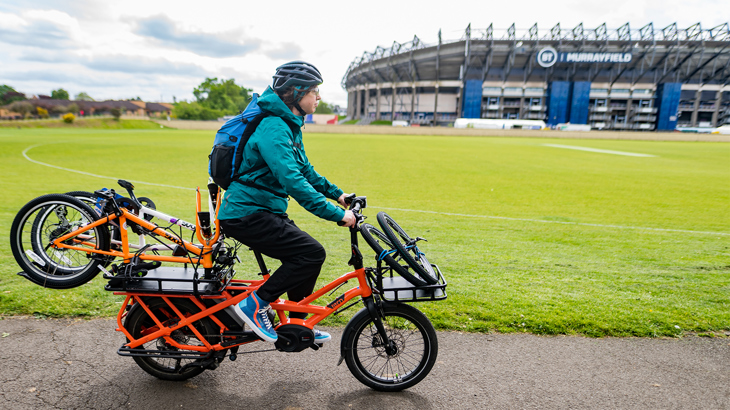 Local authorities, public and third sector organisations across Scotland can be loaned cargo bikes via our scheme. Credit: Andy Caitlin
Cargo Bike Scotland also offers a cargo bike loan scheme.
A range of cargo bikes are available for your own operations, including two- and three-wheeled cargo bikes and Carla Cargo Trailers.
Alternatively, you can use our cargo bikes to pilot your own loan scheme in your local area.
The scheme is open to local authorities, public and third sector organisations across Scotland.