Sustrans recruited and trained a team of volunteers in a range of walking and cycling activities. These volunteers are now supported as they empower and lead people to enjoy the Forth Meadow Community Greenway and promote the shared space.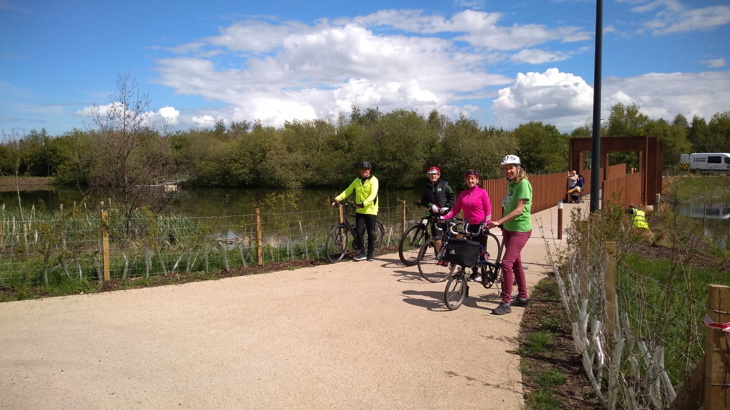 Forth Meadow Community Greenway volunteers at National Standard Level 1 cycle training at Springfield Dam in May 2021
About the project
Forth Meadow Community Greenway is a £5.1 million EU PEACE IV-funded project.
It connects existing open spaces in north and west Belfast along a 12km route leading to the new Transport Hub in the city centre.
  
Putting the community at the heart of the project
Alongside the physical infrastructure, the project has also delivered exciting community engagement at key sections along the Greenway.
And it supported volunteering opportunities to help bring communities together and promote the use of the shared space such as:
ambassadors

walk and cycle leaders

and nature guides.
  
Free training offered to volunteers
The volunteer walk and cycle leaders received free training delivered by Sustrans.
The training has empowered volunteers to promote positive relationships and encourage dialogue within the community.
It's also helped them support efforts to bring about shared community use through walking and cycling activities on the Greenway and in surrounding communities.

  
Volunteers bring Greenway to life
The Greenway is at the heart of this project.
And our volunteers have helped bring it to life and encourage local people to get out walking and cycling.
They've built up their skills and confidence during the course of a 30-hour role-specific training and engagement programme. This has led to them planning, assessing and recording routes for group activities.
They are now supporting each other and providing led group walks and bike rides, showing genuine care towards participants, with understanding and respect for individuals, and making adjustments to suit everyone.
Among the regular activities on offer are led walks on a Friday morning from Falls Park.
The benefits of volunteering
We brought many benefits and free training to our volunteers:
mediation training
cycle skills Levels 1 and 2
cycle leader training (16.5 hours in total)
walk leader training (16 hours in total)
safeguarding training
first aid training.
They continue to receive regular communication from Sustrans to support them in their role.
And they get direct support from their Sustrans Volunteer Development Coordinator whenever needed.
Watch this short video on the Forth Meadow Community Greenway