Community cycle hubs offer training and services which give confidence to people who are new to cycling. Our new Chrisp Street Community Cycles centre is helping women and families in Poplar, Tower Hamlets, to enjoy the freedom and independence of getting around by bike.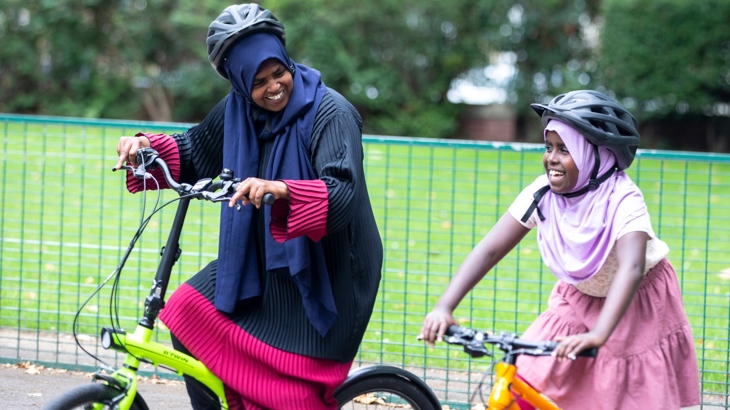 The hub has provided women and families with cycle training and instructor-led group rides.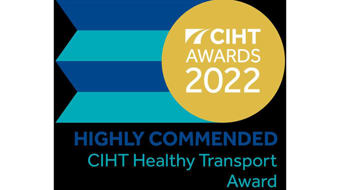 This project was runner-up in the 2022 Chartered Institution of Highways and Transportation (CIHT) awards.
This project is in partnership with the housing association Poplar HARCA, the environmental charity Hubbub and Tower Hamlets borough council.
About the project
We know from our partnership with Poplar HARCA that Bangladeshi and Somali women and their families living in the area typically don't cycle.
We listened to what they said they needed to get cycling, and we provided it.
Women in the area told us they wanted to learn to ride together in groups.
Doing this alongside other women of their culture and background has helped to overcome their concerns about cycling being culturally appropriate for them.
Some said they couldn't afford to spend money on a cycle they may not use, and some said they had nowhere to store a cycle.
Others were concerned about how they would cycle while wearing clothing such as an abaya and hijab.
Working with the borough, Poplar HARCA and Hubbub, we created Chrisp Street Community Cycle to break down these barriers and help people discover the delights and possibilities of cycling.
Empowering women to create a legacy
In addition to providing this cycling service, we've also trained local women to become cycle instructors.
This means that they'll be able to pass on their cycling skills to help local women in the future.
Through help and support from Sustrans, I've learned many cycling skills and become a lot more confident in teaching both adults and children learning and improving their cycle skills both on and off road.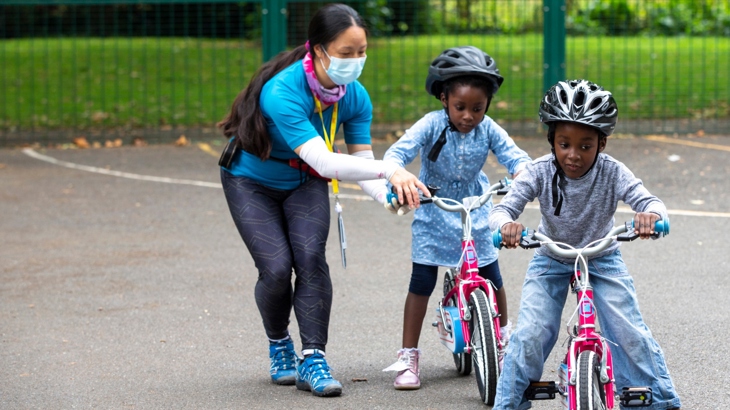 Serena Dang has taught adults and children in the community to cycle.
A hub in the heart of the community
Chrisp Street Community Cycles was set up in an empty business unit in Chrisp Street Market.
This location - in the heart of the neighbourhood where there are lots of reasons to visit the area - has been key to the hub's success.
People don't have to seek it out; they are already passing by.
The hub has provided families and women with cycle training and instructor-led group rides.
To help those without a bike, we kitted out the hub with a range of cycles for adults and children.
These have been free for people to borrow and try out.
There have also been sessions with a bike mechanic on site to repair bikes and advise people on how to maintain their cycle.
It's been a welcoming space where people can come chat and feel supported on their journey into cycling for leisure and transport.
Why the project was set up
From our regular community engagement work in boroughs, we know that significant numbers of women struggle to access cycling activities as they are not tailored to their needs.
But we also know that there is demand from people who want to start cycling.
Our Cycling For Everyone Report shows this. And we've been hearing it on the ground from residents.
Thousands of residents do not own a car, so cycling gives them greater mobility in their daily lives.
And with so many people worried about cycling on their own on busy London streets, cycle training and group rides at the hub have been great at giving people confidence.
I feel my self-confidence is increasing every time I come to a session... I felt like I was flying when we cycled along the Thames, it was amazing.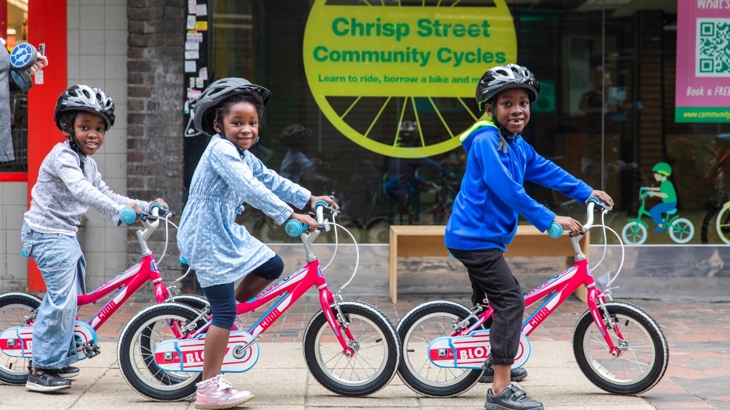 Chrisp Street Community Cycles sits at the heart of this Tower Hamlets community.
What has the project achieved?
To help residents of Poplar, Tower Hamlets, we've so far delivered:
16 'learn to ride' sessions, including family and women-only sessions
Eight 'improve your skills' sessions (Bikeability Level 1)
Four sessions with bike mechanic Dr Bike so people could get their cycles fixed
Two on-road cycle skills sessions (Bikeability Level 2)
Two 'learn to fix your bike' sessions, where people learned how to care for their cycle and repair simple mechanical faults
Seven guided rides including family and women-only rides, exploring local safe cycle routes
And we've also trained up two Cycle Hub staff.
The activities have been very popular; in just 23 days, we saw 406 people taking part, including 137 children.
We've loaned out 143 bikes and Dr Bike has repaired 172 cycles.
We've also engaged with over 1,400 people about cycling.
The future of Chrisp Street Community Cycles
A successful crowdfunding appeal and contribution from Tower Hamlets Council means that this work at Chrisp Street can carry on until the end of March 2022.
We are seeking further funding to keep the hub going into summer 2022, and we'll be working with locally-recruited women to take over the operation of the centre in the future.
We'll also continue to train and support local women into employment as cycle trainers and cycling role models within their communities.
The positive and speedy impact of Chrisp Street Community Cycles shows how successful hubs like this can be.
We want to work with councils across London to help them set up cycle hubs that serve their communities. If this interests you, please get in touch.
How community cycle hubs help people change the way they travel for the better
We've been working with people in Ealing to switch to walking and cycling for more of their everyday journeys.
In this video, we talk to the community to hear about the benefits of community cycle hubs and how they provide lasting behaviour change.