New walking and cycling infrastructure is being introduced across the seven local authorities of the West Midlands. Sustrans is working with communities close to 10 new routes to encourage residents to use them and get more active. This project has been made possible by the West Midlands Active Travel Fund.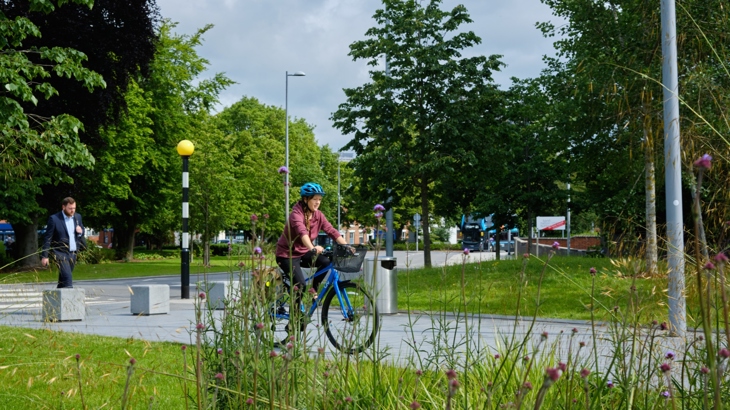 This project reaches out to many areas in the West Midlands, including Coventry.
This project is in partnership with the West Midlands Combined Authority and Transport for West Midlands. 


What is the project about?
This project will promote newly-installed walking and cycling infrastructure across the West Midlands to help everyone get around more easily.
We will be working in a number of neighbourhoods close to the infrastructure to support local people to travel actively and sustainably.
As part of this work, we will also be sharing information about other organisations working across the West Midlands to encourage cycling and walking.
Where does it cover?
Dudley and Sandwell 
Birmingham New Road/A4123 (Dudley, Tipton, Tipton Green, Burnt Tree, Kates Hill)
Wolverhampton
Wednesfield Road (Heath Town, Wednesfield, New Cross, City Centre)
Coventry
Foleshill Road corridor (Foleshill, Bishopsgate Green, Radford Little Heath, Great Heath)  
Clifford Bridge Road (Binley, Wyken, Wyken Croft, Clifford Bridge)
Solihull
Blossomfield Road corridor (Shirley Heath, Dickens Heath, Shirley, Blossomfield, Sharmans Cross and Solihull)
Warwick Road corridor (Knowle and Solihull)
Walsall
Wolverhampton Road West (Bentley, Alumwell and Willenhall)
Birmingham
A45 corridor (Digbeth, Small Heath, Sparkbrook, Hays Mills and Yardley)
A457 corridor (Jewellery Quarter, Summerfield, Ladywood, Rotton Park, Cape Hill)
If you live near to these areas and would like to get in touch, see our contact us section below.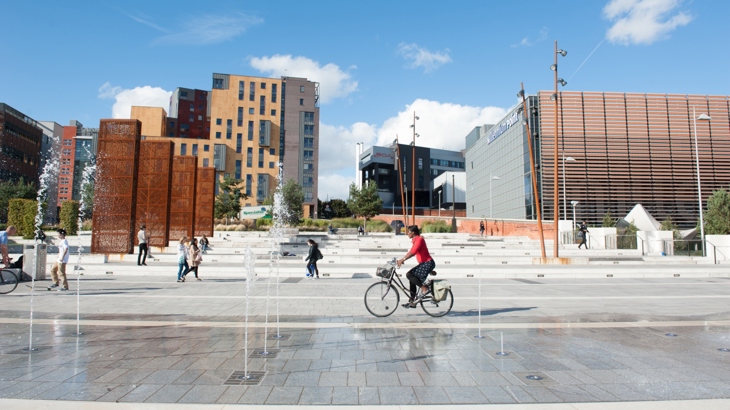 New infrastructure will allow people to get around safely and sustainably, as they can here in Birmingham's Eastside City Park.
What can you do to get involved?
Would you like to improve your local community and make it easier for everyone to walk and cycle?
Find out how you can get involved below, or read more about the new cycle routes from Transport for West Midlands.
Become a volunteer
Support Sustrans and become a volunteer walking and cycling champion in Birmingham, Solihull, Coventry or the Black Country.
You can also help out in other ways by volunteering on the National Cycle Network.
Share your stories on social media
Follow the story as we work to improve cycling and walking in the West Midlands.
You can find Sustrans West Midlands on Facebook, Twitter and Instagram.
Share your cycling and walking journeys with us by using the hashtag #RollnStroll.
You can also follow Transport for West Midlands to discover more activities, from walking groups to inclusive cycle programmes.
Find them on Facebook, Twitter and Instagram.
Who else are we working with?
Contact us
Want to find out more about this project? Drop us an email to say hello at hellowestmids@sustrans.org.uk.
To speak to our team about volunteering for this project or for Sustrans in the Midlands then contact us at volunteers-midseast@sustrans.org.uk.