The Scottish Greenways Programme works along off-road sections of the National Cycle Network, which are close to communities, to create a local Network that connects people, places, communities, and biodiversity.
Scottish Gree

nways

helps creat

e

local linear

greenspace

and active travel corridors
National Cycle Network routes cover thousands of miles across Scotland.

Many people use local sections of the Network for their everyday journeys.  
The Scottish Greenways Programme gets to know the context of the Network in a community and how people are using it.  
We then look at how we can support and improve the experience of existing users and encourage more people to use the National Cycle Network for daily journeys.
Small tweaks can make a big difference 
To improve local connectivity to the National Cycle Network, we have: 
Created links to where people want to go, such as schools, supermarkets, and places of work

 

Invested in benches to support walkers and wheelers

 

Upgraded existing connecting paths

Installed crossings, dropped kerbs and other infrastructure to improve the user experience

Removed or upgraded barriers to improve access for all to the Network

Provided support for community groups who are connected to the National Cycle Network, such as the Vale of Leven Trust program to teach adults to cycle and the Forever Young sheltered housing residents walking and wheeling programme.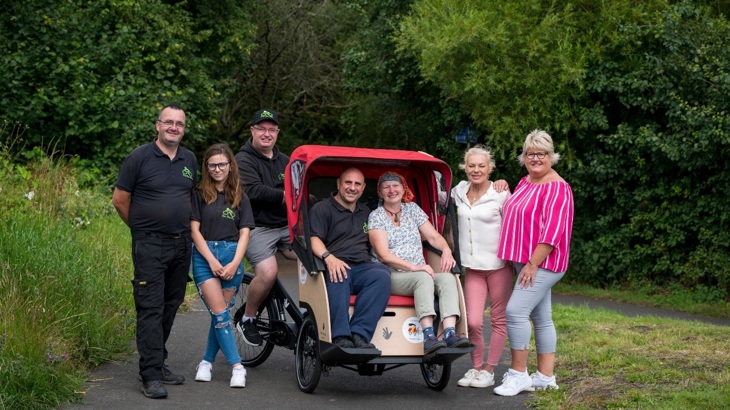 The Greenways programme provides support for community groups who are connected to the National Cycle Network in Scotland. Credit: John Linton, 2022.
Helping children safely walk, wheel and cycle to school in Bathgate
On National Cycle Network Route 75 in Bathgate, a major project was undertaken to widen the footpath at Boghead Bridge to the rear entrance of St Mary's Primary School.
This involved:
Creating new sections of footpath
Relocating the existing pelican crossing
Installing a new toucan crossing on the south side of Boghead Bridge to Morrisons
Installing a raise table into the rear access to St Mary's Primary and
Creating two new uncontrolled crossing point islands on the carriageway
Executive Councillor for Environment and Sustainability, at West Lothian Council, Tom Conn, said: "This was a significant investment in our local infrastructure that has brought a number of benefits to local people, including the school children. 
The overall goal was to provide a wider footway, improved crossing facilities and a safer environment for all users".
School children in Bathgate share how Sustrans Greenways Programme has made it safer and more accessible to travel to St Mary's Primary School. Credit: Sustrans.
Supporting sheltered housing residents to access the Network 
On a section of Route 7 near Paisley, in Renfrewshire, most users are local and choose to walk or wheel rather than cycle.
Currently, 250,000 trips are made on this section per year, with 93% of these taken by pedestrians.

This off-road section of the National Cycle Network is a huge community asset for active travel as it is within a five-minute walk of three schools, a hospital, several supermarkets, the town centre, and it directly connects to the Paisley Canal Railway Station. 
Greenways supported Forever Young, a community group of sheltered housing tenants in Renfrewshire, by funding the purchase of a trishaw.
This helped people in the area with mobility limitations enjoy their local, traffic-free section of Route 7.  
Scottish Greenways and Forever Young: Trishaw launch
Local Connections at Bo'ness (Route 76)
Route 76 of the National Cycle Network skirts the Bo'ness foreshore where the remnants of the town's industrial past are now bustling with nature.
The historic Bo'ness and Kinneil steam railway runs parallel to the coastline between the town and the Network.  
The Scottish Greenways Programme has been working with the community to improve the local connection to the Netwrok by: 
Upgrading the railway crossings and path network to make them accessible for everyone

 

Adding heritage interpretation boards along the Network for visitors

 

Creating more seating spaces

 

Building a small play park to encourage more families to use the National Cycle Network

 

Adding signage to local facilities in Bo'ness town centre.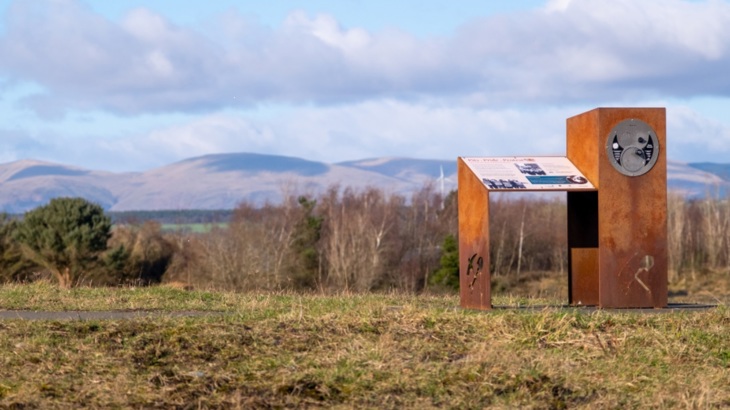 Bo'ness -Route 76. Credit: Michael Kelly, Sustrans