Working with the local community in Lambeth in south London, we transformed a busy rat run into a calmer street for the people living there. Over 18 months, we explored options to tackle high levels of congestion and air pollution with local residents.
The most popular design was a northbound vehicle restriction, which maintained two-way cycle access on Estreham Road.
Community support for a permanent road closure almost doubled over the course of our engagement phase, and this led Lambeth Council to make the trial changes permanent.
Here's how we did it.
Working with Transport for London and boroughs to deliver Quietways
Transport for London (TfL) commissioned us to deliver Quietway 5, a high-quality cycleway that links Waterloo to Norbury.
We worked with Lambeth Council to identify the best route through the borough and assess the changes necessary to meet the Quietway standards.
We knew that the Quietways funding was an excellent opportunity to turn Estreham Road, a busy residential street, into a quieter and healthier street.
More than 3,100 vehicles were travelling through Estreham Road each day.
And almost 70% of this traffic was non-residential, with many drivers using it as a cut-through to avoid the traffic lights at the junction of Greyhound Lane and Streatham High Road.
The Quietways funding meant that we were able to work closely with the community to make the street healthier and safer, by reducing the speed and dominance of vehicles.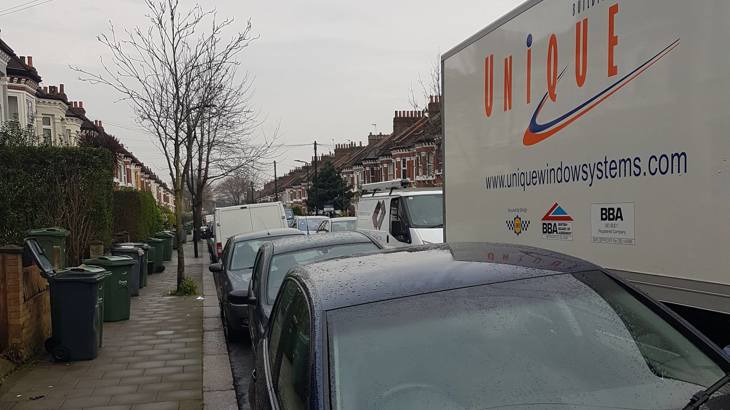 Estreham Road before the filtering
Community Engagement essential to successful scheme
We successfully made the case that community engagement was essential to deliver the scheme effectively.
Lambeth Council and TfL commissioned us to carry out an in-depth engagement process in order to find the best way to reduce traffic and deliver a high-quality route. And as a result we were able to find a popular solution.
In July 2015 we organised and delivered a series of surveys, public drop-in sessions and events, all designed to help develop a solution that worked for the whole community.
Getting the local community involved was critical to creating a successful trial street design. Residents were invaluable experts on the area, with knowledge on transport problems and ideas on how to improve road safety, particularly for people walking and cycling.
We listened to Lambeth Council and the residents of Estreham Road and developed three design proposals based on their feedback.
We took these designs back to local people for consultation through online and postal surveys, pop-up events, public drop-in sessions, and meetings with local schools.
The most popular design was a northbound vehicle restriction, which maintained two-way cycle access on Estreham Road.
We did this using an Experimental Traffic Order. This was trialled for six months between October 2016 and April 2017. Then it was extended for a further 12 months before being made permanent.
Our findings
We monitored changes in air quality and traffic volumes, and at the end of the trial, we asked residents for their feedback. Here's what we found.
  
Residents felt the benefit
The results of the trial were game-changing for residents.
The number of vehicles using the road decreased by over 75% (from over 1,600 a day to under 400). And previously dangerous levels of nitrogen dioxide reduced significantly.
Changing the way people travel
Not only has the road closure made it more pleasant to live in the area, but residents have also found that it's changed the way they choose to travel.
Local people drive less, and instead walk and cycle more, which has many long term health benefits.
Before the road closure in 2015, 52% of people surveyed said that driving was their main mode of travel on Estreham Road. This reduced to 30% in 2017.
Walking as people's primary mode of travel increased from 31% to 44%, and cycling increased from 13% to 21%
Public support rose to 60%
Experiencing the benefits of cleaner air and a quieter street, local support for the scheme rose drastically from 33% prior to installation, to 60% at the end of the trial period.
This public support enabled Lambeth to make the trial changes permanent.
Part of Quietway 5
Estreham Road now forms part of Quietway 5, a high-quality cycleway that links Waterloo to Norbury and spans the London Boroughs of Lambeth and Croydon.
Local residents enjoy a healthier Estreham Road, and people walking and cycling through the area appreciate their quieter journey.