With funding from Highways England Designated Funds, we've transformed a stony, potholed, unmaintained track in Dover into an exemplar walking and cycling route.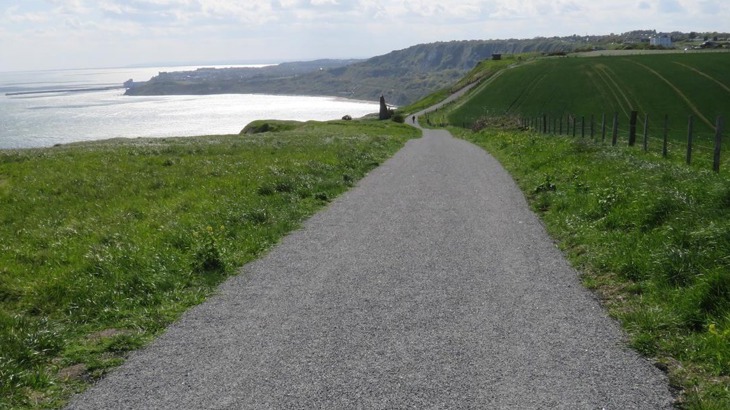 The newly resurfaced path on National Cycle Network Route 2 in Dover offers some jaw dropping views
Creating paths for everyone
Local residents who use mobility aids can now reach the cliff top views
Enhancing cycle tourism
The path can now be used by road and touring bikes without doing battle with muddy puddles and rutted ground
Improving ecology
By delivering this scheme we've enhanced the ecological value of the site
Before the project, the path's surface was rough and unusable for some.
We have created a smooth path, accessible to everyone.
Path widening and re-surfacing
Cliff-top path excavation
Land slippage removal and stabilisation
A replacement 60m bridle safety fence to prevent accidental falls
Retractable bollards to enhance landscape security from illegal 4x4 activity and deter fly-tipping at access points.

Engaging our partners
Early stakeholder engagement and developing working relationships were key to land assembly and completing the scheme.
The National Trust, Kent County Council, Channel Tunnel Rail Link, Network Rail, Natural England, and Highways England were particularly supportive.
They understood the scheme's potential to deliver increased walking and cycling between Dover and Folkestone.
Local landowners and farmers also played a key role in the successful delivery of the scheme.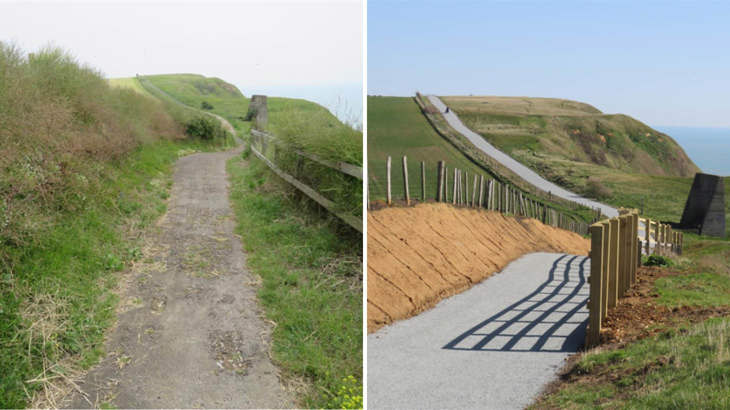 The path is now wider and easier to use.
Art in the Travelling Landscape
We're in the process of reinstalling our 'Art in the Travelling Landscape' poetry installations.
So people will be able to engage with their immediate surroundings in words and views. 
Location-inspired poetry by Ros Barber will soon be available to download onto people's smartphones via QR coded plaques along the way.


Sensitive ecological work
We have translocated native seeds as part of the works.
We used excavated soil from the scheme to side up some 8km of track edge, which is left to seed naturally.
The improved section of National Cycle Network Route 2
With thanks to:
A-one+ Integrated Highway Services, Art in the Travelling Landscape, Bakerwells, Channel Tunnel Rail Link, Coppards, Dover District Council, Highways England, Kent County Council, Kent Downs AONB, National Trust, Natural England, Network Rail, Private landowners, White Cliffs Countryside Project.