Our Workplace Travel Challenge is a fun and exciting way for employees to give active and sustainable travel a try, creating the foundation for lasting behaviour change.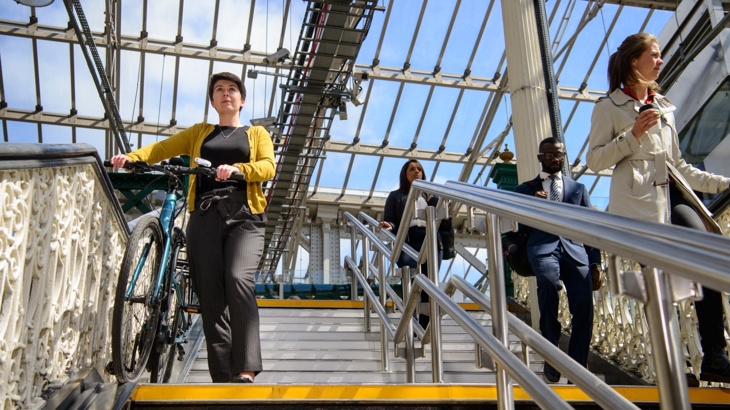 Increasing active journeys to work can improve staff welfare and boost productivity.
What is the Workplace Travel Challenge?
The Workplace Travel Challenge is an online competition in which participants log their sustainable and active journeys to work. Employees compete to clock up the most walking, cycling, public transport and car-sharing journeys.
A challenge can involve many different organisations, a single organisation or internal departments competing with each other, and is a great way to keep up the motivation for embedding new travel habits.
How it works
Our online platform has loads of interactive, social and user-friendly functions to help participants monitor their activity and see how their team are doing in the competition. 
We give out loads of prizes to individuals along the way and to encourage participation and healthy competition.
Costs
The challenge is free of charge to individual participants and anybody can register.
If the local authority or workplace is running a Workplace Travel Challenge all they need to register is an email address. Then, it's just a case of spreading the word amongst colleagues and getting people logging their journeys.
Benefits for employers
The challenge is ideal for organisations looking to encourage their staff to use the commute as a way to have fun, reduce their carbon footprint and to improve their health.
As an employer, you will see fantastic benefits:
Staff arrive awake and feeling more productive.
You may see a decline in sickness absence 
It is a cost-effective solution to limited parking spaces.
Benefits for employees
By taking part in the challenge participants save money, reduce their CO2 emissions and burn calories.
Participants can access their profile page and see statistics on their progress, how many calories they've burned and the amount of money they've saved on each journey by choosing healthy, green and cheap alternatives to driving.
They also have a great time watching their workplace climb the leaderboard, and a bit of friendly rivalry amongst their neighbouring workplaces helps encourage more participation and greater levels of active and sustainable travel.
Customisable to suit your needs
Challenges can be commissioned by local authorities or by employers. We can tailor different aspects of the challenge to suit the objectives and budget available.
We can also offer further training and support for partners, on the ground delivery and promotion, extensive monitoring and reporting, and a full print and email marketing package.
Contact us on challenge@sustrans.org.uk to find out how we can help you change the way your employees travel to work.