The Love Your Network grant fund, funded by Transport Scotland and delivered by Sustrans Scotland, seeks to empower communities in implementing physical improvements which make journeys on the National Cycle Network more attractive and enjoyable.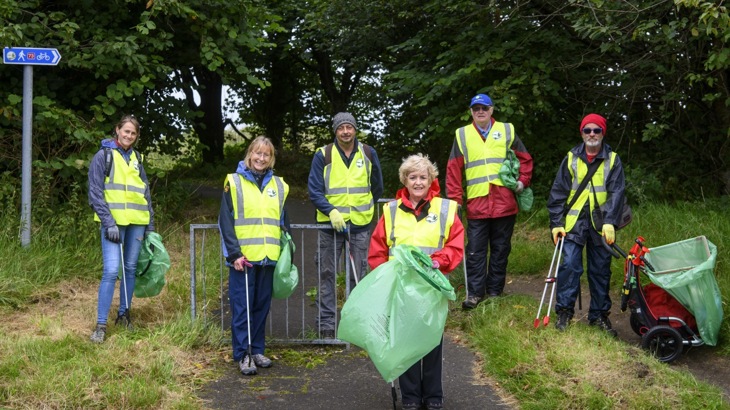 Grant funding is available for practical projects which benefit people or wildlife across traffic-free National Cycle Network routes in Scotland. Community groups can apply for grants of between £100 and £750.
Why fund this?
Sustrans only has maintenance responsibilities for a small portion of the National Cycle Network in Scotland, where we support maintenance volunteering. We encourage voluntary litter picking across all areas of traffic-free Network in Scotland, but we also aim to support those community groups that are already looking after their local routes or would like to.
People are much more likely to walk and cycle on attractive, interesting and biodiverse routes; safe, clean and green routes can make a journey more enjoyable, and increase user confidence in their travel. 
Communities are the greatest sources of knowledge across local areas, and often provide the most acute understanding of how to improve these stretches of the route. The Love Your Network grant fund aims to aid local communities in making the most of the remarkable assets on their doorsteps and helping the National Cycle Network in Scotland to flourish.
Which costs can be covered with Love Your Network grant funding?
Examples of costs which have been covered with a Love Your Network grant are below. This is NOT an exhaustive list, and applications can include things which do not appear here:
Litter-picking equipment
Bike trailers for transporting tools and equipment
Protective equipment
Hand tools
Power tools
Native plants
Please note: projects which take place on a traffic-free section of a numbered National Cycle Network route will be given priority.
Who can apply for a grant?
Love Your Network grant funding will be available to registered charities, social enterprises and other constituted community groups. Individuals and profit-making companies are not eligible to apply.
Local authorities may apply for funding on behalf of a community group that is not currently constituted. 
How much money can a group apply for?
Minimum grant funding: £100
Maximum grant funding: £750
On exception, we may consider funding projects to a value upwards of £750. If you have a bigger project that would have a measurable positive impact on users of a National Cycle Network route, please talk to us.
When can applications be made?
The current funding round is open, and closes on 8 May 2020. 
How do I apply?
Download the Love Your Network grant fund guidelines before applying.
Start your online application for funding.
If you have any questions about the fund, please email Laura White.