The Love Your Network grant, funded by Transport Scotland and delivered by Sustrans Scotland, seeks to empower communities to learn more about their local routes and implement physical improvements which make journeys on the National Cycle Network more attractive and enjoyable.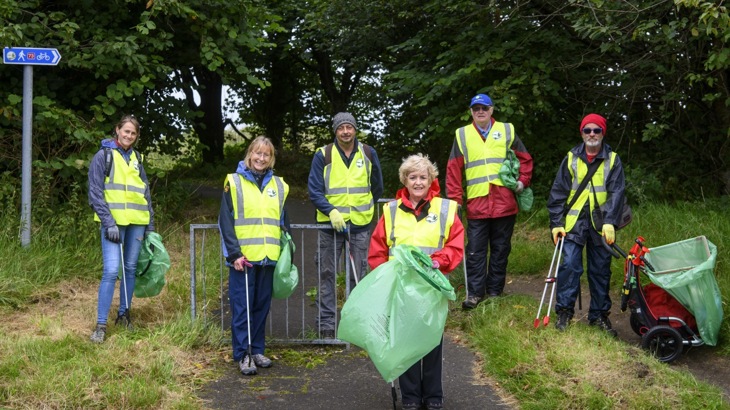 Equipment and training 'bundles' are available to community groups for projects which benefit people or wildlife across traffic-free National Cycle Network routes in Scotland.
Why fund this?
Sustrans only has maintenance responsibilities for a small portion of the National Cycle Network in Scotland, where we support maintenance volunteering. We encourage voluntary litter picking across all areas of traffic-free Network in Scotland, but we also aim to support those community groups that are already helping to look after their local routes or are hoping to begin, and those who simply want to learn more about their valuable local greenspaces.
People are much more likely to walk and cycle on attractive, interesting and biodiverse routes; safe, clean and green routes can make a journey more enjoyable, and increase everyone's confidence in making active journey choices. Learning more about the amazing array of wildlife species that call these routes home can also inspire more people to explore their local National Cycle Network paths. 
Communities are the greatest sources of knowledge across local areas, and often provide the most acute understanding of how to improve these stretches of the route. The Love Your Network grant fund aims to aid local communities in making the most of the remarkable assets on their doorsteps and helping the National Cycle Network in Scotland to flourish.
What support can I apply for through Love Your Network in Scotland?
Following community feedback, the Love Your Network grant now allows groups to submit applications for equipment and training 'bundles.'
Love Your Network bundles offered include:
• Litter-picking equipment
• Handtools
• Wildlife ID training
• Ecology advice
Community groups also have the option to build their own application if they need items or training not featured in a bundle, for example a bike trailer, hi-vis vests, power tools, etc. Please see the grant guidelines for full details.
Please note: projects which take place on a traffic-free section of a numbered National Cycle Network route will be given priority.
Who can apply?
Love Your Network support will be available to constituted community groups, registered charities and other social enterprises. Individuals and profit-making companies are not eligible to apply.
If you are an informal group without a constitution but can otherwise demonstrate your organisation and action, please contact us.
When can applications be made?
The previous round of the Love Your Network grant closed on 28th May 2021. The fund will reopen to new applicants during August 2021. 
How do I apply?
Download the Love Your Network grant guidelines before applying.
Start your online application for funding.
If you have any questions about the fund, please email Laura White.