Local residents have long been concerned with the overwhelming traffic levels in the Queen Street neighbourhood of Dumfries. To help solve this, we worked with the local community to transform Dumfries town centre into a safer, more vibrant, and attractive place to live.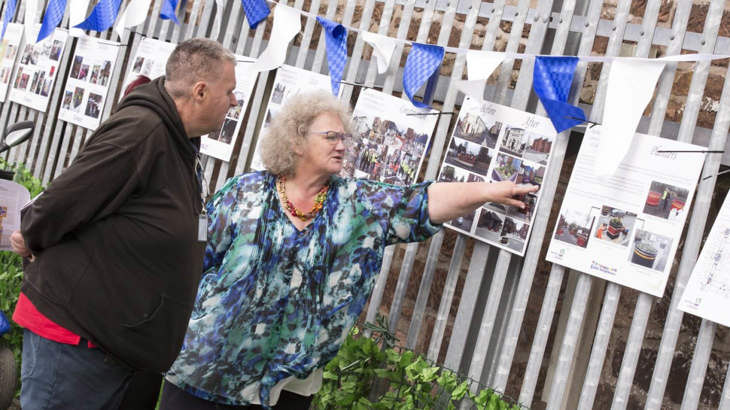 From the outset, residents, businesses and schools were encouraged to help with the aspirations and inclusive design of the project. ©2017, Allan Devlin Photography, all rights reserved
About the project
Our Dumfries neighbourhood street design project transformed a once-neglected part of Dumfries town centre into a vibrant and high-quality pedestrianised space for people to walk, wheel and cycle. 
The project was delivered in response to longstanding concerns over traffic movement in the Queen Street neighbourhood of Dumfries.
Plans were developed jointly by residents, Sustrans and Dumfries and Galloway Council.
Putting residents at the centre of the project
People living and working in Queen Street, McLellan Street, Brooke Street and Cumberland Street closely guided the changes carried out in their neighbourhood.
We worked with local residents throughout the project from initial design ideas through to the construction process to ensure the solutions were right for the whole community.
We installed:
innovative artwork
traditional Victorian street lighting
gateways
and a touch of greenery in the form of trees and planters.
We also made changes to the road layout of all four streets and the area outside Theatre Royal on Shakespeare Street.
This included the addition of raised tables, wider pavements and street furniture.
All of these changes have helped make the streets safer and more attractive for people to walk, wheel and cycle.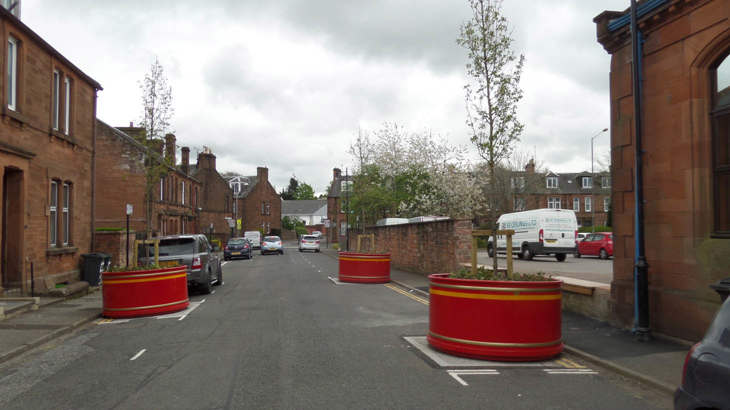 Trees in planters installed along Cumberland Street in Dumfries as a traffic-calming measure. ©2017, Sustrans, all rights reserved.
A collaborative effort
Our Sustrans Scotland team worked closely with the local community at each stage of the project to deliver the community's vision for their local area.
A variety of engagement methods were used, including competitions, workshops, on-street consultations, guided bike rides, pop-up installations, and a 'Big Lunch.' 
The activities were specifically designed to bring people together, to inspire long term interest in their neighbourhood, to strengthen social connection and empowerment, and to co-design solutions.
During the project, residents of the area decided to form a constituted community group, DG1 Neighbours.
The group continues to undertake neighbourhood improvements even after the initial project was itself completed, such as the creation of a community garden.
Building on the momentum
A member of the DG1 Neighbours said:
"It's great to see the positive changes that have taken place over the past few years in our neighbourhood and the celebration event helped to remind everyone of the transformation.
"We're looking forward to formalising our community group and building on the successful outcomes of this project."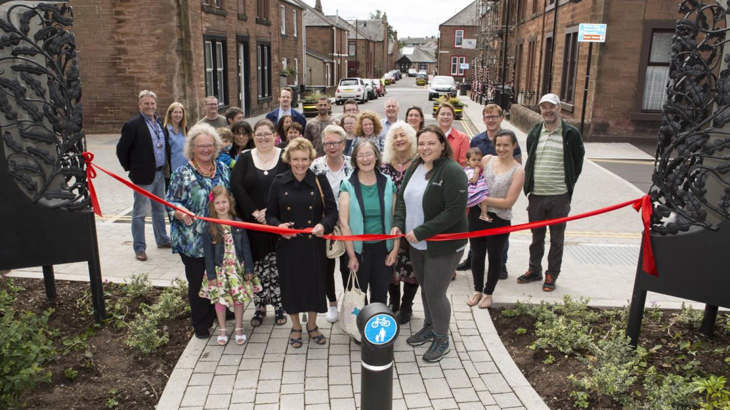 DG1 Neighbours were awarded the Civic Champion prize at the Scottish Civic Trust 'My Place' awards in 2018 for their support to the Dumfries Street Design Project. ©2017, Allan Devlin Photography, all rights reserved.
Bringing the neighbourhood back to life
Our main aim from the offset was to build up trust and learn about the community.
We spent time designing solutions that would help get people out of their houses, meet their neighbours and bring them together. 
We wanted to bring back that feeling of being part of a community in this neighbourhood.
This approach achieves far more than better street design.
It gives communities a sense of empowerment, momentum, and community cohesion.
Working together
Paul Ruffles, Sustrans Principle Designer in Scotland said:
"This project showcases what can be achieved when communities and partners work together to build ambition and implement visions for the places they live in.
"As a result of this project, the neighbourhood has become a greener, quieter space with a strong character.
"It celebrates the area's heritage and actively encourages people to spend time in or walk, wheel or cycle through."
Key people involved in the delivery of the Dumfries Neighbourhood Street Design project talk about how the project came to be and the impact it still has on the community.