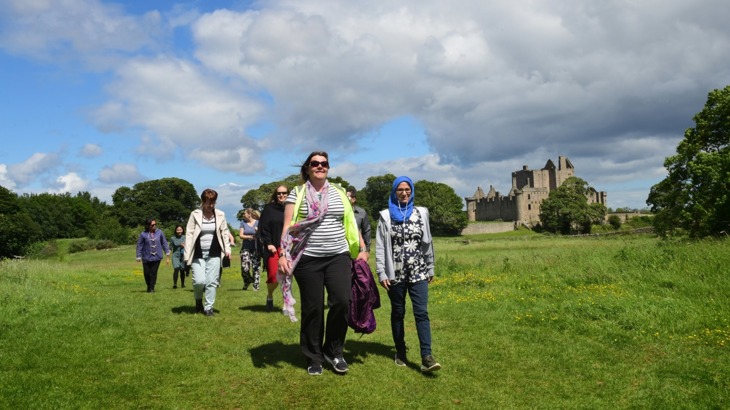 An Active Travel Champion leading colleagues on a lunchtime walk
Project Officers engage with contacts within key workplace departments to identify site-specific barriers and opportunities for active travel, as well as particular active travel aims and objectives for that organisation.
Champions are provided with access to a fully-funded package of training including; behaviour change, walk leader, cycle ride leader, bike mechanic skills and much more. Officers and Champions deliver a package of measures designed to impact policy, people, resources and infrastructure, all of which work toward encouraging more people to travel actively.
Overview
Engaging with workplaces over a 3 year time period the project aims to:
Establish a sustained culture of active travel by fostering a network of empowered Champions.
Increase capacity at an organisational level to promote active travel to staff.
Support organisations to improve staff health and wellbeing, reduce carbon emissions, and make business savings.
Since the project began Sustrans have trained and supported over 160 Active Travel Champions across 20 workplaces sites. Active Travel Champions is fully funded by Transport Scotland.
Get involved
Are you based at a workplace site in Edinburgh or Glasgow with 200 or more employees and are interested in joining the Active Travel Champions programme?
To register your interest in the Champions project, get in touch with our Scotland workplaces team
Find out about more ways to promote sustainable travel in your workplace