Well designed, safe cycle parking provides convenience and peace of mind for people who choose to travel actively. In this article, we list secure cycle parking locations in Northern Ireland.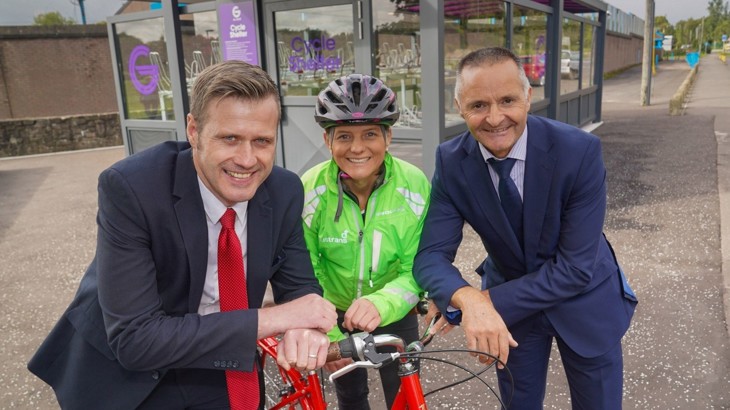 New Glider cycle shelters. L-R Richard Anderson from Translink, Martha Robb from Sustrans and Clive Robinson from Department for Infrastructure.
Translink Secure Cycle Shelters
There are secure Cycle Shelters along the Glider G1 Route and at train stations throughout Northern Ireland. You can buy a key fob for a one-off payment of £10 to access any of the secure cycle shelters below.  More information on the Translink website.
Belfast Cycle Parking
The Department for Infrastructure has mapped cycle parking across Belfast. These include Sheffield stands, cycle hoops and other cycle parking options. See Belfast cycle infrastructure map.
Shop by Bike
There are cycle parking options available, with varying degrees of security.  Check out the Shop by Bike (pdf) report for recommendations. 

Derry City & Strabane District Council
The council have an online cycling map that outlines cycle routes as well as a layer of known cycle parking provision that is open to the public, and the location of the 5 Bike Repair Stations, which have pumps and basic tools. See Map of cycle provision in Derry and Strabane District.
Cycle security advice
The Police Service of Northern Ireland (PSNI) advise cyclists to:
park cycles safely and considerately
not leave cycles in isolated places
always lock a cycle when leaving it even if it's only for a few minutes
secure bikes to proper cycle stands or robust furniture
lock cycles through the frame
secure or remove wheels
remove smaller parts and accessories that can't be secured
security mark your property
use a 'Sold Secure' accredited cycle lock
register your bike with a secure database such as https://www.bikeregister.com or https://www.immobilise.com.