The increased popularity of shared spaces has led to a rise in complaints from path users about the behaviour of other users.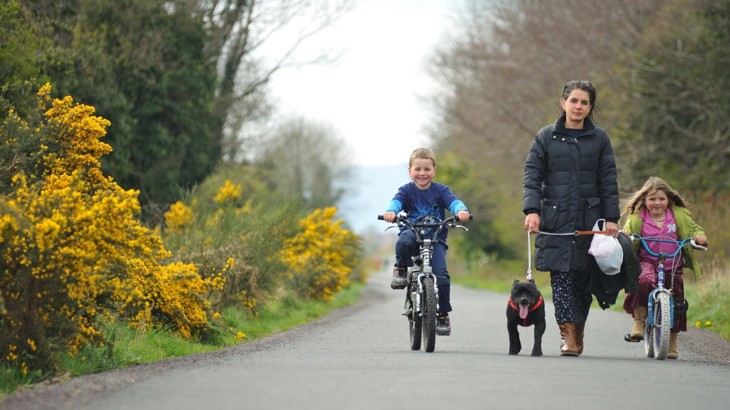 The main response to these issues has been physical interventions such as segregating user groups, signage and barriers. However, our research shows that these measures are mostly ineffective and are often targeted at one particular user group.
The challenge
The Comber Greenway is a seven-mile route built on the corridor of the disused Belfast and County Down railway line which closed in 1950. Over the years, sections of the disused railway line were turned into cycling and walking routes.
The route won a European Greenway Award in 2009 but as its popularity increased over the years, so did the number of complaints received. These ranged from speeding cyclists and dogs not on leads to walkers taking up all the path.
In response, there were calls to segregate users and to introduce bye-laws to address these problems. At a practical level, a linear space with multiple entry points such as the Comber Greenway would prove extremely difficult to sign and then enforce. Sustrans offered an alternative approach which focused on behaviour change rather than regulations.
The One Path Initiative - Share, Respect, Enjoy
The One Path Initiative used a variety of methods (including events, on-path signage, press and social media) to engage with all path users, resulting in positive actions and behaviour change.
To achieve this Sustrans undertook some initial survey work on the Comber Greenway to determine the issues with path owners and greenway users. Through the surveys, we were also able to understand how, when and why the path was being used, as well as the issues and attitudes of the various users.
The principle behind the initiative is to create a positive culture for everyone to 'share, respect and enjoy' the paths.
We identified four main focus groups – dog walkers, cyclists, runners and walkers and invited each group separately to explore each group's experience of using the Comber Greenway.
In response to the project aims, the issues raised through the focus groups, and additional direct communications with a number of cycle clubs and representations from other path users, we ran a series of fun community engagement events at various locations along the Comber Greenway.
The events were run by Sustrans staff and volunteers, trained in motivational interview techniques, who engaged with path users, raising awareness and discussing behaviour.
The events were well attended and while the focus was on engaging with users, a record was kept of the general concerns raised to help inform further actions.