Does your workplace want to attract and keep your best talent by making their commute by bike easier and stress-free? Integrate cycling into your business in a positive and simple way and become a Cycle-Friendly Employer.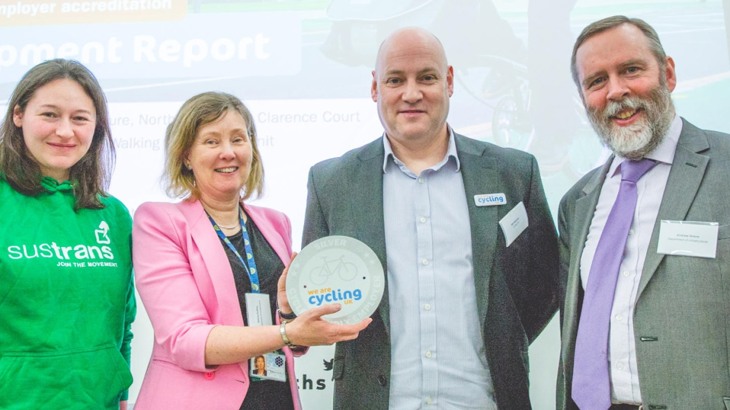 Katrina Godfrey, Permanent Secretary Department for Infrastructure receives Cycle-friendly Accreditation award from Matt Mallinder, Cycling UK with Andrew Grieve, DfI & Patricia Magee, Sustrans.
Are you a Northern Ireland-based employer? If so we can help support you to become a cycle-friendly employer.
The Cycle Friendly Employer accreditation (CFE-UK) was developed within the EU project Bike2Work, with Cycling UK the recognised provider for the UK.
CFE-UK is the only international standard for workplace cycling, working in partnership with countries across Europe. Site auditing and advisory work are provided by Sustrans for organisations in Northern Ireland.
Recognised for their success at a Bronze, Silver or Gold standard, organisations must meet a range of measures to demonstrate their cycle-friendliness, including communications, training and incentives for staff as well as physical facilities such as secure cycle parking, showers and changing rooms.

We support employers to encourage their staff to consider active travel in their daily routine. Being a cycle-friendly employer brings real benefits by promoting staff health and well-being, reducing absenteeism, increasing productivity and saves organisations money. Cycling UK will give you recognition for your success and help you integrate cycling into your business in a positive and simple way.
Read more about the accreditation scheme