Are you a community group or individual who would like to walk or cycle more? Our Community Active Travel Programme is about encouraging people in communities across Belfast to walk and cycle more as part of everyday life.
We work with lots of people and groups from communities across Belfast.  These range from youth groups to women's & men's groups, parents and toddlers, voluntary sector workers and the migrant community.
We can work with your group to design, plan and deliver a programme that will suit the individuals in your community or group. 
What we offer
Our team will work with you to plan and deliver activities such as:
Group led walks
Exploring the city through group led cycles
Training people in your group to be walk or ride leaders
Bicycle maintenance sessions.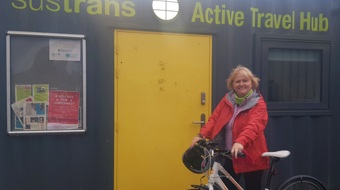 Brenda, from the WISPA NI group took part in an 8 week cycling programme
"Week by week we built up our time and miles and in the end, we were able to cycle the whole comber greenway – I never thought I would be able to do that. It is so great to get out in the fresh air and socialise with other people in the group."
Benefits of walking and cycling
Walking and cycling has many benefits. It can:
Improve your fitness
Boost your positive mental attitude and can help to relieve stress
Be a sociable activity and time to interact with family and friends
Be a low-cost way to travel around
Be good for the environment
Reduce your risk of heart disease and stroke
Help improve your balance.
Don't just take our word, here are some people that have taken part in our activities.
"I have quite bad asthma and have had pneumonia in the past but I have found that since I took up the cycling my lungs have improved and my breathing is much better. I haven't needed to take my inhaler."
Watch the video below to find out more about the Belfast Community Active Travel programme: