In the London Borough of Brent, Carlton Vale's road infrastructure has changed, so it's now safer and easier to walk and cycle in this congested part of London.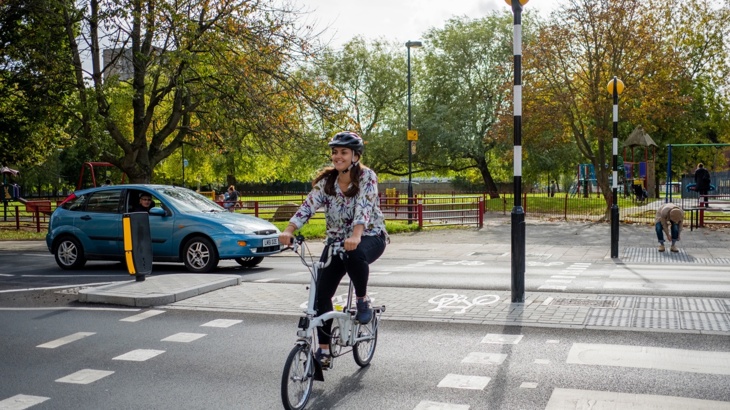 A busy through road, main bus route and collision hot spot, Carlton Vale is typical of roads in London that need an overall transformation.
Key facts
4 new bus stop bypasses
6 raised tables
10 improved pedestrian crossings
Brent Cyclists led a highly successful campaign for improvements and Brent Council responded with a concept design to help people to walk and cycle safely, in comfort and with confidence.
The bold idea focused on reallocating road space from four lanes of traffic to two.
But this scheme also straddled the London Borough of Westminster and was situated in an area with major challenges to overcome, from the busy gyratory system to multiple bus routes to a future HS2 shaft.
Solutions to complex problems
Bringing the vision to life from the concept design stage was complex, so Brent commissioned Sustrans to carry out the detailed design, resolving problems arising from width constraints, level differences, expectations from different boroughs and stakeholders.
The improvements now in place along Carlton Vale include semi-segregated cycle lanes with four new bus stop bypasses, six raised tables to slow traffic and ten improved pedestrian crossings.
These changes not only provide a safe cycle route but also help make the streets safer and healthier for everyone.
And people using the schools, playground, mosque and busy street no longer have to cycle in heaving traffic or struggle to find somewhere to safely cross on foot.
We're proud to have helped the London Borough of Brent make it safer and easier for people to walk and cycle in this bustling urban environment.
To work with us in London please email london@sustrans.org.uk or call 0207 017 2350