We have delivered a two-year project in Marks Gate in East London combining community-led street design, behaviour change and infrastructure improvements to increase opportunities for walking and cycling whilst creating a lively and more people-centred environment. We won at the 2018 London Transport Awards in the Excellence in Cycling and Walking category for our work in Marks Gate.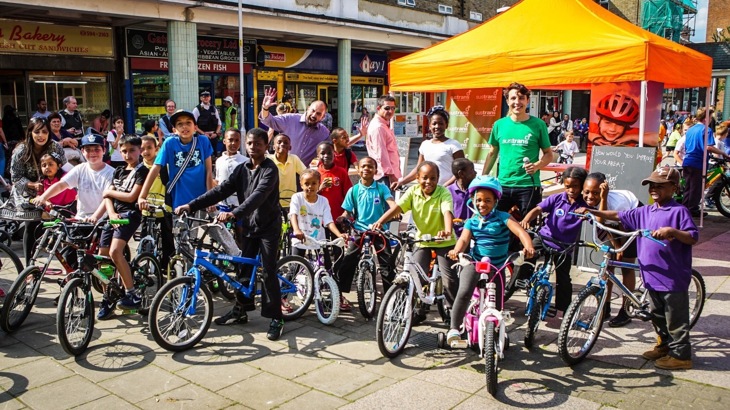 Background
The street design project was a collaboration between Sustrans and the community, Barking and Dagenham Council, Transport for London and other partners. 
The first of its kind in London, the project was launched in 2015 to address many challenges in the area on behalf of the local authority.
These challenges included a car-dominated environment, low levels of cycling, poor mental and physical health indicators, and a lack of community empowerment.
Challenges
Marks Gate is a young, culturally diverse residential community that was experiencing many problems:
High levels of deprivation, being ranked the seventh most deprived London borough and twenty-second nationally.
Unemployment level of 16% compared to 1.8% nationally.
One in three children and young people living in poverty.
65.3% of adults were overweight.
A speed recording session found 85% of vehicles exceeded the 20mph speed limit.
Sustrans has visually enhanced the area and, more importantly, given the residents a chance to come together.
How we helped
When Sustrans arrived in Marks Gate we listened.
We had a mandate to encourage more people to choose to walk and cycle.
But first, we wanted an understanding of the wider problems in the area and what local people imagined positive change could look like.
Our holistic approach resulted in great community engagement. We organised 145 events reaching 7,000 residents asking them how they would like to see their area transformed.
Solutions
Residents identified a series of problems and with the help of our experts decided on ways to tackle these issues.
We: 
Reminded cars they're entering a 20mph zone by using trees as gateway features and kids drawings on slow signs to remind traffic to slow at either end of Rose Lane.
Created a clear path for kids to use that follows the route people actually take through the area by building a Yellow Brick Road, and introducing a crossing point between bus stops to open up the space for pedestrians.
Widened the pavement to the infant school and creating waiting areas outside both schools to better accommodate pedestrians and pushchairs.
Dealt with a smelly and often flooded subway that runs beneath the A12 by painting a mural along the length of the subway and working with Transport for London to add anti-graffiti coating, as well fixing the lighting and drainage.
Brightened up the shutters of the shops along Rose Lane to improve the appearance of the street in the evening when the shops were closed. We run street art workshops with children and young people who then painted the designs with help from an artist and volunteers.
Organised clean-up sessions to tackle litter by engaging with residents, the BAD Youth Forum, the Young Mayor, local MacDonald's staff and The Challenge (NCS).
Set up a weekly women's cycling session and run Bikeability training for children to enable them to get active and enjoy the lively, social spaces we created.
At the end of the project we organised a DIY Street Party. The event marked the end of the project and brought the community together to celebrate the changes.
This unique combination of road safety, community engagement and cycle lessons is the foundation to the success of this project.
Results and impact
Marks Gate now has colour and character and lots more bikes.
An interim survey shows:
65% of the residents surveyed walked or cycled more
64% felt road safety had improved
22% reduction in residents saying traffic speed is a problem
32% increase in respondents feeling the area offered space for socialising
a reduction in average speed on affected roads 
What we learned
Projects combining community-led street design, behaviour change and infrastructure improvements are key to creating healthy streets.
They unlock the benefits that can come from living in a community that feels safe and empowered. 
Community-led street design provides local authorities and practitioners with practical solutions on how to address some of the modern urban challenges we face.
And it addresses the pressing issues such as air pollution, traffic congestion, obesity and mental health problems.