We are working with children, parents and local residents on a pilot project with City of York Council to help Carr Junior School develop new street designs and improve safety around the school gate. These changes will help more children walk and cycle to school and create calmer, greener places for everyone.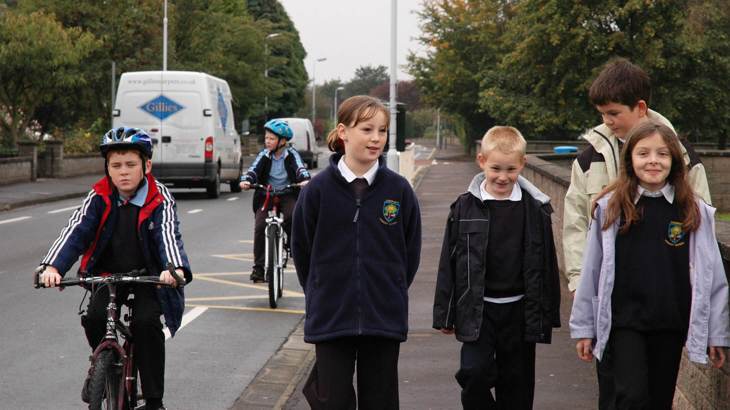 Carr Junior School has high levels of traffic congestion and road safety issues around peak times when parents drop off and pick up their children at school. There have been a number of accident 'near misses' and the local community want to improve conditions for everyone.
Stage 1                                                 
Big Street Survey
In the first stage of the project, children think about their journeys to and from school and what they would like to change. Pupils survey the streets around the school to assess potential dangers and rate them according to how the spaces make them feel and behave.
Designers
Working with our Urban Designers pupils at the schools explore ideas for redesigning the street outside the school to encourage more families to get to school on two feet or two wheels.
Pupils want to create a safer environment where they would be able to play and socialise. They would like to see parking-free zones, safer crossings and cycling lanes, greener and more attractive places outside their school.
Together they look at practical ways that our team can change the street to create a healthier, friendlier environment for children, parents and residents.
Community
Our grassroots approach includes events and activities with the whole school community. Local residents have the opportunity to hear all about the work children are doing, to share their views and ideas about how the street can be improved and to co-design the street.  Our team holds drop-in events to gather views and ideas that help us to design new-look streets that help reduce traffic and boost 'active travel'.
Stage 2
In the next stage of the project, schoolchildren get the chance to put their street design ideas into practice. Our team works with the children and local community to redesign their street, implementing changes such as altering a dangerous junction, installing a pedestrian crossing, restricting car parking or closing school streets at peak times.
Interested in designing streets for people? Find out more