For Air Quality Day 2019, Sustrans found solutions to help children cycle to a Plymouth school.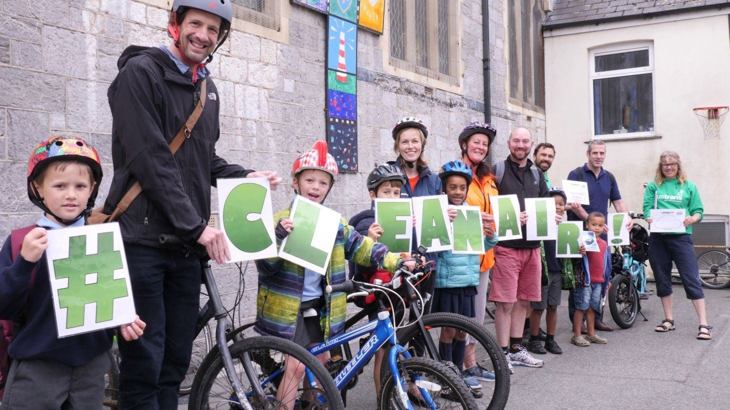 Learning about air pollution and how to prevent it inspires children to cycle to school
In 2019 Plymouth City Council put us in touch with Professor Mark Fitzsimons. He is a local parent who was having trouble getting his children to Holy Cross Primary School by bike.
Identifying barriers to cycling to school
We met with Professor Fitzsimons to discuss the issues he was coming up against. He is a great cycling advocate, and had bought an e-bike to take his two children to school.
But he was concerned about high volumes of traffic in small streets.
Limited access to the school gate also created a problem, as families with bikes or buggies were unable to move through quickly. This meant people often spilled over into the road from the pavements.
Seeking solutions
We helped Professor Fitzsimons with route planning and found a slightly longer but less congested route to school.
We also met with the school's head teacher to discuss access at the school gate. The school agreed to open a larger emergency gate, using road safety bollards to restrict vehicular access.
Clean air day success
On Clean Air Day, Cycling Champion Councillor Jeremy Goslin joined nine children and six adults on a ride to school. It ended at the wider gate opening.
Other children on bikes and scooters joined at the school gate. They were inspired by classroom activities around clean air we had run the day before
Clean Air Day was a great success, with children really engaging with an active school run.
Maintaining momentum
We have since planned more family rides. And we negotiated a fund to buy bollards, which the head teacher plans to install to use on the larger gate from September 2019.