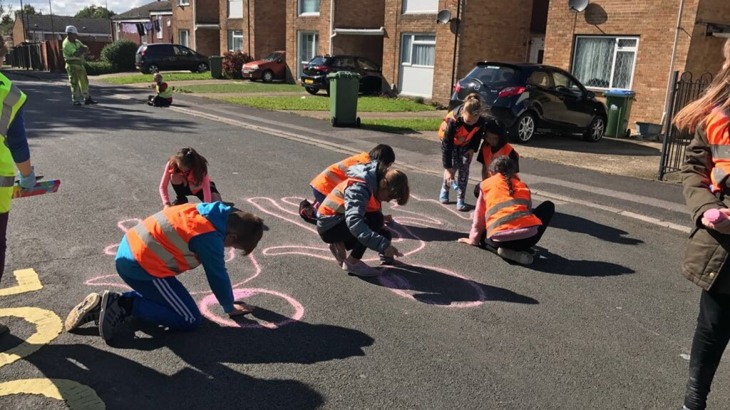 The challenge
Fairisle Road is blighted by traffic and insensitive parking during the school run. There is a regular conflict between residents and parents and carers, as parents park on residents' driveways, block access for emergency vehicles, and park on footpaths and green spaces, in order to park close to the school gates.
Despite being just a five-minute walk away, use of the nearby Park & Stride is extremely low. School-run congestion makes it difficult for children to be seen when crossing the road to get to school, so parents are reluctant to let their children walk, cycle or scoot to school.
Sustrans' solution
Sustrans worked with students, parents and carers and residents to review issues and opportunities collaboratively, co-designing interventions to make the street more child-friendly and improve air quality.
We then closed the street for an afternoon to test out the designs. We helped students recreate the designs for new crossings and activity trails, and used Sustrans street kit to test seating. The event was a huge success and encouraged positive conversations between the school, parents and carers and residents.
I think today has been great! Hopefully, it will make parents think differently, and change their behaviour.
Southampton City Council will use the when funding becomes available for implementation.
Key facts
More than 250 students, 59 parents and 40 residents took part
85% thought the designs would improve road safety
95% thought the designs would make the street more attractive
74% felt the designs would encourage more use of the Park & Stride