Sustrans is working with the Isle of Man Government to get more people walking and cycling their everyday journeys. We were recruited to work on a four-year programme following the approval by the Isle of Man Parliament (Tynwald) of the Island's first Active Travel Strategy in July 2018. The Strategy aims to increase active travel from 14% of people who said they cycled and walked in 2011.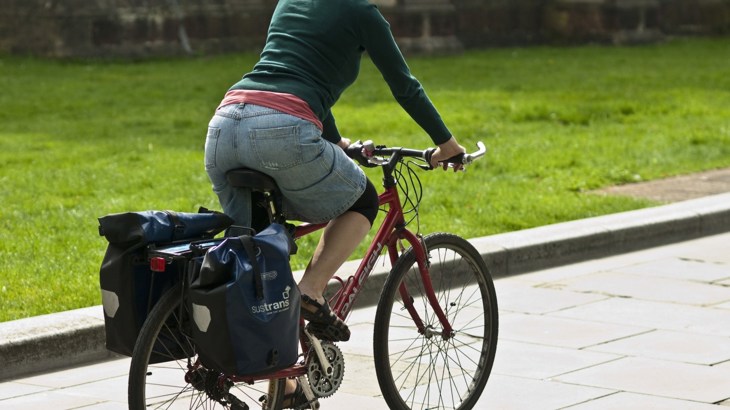 In July 2018 the Island's Parliament (Tynwald) approved its first Active Travel Strategy, following the Director of Public Health's report which highlights concerns about lack of physical activity on the island. The new Strategy aims to increase the number of people using active forms of travel on a regular basis. 
What we are doing
The £3.8million Active Travel four year programme aims to get more than 20% of people walking and cycling to work, school or study by 2021, compared to 14% in 2011.
We have developed an Active Travel Investment Plan to help the Government deliver changes such as high-quality cycle routes, traffic calming and improved signage.
Two active travel officers will also work directly with local businesses, schools and communities to encourage more people to travel by foot or bicycle.
How active travel helped local people
Active travel benefits everyone from all walks of life and we want to make the impact of this project as far-reaching as possible.
We want to help everyone understand the benefits of active travel and give it a go.
Take a look at the stories from local people who made the change.
'Cycling wakes me up for work and keeps me fit'
Kris Breadner is a teacher in Ballakermeen High School, Douglas. He started riding his bike again in his late 20s and now brings his daughter along with him. For Kris, cycling offers much more than fitness, it wakes him up and gets him going in the morning.
"I cycle three or four days a week. I'm always more awake when I've cycled to work and it keeps my fitness up. I have a three-year-old so sometimes I can feel quite tired in the morning. When I drive in I can feel half asleep when I get to school but if I've cycled, I've woken up by the time I arrive," he says. 
'I think and work better, and I'm so much happier'
MaryJane Watson started cycling to work as part of a personal goal to lose weight. Now she loves it so much she rarely misses a day on the bike.
For MaryJane, her bicycle has transformed her life; it's made her more confident in more ways than one and has given her a sense of freedom and independence that she previously didn't have. 
"Without my bicycle, I know, because I've been there before, that I would be fat, unfit and unhealthy. Cycling for me is freedom and total independence... it has opened so many doors for me: the love of my environment and the world around me. My only regret is that I didn't discover it earlier in my life."