Our neighbourhoods should be designed in a way that makes it easier and safer for people to choose to walk and cycle. Sustrans will promote streets and spaces that belong to people first.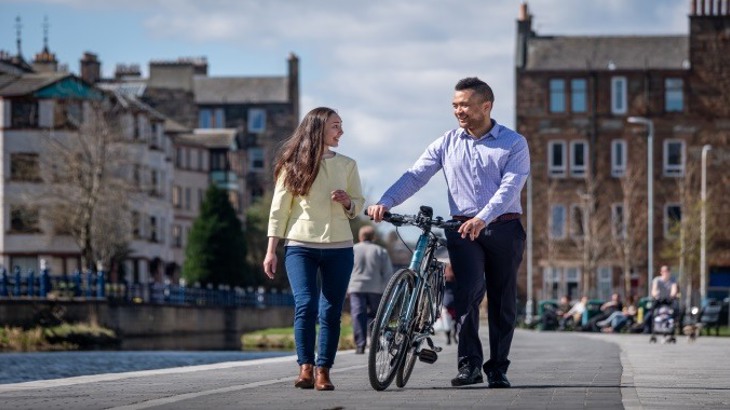 This policy position was published by Sustrans in June 2018.
Summary
People deserve attractive streets and places that are easy to move around and safe from motor traffic. Everyone should feel ownership of the streets and communities where they live and spend time – not overwhelmed or side-lined by the motor vehicles passing through.
Shared Space is a design approach to streets and places to better accommodate people walking and cycling and reduce the dominance of motor vehicles. This approach has been interpreted in different ways and is often misunderstood.
Sustrans believes we should move beyond shared space, instead using an approach that creates people-prioritised streets and places. Streets and places designed to prioritise people should be inclusive and consider the needs of more vulnerable users above motor traffic. This may or may not use elements of shared space design or separate people and vehicles, depending on what best creates the most inclusive environment for people on foot, on cycles and vulnerable groups in particular.
Context
Shared space is an approach to the design of streets and public spaces, but has come to be associated with street layouts that put people and vehicles in the same space1,2. Whilst shared space is not a particular set of physical features, typically separation between people and vehicles is reduced.
What this looks like in practice depends on the existing environment, the objectives of a scheme and understanding the unique aims and needs of the local community. The majority of schemes aim to reduce the dominance of vehicles and create an environment that promotes equality between people walking and cycling and vehicles3.
Reducing separation can make vehicle traffic slower and reduce traffic volume, consequently reducing the frequency and severity of collisions4,5. Slower vehicle speeds make people feel safer, making a place more pleasant to be in and to walk and cycle, and can lead to local economic benefits6. However, simply placing people and vehicles in the same space, without appropriate traffic restraint and speed-reducing measures, can increase danger and exclude vulnerable groups.
What we think
We think we should move beyond the term shared space. It incorrectly implies that motor vehicles can freely and safely mix with people walking and on cycles.
Without adequate priority given to people walking or cycling, it is not appropriate to allow motor traffic access to space that is supposed to prioritise people. Whilst there are good examples of shared space, some schemes based on shared space design principles provide insufficient safety and prioritisation for people or do not meet the needs of specific groups, especially those with visual impairments.
We believe that people-prioritised streets and places is a better approach. People-prioritised streets and places put the needs of people first. This may or may not include elements typical of shared space schemes or give separate space to different users depending on which best creates an inclusive environment for all users. This is similar to people-prioritised streets and places, described in a Chartered Institution of Highways and Transportation review of shared space, but inclusive of all forms of vulnerable mobility7.
We believe people-prioritised streets and places can help to rebalance space in order to make people feel welcome, rather than pushed to the margins by motor vehicles. We need to ensure independent mobility of vulnerable road users including people walking and cycling, children and disabled people. Shared space is only one tool that may help to achieve this.
Designs that incorporate elements of shared space are more appropriate for environments with low volumes of traffic travelling at slow speeds. Sharing space is not appropriate where motor vehicle speeds and volume makes people feel like vehicles are dominant. In these cases, streets that prioritise people require appropriate methods of physical separation to create dedicated space for both people on foot and cycling, alongside improved crossings for all users to ensure that the movement of people is given the highest priority.
We advocate and deliver an inclusive approach to design that recognises different mobility needs and improves accessibility for all. We continue to adapt our processes. The first priority of design should be creating accessible and inclusive environments and must be consistent with the Equality Act (2010).
Governments needs to draw up a clear set of principles and standards to promote space that prioritises people and ensures the safety of all users, including people with sensory or physical impairments. Ongoing research is necessary to better understand and communicate which design approaches and features will ensure our streets are safe, inclusive, accessible places for everyone.
Too often motor vehicles dominate our streets and public places. Our neighbourhoods should be designed in a way that makes it easier and safer for people to choose to walk and cycle. Sustrans will promote streets and spaces that belong to people first. By creating lively, community-centred spaces where people enjoy spending time and travelling through we can make all of our cities, towns and streets feel like places for people.
References
---
1. The Scottish Government (2010). Designing Streets. Pages 12-15: http://www.gov.scot/resource/doc/307126/0096540.pdf
2. Department for Transport (2007). Manual for Streets. Page 83: https://www.gov.uk/government/uploads/system/uploads/attachment_data/fil...
3. Department for Transport (2011). Local Transport Note 1/11.: https://www.gov.uk/government/uploads/system/uploads/attachment_data/fil...
4. ELTIS (2012) Shared Space: A new traffic flow concept in Graz (Austria): http://www.eltis.org/discover/case-studies/shared-space-new-traffic-flow...
5. Noordelijke Hogeschool Leeuwarden NHL (2007). The Laweiplein, Evaluation of the reconstruction into a square with roundabout: http://www.fietsberaad.nl/library/repository/bestanden/Evaluation%20Lawe...
6. Sustrans (2014). Boosting Local Economies: https://www.sustrans.org.uk/news/boosting-local-economies
7. Chartered Institution for Highways and Transportation (2018). Creating Better Streets: http://www.ciht.org.uk/en/media-centre/news/index.cfm/ciht-launches-crea...