Public bike-share schemes are often very visible. They introduce many cycles quickly into a city or town helping to change behaviour and perceptions around cycling.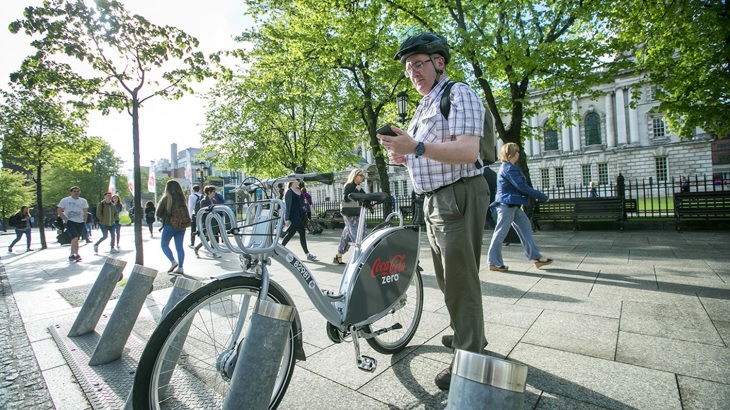 Summary
Cities and towns need to do more to facilitate cycling and walking as an everyday form of travel and recreation for both residents and visitors. One barrier to more people cycling, especially people in lower-income households, is accessing a suitable cycle.

One approach is through the provision of public cycle share schemes in towns and cities. Evidence shows they can be an important part of the transport mix and a good entry point into cycling more and purchasing a cycle.

We recommend public cycle hire schemes are developed in partnership with the local transport authority as part of an integrated public transport offer. This should help to ensure they are financially sustainable and more inclusive for people wanting to cycle.


Context
The cycle hire scheme in London started in 2010. It was the first widespread public cycle share scheme operating in the UK and is one of the largest public cycle share schemes in Europe with over 11,500 bikes and 750 stations.
Whilst the scheme now covers 100 km2 it only operates in the central part of London.
Since the London scheme, other cities have followed suit and different types of schemes have materialised in cities and towns across the UK.
Cycle share schemes are a form of micro-mobility, a term used to define types of vehicles that are small and can transport people or goods.
Public bike-share schemes are often very visible. They introduce many cycles quickly into a city or town, helping to change behaviour and perceptions around cycling.


Scheme types
Two main scheme types exist.
Larger and more traditional UK schemes typically use docks or stations.
This is where physical on-street stations exist for dropping off and picking up cycles.
The limitations of this type of scheme (in comparison to dockless cycle share) are that stations are costly to build, require street space and are often far apart or full which can be problematic for users.
The benefits include security for cycle storage and it keeps the cycles off the pavement where they can form street clutter. Schemes may enable payment using a mobile app or at a station.
London, Belfast, Cardiff and Edinburgh all now have docked public cycle hire schemes alongside a number of other cities, including Liverpool and Glasgow.
Dockless cycle share schemes are more recent and originated from China.
The first UK scheme launched in Bristol in 2017 [1] and was rapidly followed by schemes in various cities. Dockless cycles are located using a mobile app and accessed via Bluetooth.
Unlike docked cycle share schemes, dockless cycles can be left anywhere within a geofence which forms the boundary of the scheme.
Some schemes exist that are combinations of docked and dockless cycles.
All schemes currently use standard bicycles. However, there are aspirations to be more inclusive.
Many schemes are therefore beginning to roll-out electric bicycles, and Cardiff wants to include other types of adapted cycles.
For more information, we recommend visiting CoMoUK which promotes shared transport modes: https://como.org.uk/


What we think
Public cycle-share schemes can make everyday cycling more visible, encourage modal shift and draw new people into cycling, be a cheap and inclusive form of transport, and play an important part of a city or town's overall public transport mix.
With use, types and operating models of public cycle share schemes evolving rapidly in the UK, it is important to ensure governance of their use helps to do three things:
Improve transport choice and accessibility for all people.
Be financially sustainable.
Not impact negatively on the pedestrian environment. 

Improve transport choice and accessibility for all people
Cities and towns drive both prosperity and inequality. In Scotland, household access to cycles increases with household income.
60% of households with an income of £40,000 or more have access to one or more bikes, in comparison to 22% of households with an income of between £15,000 and £20,000 [2].
If you are from a lower socio-economic background you are also more likely to live further away from high-quality services,  transport infrastructure is likely to be worse and your transport choices limited.
In addition, poorer communities experience higher levels of traffic and associated local air pollution, road safety risks and physical inactivity.
Sustrans therefore strongly supports models of cycle share that offer genuine transport choice for everyone, not just those that can afford it or live in wealthier neighbourhoods.
We recommend that shared bike schemes from private suppliers are run as a public and private partnership with the local transport authority.
This is most likely to ensure they are run as part of an overall city transport strategy as opposed to purely for profit where they are unlikely to contribute towards reducing inequality in mobility or maintaining the assets on which their services rely.
Improved transport choice for all people means four things in the context of public cycle share schemes.
Firstly, providers and local transport authorities must try to ensure they reach all geographic areas. In terms of financial sustainability, it makes sense to build out a scheme from the city centre.
However, areas outside of the centre, especially more deprived neighbourhoods, should also be prioritised where transport need is often greatest.
Secondly, we need to ensure schemes are affordable. Annual subscription to cycle share schemes can be inexpensive in comparison to public transport and car ownership.
For example, Cardiff offers its service for £5 each month on an annual subscription including free journeys which are under 30 mins in duration [3].
The price of cycle share schemes can save money for many people in comparison to other transport modes. However, schemes often require smartphone access and cards to access cycles. This may be another barrier to many people for their use.  
Thirdly, currently only bicycles are available to hire in all significant UK cycle hire schemes.
It is encouraging to see the rollout in many areas of electric bicycles, however other types of adapted cycles including cargo cycles are not currently included.
Nextbike is looking to incorporate adapted cycles into their scheme in Cardiff, which would make the scheme more accessible and inclusive for disabled people [4].
Finally, cycle share schemes should integrate well with bus, rail and metro services. Easy cycle access greatly increases the effective catchment area of stops and stations compared with walking.
Efficient integration of cycling and public transport is especially valuable as an alternative to the car in city regions, where fewer journeys are short enough to walk.
In addition, cycle share schemes should ensure full coverage throughout urban areas, particularly in neighbourhoods where ownership of adult bicycles is low, where multiple occupancy housing make secure cycle parking difficult to provide, and in low-income areas.


Financial sustainability of docked and dockless cycle share schemes
Evidence from the UK market suggests many dockless cycle share schemes may not be financially sustainable in the long term with operators pulling out of many cities or the UK altogether during 2018 and 2019.
Most docked schemes are commissioned and part-funded by the local transport authority as part of an overall integrated transport mix. On the other hand, dockless
bikes in the UK (and other places) have sprung up as a free offer to help cities and towns improve sustainable transport in return for accommodating cycles on their streets.
This has meant dockless cycle schemes have grown rapidly by getting their product out there without public financial support.
It would appear many of the early adopters who ploughed initial investment into these schemes are struggling to find a business model that is financially sustainable without the support of the public or local authority.
High level of reported vandalism of cycles in certain cities hasn't helped. Without high levels of ridership or additional funding, a profitable business model appears to be challenging.
In some areas, new operators are coming in and we will continue to watch progress but would recommend public-private partnerships to ensure dockless cycle schemes are financially sustainable in the long term.
Support from central government may be useful in this regard.


Impact on the pedestrian environment
Governance should also ensure the rise of shared cycle schemes including dockless cycle share schemes do not impact on pedestrians.
Dockless shared schemes must ensure users do not leave cycles in the way of people walking and that people do not cycle on pavements.
Public concerns have arisen from street clutter from dockless bike schemes.
This is exacerbated by multiple scheme providers operating in the same city competing for ridership.
This can make space more hazardous and difficult to navigate for people walking, especially disabled people, children, older people and people with buggies. 
It is essential that dockless bike scheme operators work with local authorities to take steps to reduce street clutter and incentivise users returning their bikes to suitable locations, for example alongside existing on-street cycle parking.
References
[1] https://yobike.com/cycle-circle-1/2017/5/2/yobike-new-app-based-bike-sharing-scheme-coming-to-uk
[2] https://www.transport.gov.scot/media/45466/tatis-2018.pdf
[3] https://www.nextbike.co.uk/en/cardiff/prices/