Sustrans prioritises fully or partially active forms of micromobility. We need to continue to be doing everything we possibly can to enable more people to walk, cycle or use a scooter for short journeys in the UK.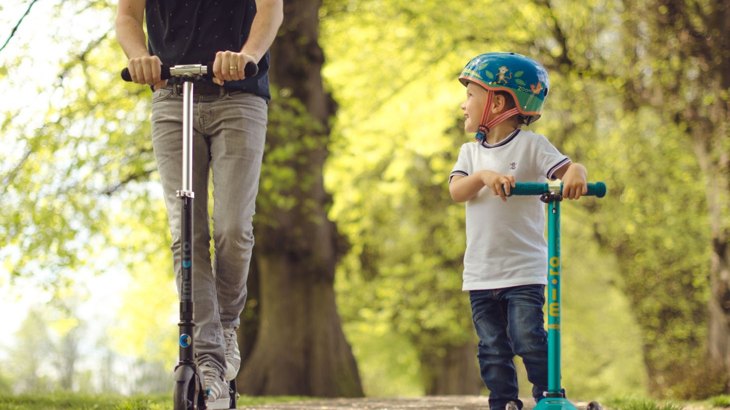 This policy position was published by Sustrans in September 2019.
Summary
Micromobility is a term used to define types of vehicles that are small and can transport people or goods. They include scooters, cycles, skateboards, hoverboards and even segways. They come in many forms including those powered by electric motors and those powered by people.
The micromobility industry is rapidly expanding and changing. The array of devices is increasing as are sales to people in the UK. In addition, schemes that enable shared use are also rapidly evolving in cities, especially around cycling (dockless and docked, pushbikes and e-bikes) and e-scooters.
Micromobility has the potential to reduce congestion, air pollution and carbon emissions, whilst improving health, making our streets more attractive, and supporting local economic vitality. Micromobility could also make transport more inclusive and enable people to access services, employment and their local community. However, to do so government must work with the private sector to ensure operating models and new technologies address this need.
Context
There is no fixed definition of micromobility, but it is generally used as a term to define types of vehicles that are small (or under a certain weight). For example, some commentators define micromobility as a vehicle under 500kg. This means in the future micromobility could also include automobiles as long as they fit into this weight band.
Micromobility is sometimes used solely to describe vehicles that include an electric motor, however we define micromobility as all types of vehicles that are small. Most vehicles that fit into the micromobility definition are designed to carry a single person, however others, for example cargo cycles can carry multiple people or goods. Most vehicles within the micromobility sector are designed to focus on everyday urban journeys that are relatively short in length (under 5 miles) with the exception of e-bikes.
The micromobility industry is undergoing rapid changes in two ways. Firstly the rise in the diversity of devices on the market, and secondly the increase in new operating models from companies that offer shared services, especially in cities.
Micromobility transport forms
Globally whilst the micromobility market is dominated by sales of bicycles, we are seeing significant increases in both the diversity and sales of new devices. This includes scooters, monowheels, electric skateboards, hoverboards, tricycles, cargo cycles and unicycles. However, the fastest growing models are electric bicycles, and electric scooters (e-scooters).
Shared use
Along with the increase in new devices, new operating models are rapidly emerging for their use in urban environments. These shared-use models include dockless and docked bike share and both push bikes and electric bikes, now operating in 26 places across the UK, almost exclusively in cities. In 2018 there were over 650,000 users of shared bikes in the UK making on average in excess of 52,000 daily trips [1].
The market globally for shared electric-scooters has also rapidly evolved over the past few years. However, at present only one scheme exists in the UK in the London 2012 Olympic Park. This is because the land is privately owned and managed.
As e-scooters are powered by an electric motor and battery, they are classified under DfT guidance as 'powered transporters'. Powered transporters is a term used to cover a variety of novel and emerging personal transport devices which are powered by a motor. This means e-scooters fall within the same legal definition and laws as motor vehicles [2].
As the public sale of e-scooters or other powered transporters is not illegal, sales have been increasing in the UK and they are becoming more common on roads, pavements and cycling infrastructure, especially in London. However, it is currently illegal to use an e-scooter or any powered transport on a public road (without complying with a number of legal requirements, which potential users will find very difficult) or in a space set aside for use by pedestrians, cyclists, and horse-riders, including the pavement and cycle lanes.
As part of the new DfT Future of Mobility: Urban Strategy [3] the UK government will seek to review regulation and governance of emerging transport modes, including e-scooters. This could mean their use is legalised across the UK.
What we think
With use, types and operating models of micromobility increasing in the UK it is important to ensure governance of their use helps to do three things: encourage modal shift away from car use, improve transport choice and accessibility for all people, and create benefits for society, the economy and the environment.
Micromobility, active travel and modal shift
Sustrans priority is to make it easy to walk and cycle in the UK. Micromobility includes fully active modes like cycling, walking and using a scooter. It also includes partially active modes, for example riding an e-cycle, which can have significant health benefits. A recent literature review suggested whilst cycling is better for health than riding a pedal-assist electric cycle, e-bikes provide a better workout than walking [4].  
There are additionally many micromobility modes that are not active, including e-scooters. These have the potential to provide a useful addition to traveller choice, and could help reduce congestion and improve air quality in urban areas, if they replace journeys by car. The rise of non-active micromobility, however is unlikely to offer any physical activity benefit and could be detrimental if they replace trips that would otherwise be walked, cycled or taken by normal scooters. Independent evidence from France suggests this is the case and that shared-scooter programmes are unlikely to replace journeys by car. [5]
Therefore Sustrans prioritises fully or partially active forms of micromobility. We need to continue to be doing everything we possibly can to enable more people to walk, cycle or use a scooter for short journeys in the UK.
Physical inactivity costs the NHS around £1 billion per year, and wider society £7.4 billion [6]. Increasing the number of active trips has the potential to prevent and manage over 20 chronic health conditions by building physical activity into daily activity. Sustrans thinks more needs to be done if e-scooters are legalised in the UK to ensure that, as a mode of transport, they replace driving as opposed to walking and cycling.
Supporting inclusivity, equality and social justice
Cities and towns drive both prosperity and inequality. If you are from a lower social-economic background you are more likely to live further away from high-quality services, and transport infrastructure and choice is likely to be worse. In addition, poorer communities suffer more from local air pollution, road safety and physical inactivity. Sustrans therefore strongly supports models of micromobility that offer genuine transport choice for everyone not just those that can afford it or live in wealthier neighbourhoods.
Shared bike and e-scooter schemes often target urban or city centre journeys and richer areas. Schemes ran in partnership with the local authority are often far cheaper than the cost of a car or the use of public transport. However, some schemes can also be potentially prohibitively expensive for many users. Schemes run for profit without public subsidy are unlikely to reduce transport inequality in cities, and may not even be financially sustainable.
Shared cycle schemes with public/private cooperation and funding are likely to be more inclusive overall. For example Nextbike is looking to incorporate adapted cycles into their scheme in Cardiff later in 2019, which would make the scheme more accessible and inclusive for disabled people.
Governance should also ensure the rise of shared micromobility schemes do not impact on pedestrians. 'Dockless' shared schemes must ensure users do not leave cycles or scooters in the way of people walking and people do not cycle or use scooters on pavements.
Public concerns have arisen from street clutter from dockless bike schemes. This is exacerbated by multiple scheme providers operating in the same city competing for ridership. This can make space more hazardous and difficult to navigate for people walking, especially disabled people, children, older people and people with buggies. 
Benefiting society, the economy and the environment
Finally, Sustrans believes the rise of the micromobility sector should be governed to create both local economic benefit alongside improvements for society and the environment.
This starts with ensuring the safety of new micromobility vehicles and services for both users and others around them. For example whilst some initial data shows no significant adverse impacts on safety for other road users due to e-scooters [7]. When considering the legalisation of e-scooters and other forms of new micromobility, the needs and safety of other vulnerable road users, must also be considered, for example setting limitations on speed and power, and banning their use on the footway, except where you are legally permitted to cycle. Micromobility vehicles with a motor should always be speed limited to 25kph (15.5mph) for e-cycles and 20kph (12.4mph) for e-scooters.
All forms of micromobility are likely to improve congestion in cities as long as trips replace car journeys due to the smaller vehicle size in comparison to cars. Secondly micromobility tends not to release emissions and therefore air quality benefits may be made if car journeys are replaced and reduced.
The greatest benefits for health and climate change are likely to be made for fully active micromobility modes, although pedal-assist electric cycles also offer significant benefits for health, climate change and can make cycling more inclusive, especially for older people and disabled people. Electric cycles can also support longer everyday journeys.
Regular charging of e-scooters and e-cycles can have an environmental impact until all our energy is from renewable sources, as does the need to replace batteries. There is also the environmental impact of vandalised or abandoned vehicles, for example dockless cycles.
Finally micromobility can help streets and neighbourhoods become more liveable and attractive places to live, visit or travel through. However this will only occur if our streets are designed to make it more attractive to walk or use micromobility to travel around in combination with public transport as opposed to using a car. We need to encourage people to reduce their use of larger motor vehicles by creating safe, often separated space for walking, cycling, using a scooter or any other form of micromobility.  
References
[1] ComoUK https://como.org.uk/shared-mobility/shared-bikes/where/
[2] https://www.gov.uk/government/publications/powered-transporters/information-sheet-guidance-on-powered-transporters
[3] https://www.gov.uk/government/publications/future-of-mobility-urban-strategy
[4] Bourne et al 2018. Health benefits of electrically-assisted cycling: a systematic review. International Journal of Behavioural Nutrition and Physical Activity 15:116.
[5] 6-t, 2019. Uses and users of free-floating e-scooters in France https://6-t.co/en/free-floating-escooters-france/
[6] NICE, 2018. Physical activity and the environment https://www.nice.org.uk/guidance/ng90/chapter/Context
[7] Portland Bureau of Transportation, 2018 E-scooter Findings Report, January 2019