The 20-minute neighbourhood approach seeks to ensure that people have a choice to live within walking distance of more services and amenities, such as schools, shops and parks. This not only creates safer, healthier and happier communities, but also helps to reduce the amount of traffic on our roads and improves air quality for all.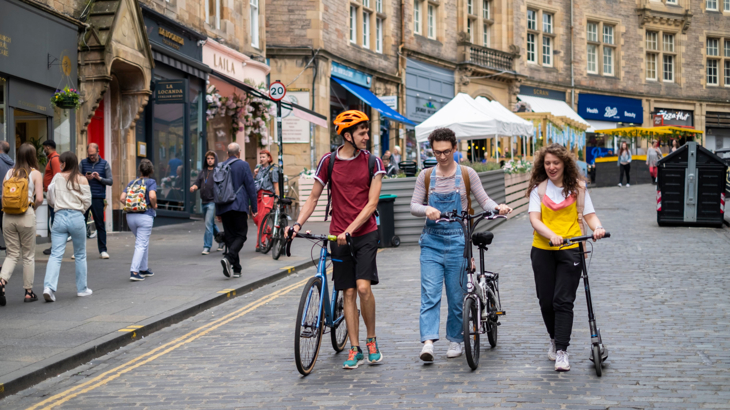 The 20-minute neighbourhood planning approach aims to help people access the things they need to live well whilst creating safer, healthier and happier communities. Credit: Brian Sweeney
Summary
20-minute neighbourhoods (also referred to as 15-minute cities) is a planning approach that aims to give people a greater choice to access the things they need to live well.
Many existing and new neighbourhoods are built too far away from services and amenities to allow people to walk to them, or at too low a density to sustain services and amenities locally. This means people require cars for many journeys.
The 20-minute neighbourhood approach seeks to ensure that people have a choice to live within walking distance of more services and amenities, such as schools, shops and parks.
20-minute neighbourhoods also aim to improve transport infrastructure helping people to walk, wheel, cycle, or use public transport to make everyday journeys within and beyond a neighbourhood convenient, safe and comfortable.
People are still able to travel by car, but most journeys will not require a car where other options are available.
Context
Urban development in the UK since the 1960s has in many cases separated where we live from what we need.
We have, too often, built houses in the wrong places, far away from existing communities and services.
Too many new developments and neighbourhoods are planned with a low housing density which means shops, public transport and other services are not financially sustainable.
These factors lock people into car dependency as they need to travel further every day.
At the same time, libraries, post offices, banks, and pubs are closing.
This means services and amenities are further away from where many people live.
Access is becoming harder for many as vital bus services are in decline and inadequate or unsafe infrastructure stops many people from cycling.
Over a quarter (27%) of people living in towns and cities across the UK cannot easily get to places they need to visit without having to drive.
At the same time, 25% of households do not have access to a car and may be isolated with poor access to everyday services, jobs, social opportunities and even affordable, healthy food.
Many that do own a car are struggling financially because of high running costs during the cost-of-living crisis.
Car-dominated spaces are unsafe, create congestion and damage our environment and health.
They harm people who are already disadvantaged the most: the amount of traffic, the risk of road collisions and air pollution are all higher in areas of multiple deprivation.
What is a 20-minute neighbourhood?
The 20-minute neighbourhood and the 15-minute city are urban planning approaches that aim to help people access the things they need to live well whilst creating safer, healthier and happier communities.
The common idea across these concepts is creating places where people can more easily walk or wheel to access everyday amenities. It's about increasing choice.
Importantly, the approach still ensures people can drive when and where they need to, but when people will have greater choice, they are more likely to walk, wheel or use more sustainable and healthier modes of transport.
20-minute neighbourhoods are not homogeneous and will vary from place to place depending on the needs of the community and measures introduced.
They aim to make more everyday amenities accessible by a short walk or wheel, for example, a 10-minute walk there and back again.
Travel statistics show most people are likely to walk to a destination when it is within a 10-minute walk, or 20-minute return trip.
Most people can walk or wheel a distance of around 500-800m although it should be remembered this is not always the case.
Many experts argue that some services, for example green space and bus stops should be within 400m of where people live.
People are more likely to walk, cycle or use public transport, and less likely to drive when travelling to amenities within, as opposed to outside, of their immediate neighbourhood.
For example, data from our Walking and Cycling Index suggests that when a primary school is more than a 10-minute walk away 51% of people drive to it.
When it's within a 10-minute walk, only 23% drive.
By making sure more neighbourhoods are compact and contain a mix of different shops, services and amenities, we give people the choice to walk or wheel.
In addition, more compact neighbourhoods will also support greater cycling and public transport opportunities to reach other areas.
What Sustrans thinks
Right now, many people simply do not have access to services and amenities within their own neighbourhoods.
Sustrans believes that planning should centre around proximity and walkability.
20 minute-neighbourhoods and 15-minute cities have the potential to give people greater choice to access more things locally.
20 minute-neighbourhoods also seek to make it easier to move around using sustainable modes, as opposed to locking them into car use.
These approaches, however, do not restrict people from going elsewhere, or driving if they want to.
Good 20-minute neighbourhoods need to be accessible to everyone.
A diverse range of genuinely affordable housing, as well as services and destinations, should also be provided for people at different life stages.
It is vital that, when changes are made, the local community has an opportunity to help shape the designs, especially people who are least likely to be engaged, including disabled people and children.
An independent survey for Sustrans found 79% of people living in urban areas across the UK support 20-minute neighbourhoods.
This was based on 'a neighbourhood where it is easy for people to meet most of their everyday needs in a short, convenient, and pleasant 20-minute return walk or wheel'.
Most people want to live close to food shops, parks, GP surgeries, schools, public transport, post offices, cafes and community spaces.
Giving people the chance to live nearby these everyday services and amenities would reduce billions of car journeys in urban areas every single year.
A key way local authorities can help create 20-minute neighbourhoods is to consider the proximity of services when new sites for housing are allocated, along with considering how they provide services where people need them and encourage a vibrant mix of businesses.
A 20-minute neighbourhood approach will help disperse investment, jobs and services more widely across a town or city rather than just focusing on the centre.
This will help to create local jobs and services, especially in underfunded areas.
Many services and amenities will not be found in every neighbourhood and travel beyond neighbourhoods will remain common and desirable.
This is especially true in more rural locations where different approaches can be used to reduce the need and distance travelled for people, such as mobile services.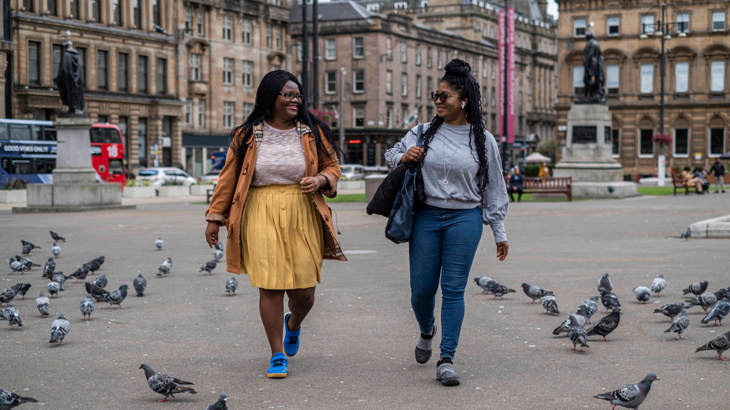 Creating 20-minute neighbourhoods will require changes to transport infrastructure too, which is of particular interest to Sustrans.
This may include improving pavements and crossing points for people walking and wheeling, banning parking on the pavement, introducing physically separated cycle lanes, lowering speed limits and increasing access to cycles.
The interface between different modes of travel is also critical; public transport also needs dedicated long-term funding and services need improving and expanding.
These changes would have a positive impact for walking, wheeling and cycling, whilst actively addressing some of the barriers that disproportionately impact vulnerable pedestrian groups, such as disabled people, the elderly, and people with young children.
Measures that cities and towns take to help people leave their car at home will help to bring benefits which include reducing rat running on residential streets (where the risk of injuries to people and children are far higher), as well as reducing traffic on main roads (for example through traffic circulation plans that prioritise and invest in walking, wheeling, cycling and public transport services).
This could transform car dominated streets into places where walking, wheeling, cycling and public transport is normal.
Cars are useful but not every journey needs one if we have greater choice to get around.
20-minute neighbourhoods provide an opportunity for more people access the things they need to live well and participate in society.
At the same time, they can also help to reduce pollution and greenhouse gas emissions, increase physical activity, and benefit the local economy.