Dr Wesley Scott has cerebral palsy and uses a wheelchair. He is a dedicated advocate of accessible design, with a PhD in designing for disability. His expertise, combined with a lifetime of lived experience of the barriers facing disabled people, has been pivotal in helping Sustrans to create urban spaces designed with everyone in mind.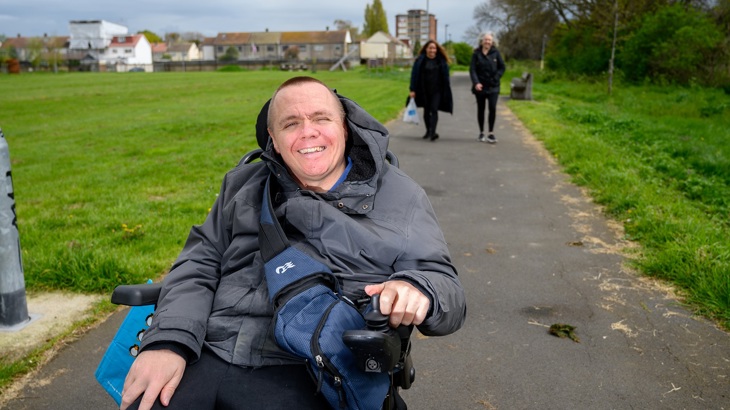 Wesley, proud of his contribution, enjoying the transformed Ripple Greenway—a safe haven and a place for generations to come. Photo credit J Bewley
Wesley is a member of the Barking and Dagenham Access group and lives in the borough.
He was a key stakeholder in the Sustrans-led redevelopment of Ripple Greenway park in Barking.
This 1.3km linear park now offers a green walking and cycling route to school and work for thousands of local people; a safer and healthier alternative to the surrounding busy, polluted main roads.
Meaningful community engagement from start to finish
Sustrans approached the Barking and Dagenham Access group, which brings together people with a range of disabilities, to work on this project from the beginning. Wesley says:
"I've been involved in a lot of redesign projects over the last 10 years.
"Working with Sustrans on Ripple Greenway has been the best example of genuine co-design I have seen.
"We visited the site beforehand, and the designer said 'Right, tell us what you want.'
"At first you wonder if it's just lip service, but they really listened and took notice of what we said.
"When I went back, it was great to see specific recommendations we made were in place, like the use of smooth, wheelchair-friendly surfaces for the paths.
"Sustrans were open to ideas and willing to learn from the honest feedback I gave.
"But I also appreciated that they were open and honest in return when things we'd asked for weren't possible.
"Sustrans were not just interested in ticking boxes or making sure they met their obligations under the equality act. They want to get it right for everyone."
Community engagement on Ripple Greenway purposefully brought together different groups of stakeholders.
Wesley was involved in collaborative design workshops with people drawn from across the local community:
"It was vitally important that lots of different groups had a say in the park's development and that we worked together to get things done, not separately.
"This way of working meant there was no 'them and us', just 'us'.
"The whole process was led by the people who were going to use the park.
"It wasn't just disabled people that had a voice, everyone did.
"What we produced together was a really good piece of work."
I'm proud to have helped make my community's greenspace more accessible and safer for all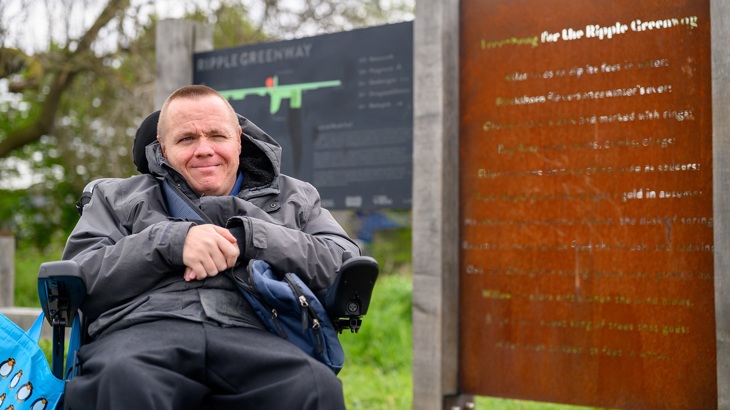 Dr. Wesley Scott, a dedicated advocate for accessible design, overlooking the transformed Ripple Greenway park in Barking. Photo credit J Bewley
Why local voices need to be heard
"Barking and Dagenham is my home. It gets a bad press sometimes but that's unfair, I am proud to be from here.
"It's an ethnically diverse community that still has the hallmarks of the old East End.
"People take care of each other and look out for each other.
"When charities like Sustrans invest in work to improve our local spaces, and properly involve us, it encourages everyone to take responsibility.
"We're all more likely to look after places when we feel a sense of ownership, that they are ours."
A green escape in an urban community
Wesley's reaction to the redesigned space shows what can be achieved when solutions are developed that work for everyone in the community. Wesley says:
"When we did that very first site visit, it looked so neglected and unsafe.
"It was incredible to go back and see it transformed into a place that I actually wanted to be, a park that I would take my niece and nephews to.
"It felt like an escape, like being in the countryside.
"Access to green spaces is so important. It really helps with your mental health.
"Just a little walk outside can take away those feelings you get on a bad day.
"There are way too many people living in urban communities with no safe green spaces.
"It's terribly sad because we all need to have that easy option to escape, to get outside.
"The work that Sustrans does is even more vital now.
"With so much development work going on in towns and cities, we need to keep green spaces for the community, and make them safe and accessible for everyone."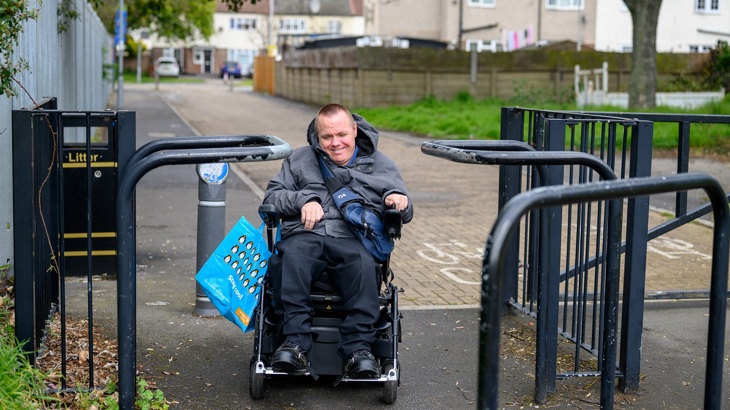 Wesley emphasises the importance of safe and accessible green spaces in urban communities for mental health and well-being. Photo credit J Bewley
"Being treated as an equal partner makes me feel valued."
Wesley feels working collaboratively on projects like this also had a positive impact on him personally:
"Being involved in this work gives me value. I feel worth something.
"Sustrans treat me as an equal partner and value my experience as a disabled person. They take me seriously.
"I believe, with this project, we've created a blueprint for how engagement with disabled people and other harder to reach groups should be conducted.
"That's very important to me as all I want to do is change things.
"I don't want anyone else to experience the discrimination I have.
"All my life people have told me things aren't possible and I have proved that they are. I won't take no for an answer.
"It also means a lot that I have been given a chance to give back to my local community.
"Barking and Dagenham is where I am from, and I feel like I've helped Sustrans to create a place local people will use for generations."
Sustrans worked in partnership with the London Borough of Barking and Dagenham and the Greater London Authority to reimagine the Ripple Greenway and to bring this neglected greenspace to life.
This ambitious transformation was made possible with £440,000 from the Mayor of London's Capital Green Grant and £350,000 provided by Barking and Dagenham regeneration experts Be First. We also collaborated with walking charity Living Streets, Trees for Cities, Barking and Dagenham Access groups and other community groups.
Share your #SustransStories
Every journey is unique, and your experiences can inspire others. Get in touch with us.

Fill this quick form to let us know about you and your story.