79% of disabled people say funding to maintain and improve pavements would help them walk or wheel more. As an LGBTQI person and a wheelchair user, Dennis explains how the environment prevents her from easily reaching Manchester's Gay Village to spend time with her community. As a participant in our Disabled Citizens' Inquiry, she talks about how more can be done to make her nearest city centre more accessible for all.
Confronting pavement parking shouldn't be the task of the person affected
"I experience various barriers moving around Manchester. 
"The pavements where I live are old and have potholes, tree roots, sunken patches, bumps and dropped kerbs, which are often in the wrong places.
"As soon as I come out of my cul-de-sac I have to go into the road because of issues with pavement surfaces and pavement parking.
"I am often forced onto the road and sometimes onto a dual carriageway. It's really frustrating.
"Some of my close neighbours will think about where they park and leave space for me because they know that I live there.
"But once I leave my avenue nobody knows I'm coming and they just don't think about it.
"In some places, the cars take up the majority of the pavement and block the dropped kerb. 
"It's not too much of an issue as I can avoid some of the worst areas.
"But when my children were small I had to teach them to walk parallel with me on the pavement while I wheeled on the road because I didn't want them to walk on the road with me. 
"Some drivers don't understand they're not entitled to park there. Others don't care.
"Having to speak to someone about this is humiliating. It individualises the problem.
"I shouldn't personally have to go to each person who's parked on the pavement.
"It's not my job to have to talk to them, it's really isolating and it makes you feel rubbish.
"I just want to leave my house and get to where I'm going with the same ease as everybody else, but unfortunately, as a disabled person, I meet a lot more barriers."
Problematic public transport

 
Dennis explained how travelling by bus can leave her with a headache and feeling sick. She said:
"My preferred mode of transport is the train because it's the smoothest ride.
"But due to the renovations going on at Manchester Piccadilly train station, there hasn't been a reliable lift on the platform I arrive at and the temporary lift there keeps breaking. 
"This means I've been getting the bus more to get into the city centre, but the motion of the bus stopping and pulling off again from stops throws my body around.
"It feels like you're a bead on a tray being shaken around. For me this causes migraines.
"I usually arrive at my destination with a headache and sometimes feeling sick."
I just want to leave my house and get to where I'm going with the same ease as everybody else, but unfortunately, as a disabled person, I meet a lot more barriers.
More areas of the city should be made accessible

 
Dennis highlighted an example area in the centre which has been designed with accessibility in mind, and other places which are harder to navigate as a wheelchair user. She continued: 
"St Peter's Square near the central library is an area that's really accessible. There's level paving, dropped kerbs, ramps and level access trams.
"Manchester Central Library is the centre of my world when I come into the city.
"This is where I know I can go to the toilet, access food and drink: this is where I know I'll be treated with respect. 
"If there are any access problems I'm not going to be treated like it's my problem.
"The main roads coming out of that area are also good as they have fairly wide pavements.
"I find that when I want to go to areas off the main roads, things become less accessible.
"Because Manchester is an old town, it's full of cobbled streets and dropped kerbs which have mainly been designed for cars and the dropped kerbs are often very steep. 
"I end up having to approach these dropped kerbs diagonally and there's a risk of me tipping over."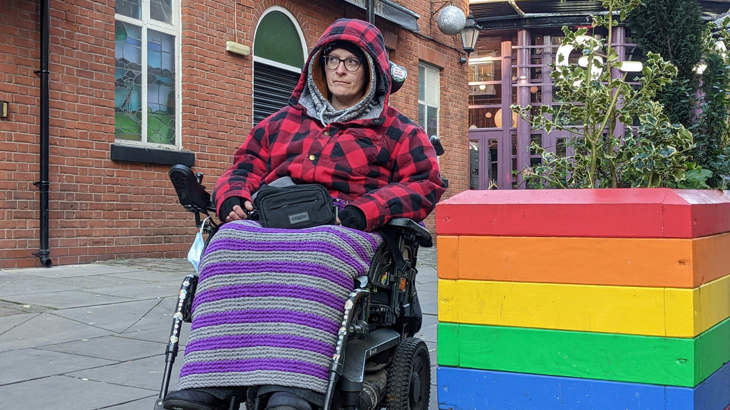 Photo credit: Tom Hughes/Sustrans.
Accessibility issues cutting people off from communities
"Unfortunately, there are lots of areas which are no-go zones, even in the centre.
"As an LGBTQI person, I've been going to Canal Street, which is also known as the Gay Village, for 30 years, and now for me it's a no-go zone.
"I go occasionally when I know I can sit outdoors and I don't have to access a building, and it's not overcrowded.
"I'm sad to say that apart from a couple of venues, the access there is no better now than it was 30 years ago.
"For me, Canal Street is particularly problematic. I'm still part of our community, but honestly the only time I could access it well was when I wasn't a wheelchair user.
"Now I can't remember what going everywhere feels like, it's just not a thing.
"Nearly all of the venues on that stretch are inaccessible to many disabled people and that's not right.
"For me, I've been lucky, at least I was able to access these places earlier on in my life so I feel entitled to be in that space.
"But for young disabled people who want to go out in the Gay Village, when you go somewhere like that it may be the first time you've accessed the LGBTQI community and that's really important.
"It may be the first time you've made those kinds of connections, friends and accessed a community which can support you in times of crisis.
"They're not just bars, they're culturally important to us."
As an LGBTQI person I've been going to Canal Street, which is also known as the Gay Village, for 30 years, and now for me it's a no-go zone.
The benefits of getting around using an electric-powered wheelchair

 
"Before I got this amazing piece of equipment, I couldn't even get to my nearest bus stop independently as I had to avoid pavements by using taxis, which are expensive and reduce your journeys. 
"For people who use a manual wheelchair, unless you have a lot of upper body strength and you're moving along a flat surface, it's tricky to wheel outside.
"Especially on roads with uneven surfaces and potholes, it becomes near to impossible. 
"It's nice to be able to get to public transport now, as my electric-powered wheelchair can just about climb over these rubbish pavements.
"But many people don't have the equipment they need to be able to do this too."
More can be done
"Although access to buses, trams and trains in Manchester has improved, nobody's thought about how you get to them from your house.
"We need honesty and dialogue to understand that it's not just about the accessibility of buildings and buses, it's about how we get to them in the first place."
Find out how we're giving a voice to disabled people in walking and wheeling policy and practice in our Disabled Citizens' Inquiry.