Ying grew up believing that cycling was something only other people did. After years of missing out, Ying bravely decided to grasp the handle bars in her early thirties and learn how to ride a bike. She tells us how she took this big step and how it felt to learn as a grown-up.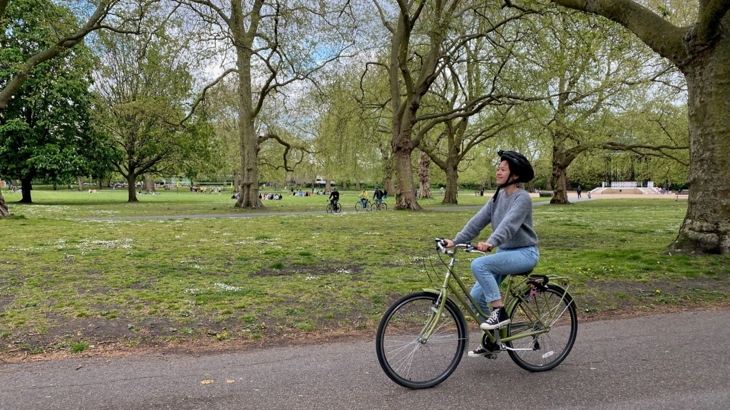 Parks were perfect spaces to practice cycling when Ying first started learning to ride a bike. Credit: Zak Rich
"I'm the beast!" yelled Ying as she pushed down on the pedals of her bike, full of joyful determination.
As the wheels began to turn, Ying's bike started to wobble again.
But this time, Ying took a sharp intake of breathe, quickly tightened her grasp on the handlebars and regained control.
In this moment, Ying realised that she was in charge of her bike.
It wasn't in charge of her.
Cycling is what other people do
Ying was born in London but left as a toddler and grew up in Australia.
Five years ago she moved back to the UK.
Reflecting on her early years, Ying told us:
"I've always loved hiking and life outdoors but I suffered from a back condition when I was young and this left me quite fearful of doing anything which might cause me further damage.
"My family also discouraged me from cycling as a child, thinking it would have been too risky for me."
As Ying grew up, there were several occasions where she'd get on a bike with the hope of learning to ride.
"I even went on a tandem once but I just couldn't get comfortable with any bike.
"Cycling looked so easy when other people did it.
"But as soon as I was behind the handlebars, I'd have a mental block on how riding a bike was even physically possible.
"I also feared falling from a bike in motion, which made me very hesitant to pedal at any great speed.
"This in turn didn't do my balance any favours.
"I was stuck in a mind and body catch-22.
"By the age of 30, I just assumed that cycling was something that other people did, but not me."
As soon as I was behind the handlebars I'd have a mental block on how riding a bike was even physically possible.
Learning to ride a bike in Oxford
Aged 31, Ying was living in Oxford, a city that teems with bicycles.
"I thought to myself, everyone here is riding a bike, my partner Zak included.
"This is my time. It's now or never."
It seemed that everyone else was seeing and experiencing Oxford in a way which was out of reach for Ying.
So she took the plunge, bought a bike and headed off to her local park with Zak.
"I was expecting to start riding with stabilisers but found them impossible to find for adult bikes in our local cycle shops."
Ying instead opted to use her bike much like a children's balance bike.
Her feet scrolling the ground whilst Zak hovered at the back of her saddle, ready to offer stability.
"The idea that I had to overcome was that the bike itself was an unpredictable beast.
"Something which would suddenly pull away from me or determine its own speed.
"The epiphany came when I realised that I was in control and it was me who was responsible for all of the bike's movements.
"I was the powerful beast, not the bike."
The epiphany came when I realised that I was in control of my bike and it was me who was responsible for all of its movements.
Cycle training in London
Whilst Ying had loved riding around the familiar paths of Oxford's parks, a lack of confidence was holding her back from cycling on roads.
When she and Zak moved to central London, Ying's cycling experience was beginning to plateau.
Determined to take the next step and master cycling on London's streets, Ying signed up for a free class with Cycle Confident.
A training organisation whose aim is to 'unlock London by empowering everyone to cycle confidently and safely'.
Ying received a 1:1 session with a friendly and knowledgeable tutor who showed her how to navigate London's traffic.
"They took my skills and confidence to a level I never imagined possible."
Ying also arranged a ride with a cycle-confident friend.
Ying recommends buddying up with someone who you can talk to about your fears but who won't let you give in to them.
"Ask a friend to draw up a route which they think you'll be comfortable with and take it turns to lead the ride."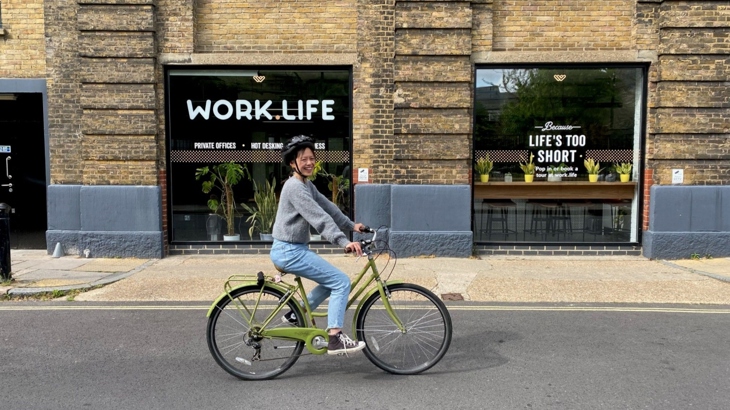 As Ying's confidence has grown, quiet streets have enabled her to try cycling on roads. Credit: Zak Rich
Building confidence in low-traffic neighbourhoods
When the pandemic arrived, Ying was still getting to grips with finding places in her new area where she felt safe to continue learning to cycle.
"I really don't feel able to cycle outside of protected spaces, especially in London.
"My borough's response to Covid meant that there were suddenly more protected cycle lanes and low-traffic neighbourhoods (LTNs) springing up.
"I know not everyone has welcomed LTNs, but for me and my family they've been amazing.
"It's interesting to see how they establish new norms and I'm all for us having our travel habits challenged.
"Though the transition to LTNs is hard, I think it's very worthwhile."
So much joy
Ying told us that cycling has been so much more than a new skill.
"At first it was an entirely new and visceral physical sensation.
"A new way of being in and of viewing the world.
"How often do you get experiences like that as a grown-up? It was incredible."
Cycling has brought Ying so much joy.
She now cycles alongside Zak with their baby daughter in a seat attached to the back of Zak's bike.
As well as making memories with her family, Ying's found that cycling offers a practical transport option for some of her everyday journeys.
"Cycling is fast, low cost and convenient, especially in Central London."
Ying's advice to any adults who are considering learning to ride a bike is to go for it and don't give up.
"The rewards will come before you know it, you'll be so proud and feel exhilarated.
"This is a life skill you can keep forever."
Cycling was an entirely new and visceral physical sensation. How often do you get experiences like that as a grown-up?
Ying realised a childhood dream in her thirties.
And she has two more cycling goals on the horizon:
To cycle to work
To cycle with her daughter in her child's seat, on the back of Ying's own bike.
Ying's story reminds us that it's never too late to take on new challenges or to make changes to our own routines and lifestyles.
We can change the way we live and move, making us and our communities a little happier and healthier.
The path ahead might be scary, sometimes we'll have a wobble, we may even fall, but we must remember that we're in control.
So let's try to be more Ying and be the beast!
Be inspired by Ying and read our guide to cycling for beginners.
Learn how to cycle to work with confidence.