In December 2019, Nicola Jackson was left unable to walk after a road accident. Here, Nicola explains how a free bike helped her get moving again, and how she found her path to recovery on the Fallowfield Loop in Manchester.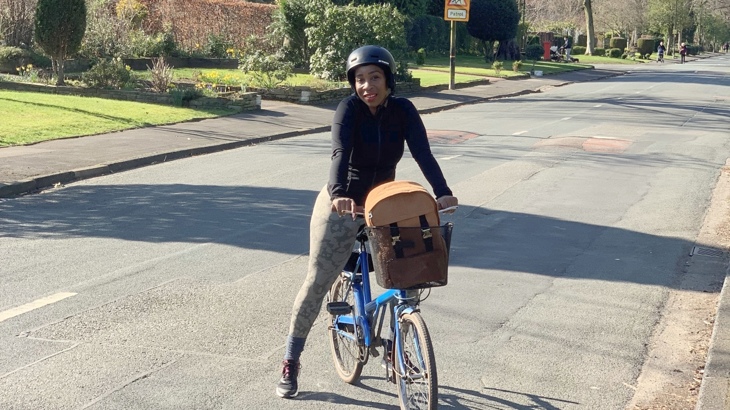 Nicola riding the bike she found through Manchester. Credit: Nicola Jackson.
A few months before COVID-19 reached the UK, I was stuck in my own personal lockdown.
I couldn't walk. Pain would shoot through my body at even the simplest of movements.
This was how a road accident in late 2019 left me.
Bound to my wheelchair, I struggled with insurance claims and paperwork to get the support I needed.
It wasn't until October 2020 that I received a proper diagnosis and was passed on to specialists.
Learning to walk again
I've always been an active person, so to spend such a long time immobile and away from work was a real struggle.
I'd lost so much fitness and felt so limited in my body.
But with determination, I worked hard to build back the muscles in my body, walking and trying YouTube workouts (shout out to Mr and Mrs Muscle).
As 2020 turned into 2021, I took my first steps towards recovery.
Walking on the Fallowfield Loopline
I'm lucky enough to have the Fallowfield Loop right on my doorstep in Manchester - although the National Cycle Network didn't mean much to me in these early trips.
For me, it was simply a space to carry out this new job I had: to get myself moving again.
And it was a job I gave my all, walking further and further each day with the help of painkillers.
Then on one trip out in April 2021, I came across a bike with a sign attached, reading: "take me FREE".
Finding my bike
Looking at the bike, I needed a few moments to take it all in and understand.
This small, blue, step-through bike, with its handy basket and comfy-looking seat, was the perfect size for me.
It was in great condition, and best of all, it was completely free.
With my heart pumping fast from the excitement - as well as the anxiety of taking something without paying - I wheeled my new bike away.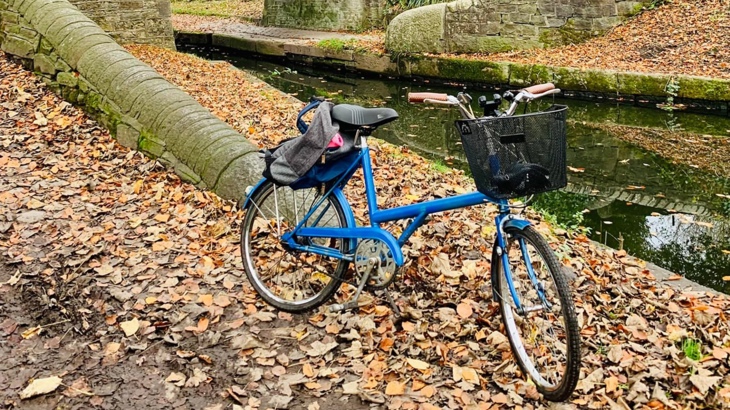 Nicola's step-through bike has changed her life and returned her sense of independence. Credit: Nicola Jackson.
Building up the miles
I'd never seen myself as a cyclist.
Despite how excited I was to set off, my feet still felt uncertain as they touched the pedals.
But I underestimated the power of muscle memory.
Between 2000 and 2001, I lived and studied in Sweden, and cycling was the main way I got from A to B.
I'd almost forgotten this experience, but it seemed my body hadn't.
So, I took to the saddle and set off, building up the miles trip-by-trip.
This experience gave me feelings of true strength and independence, feelings I'd missed for so long.
Giving in to the wanderlust
As I became more active, I could feel the pain in my nerve-damaged body reducing.
And as it did, a wanderlust gradually took its place, until there was nowhere I couldn't reach on my bike.
I started travelling further and further afield and felt so grateful for the chance to be outside and moving again.
On one early trip, I turned up unannounced at my family's house an hour and a half's cycle away.
Only a month or two before, I'd been completely reliant on them to drive me around everywhere, so you can imagine their surprise!
This experience gave me feelings of true strength and independence, feelings I'd missed for so long.
It also gave me the affirmation that I really was getting better.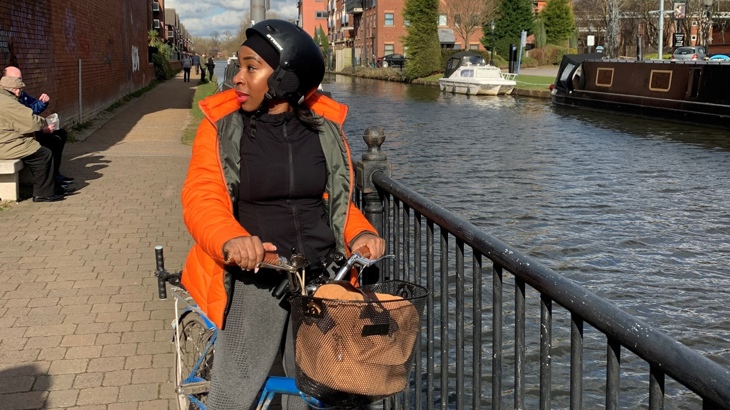 Exploring Manchester's canals by bike. Credit: Nicola Jackson.
Discovering Manchester's cycle routes and the wider community
I explored off-road paths and met so many amazing people out walking, wheeling and running.
One day, I was unlucky enough to get a flat tyre.
Still being fairly inexperienced in cycling, I didn't have a repair kit or a replacement with me at the time.
I stood there, annoyed at myself for not having been more prepared, my lesson learned.
That was until a lovely lady came along and helped me out.
She gave me some great advice on dealing with the cold and some great cycle route ideas.
I've felt so welcomed into the community I've discovered on and around the National Cycle Network.
I've met so many wonderful people on these trips, people I might not have otherwise come across.
It's led me to join the Network's Facebook group, which I now take so much inspiration from for future cycling trips.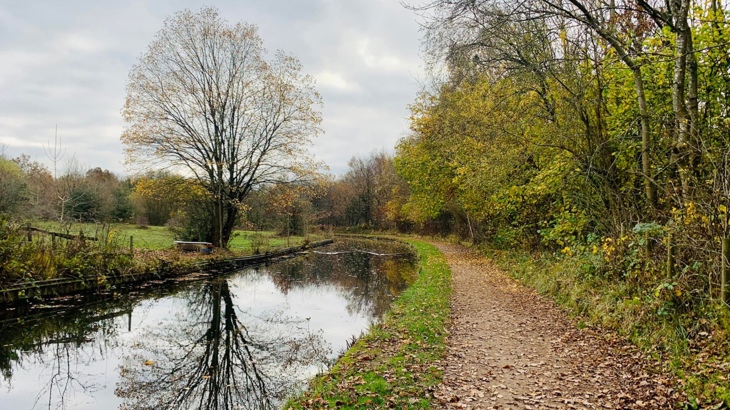 The Fallowfield Loop connects with National Routes 6 and 60, which also reach the picturesque Ashton Canal. Credit: Nicola Jackson.
A message for anyone else struggling
Since getting better, I've returned to work, but I still make time to cycle.
This winter's cold has made it tough, particularly on the right side of my body where the accident has left more of an impact.
But there really is very little that could stop me; this recovery has made me feel like I can do anything.
To anyone who might ever find themselves in the position I did, I have this to say.
Don't lose heart and don't give up.
Keep speaking to yourself and remind yourself it's going to get better - it's down to you.
Just like the rain is promised, so is the sunshine, and there will be better days ahead.
Discover the health benefits of walking and cycling for yourself, and try our cycling guide for beginners.


Want to experience more of the outdoors for yourself? Take a look at our list of the UK's best greenways to walk, wheel and cycle on.