Lord Mayor Kate Nicholl always wanted to cycle but had been scared to. As part of her environmental challenge, Kate wanted to ditch the car and cycle to City Hall, as well as use her platform as Lord Mayor to promote active travel. A cycle training course with Sustrans gave Kate the confidence to realise her ambitions. Kate tells us her story...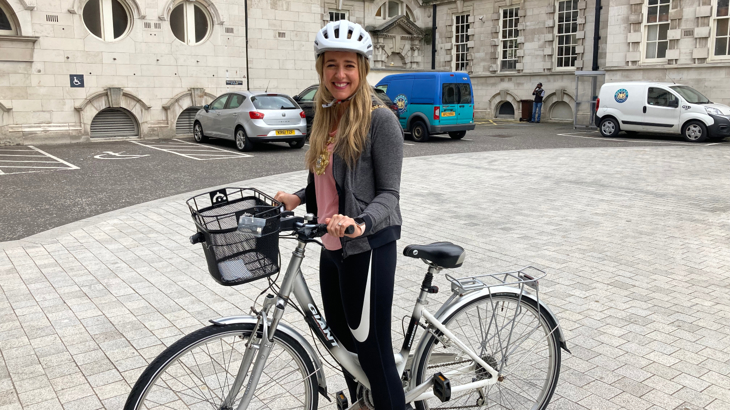 Belfast Lord Mayor, Kate Nicholl outside City Hall.
Wanting to ditch the car
I'm an Alliance party councillor and became Belfast Lord Mayor this year.
During my time in office, I want to increase awareness of the environment by taking on a different environmental challenge each month.
I've always wanted to cycle but have been scared to.
I thought taking up the challenge to ditch the car and cycle to City Hall would not only be a good way to overcome my fears but also enable me to use the platform of Lord Mayor to promote active travel.
Woman into Cycling course
Sustrans is one of my official mayoral charities and they encouraged me to get cycling again.
From our conversations, it was also clear that there are gender issues within cycling.
Many women like myself lack the confidence to cycle and while improving infrastructure is the main issue, training can really help too.
I enrolled in their six week Women into Cycling programme to help me overcome my fears and to set an example to other women.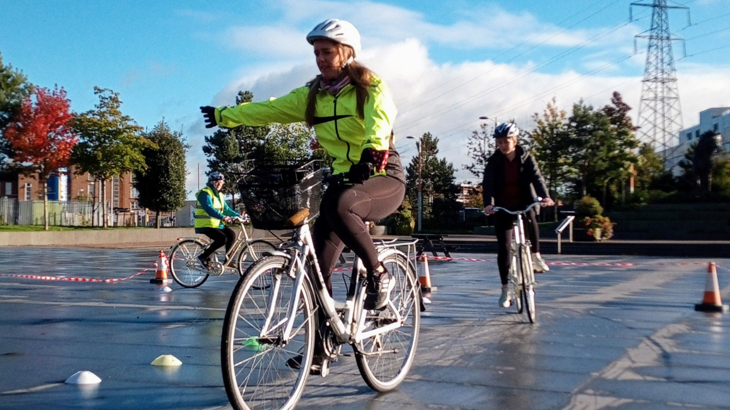 Kate Nicholl took part in our Women into Cycling six week course to give her the confidence to cycle to work.
The course gave me a new found confidence - I don't know myself. From feeling rigid with fear on my first cycle, to now confidently knowing my right to be on the road, I honestly can't believe the transformation.
You can feel empowered too
For the first few months, I religiously stuck to the same routes but I'm now happy to cycle to places I haven't been before.
To any other women who want to get into cycling, I say "just do it".
It was nerve-racking to start with but in my experience, most things that are worthwhile are.
The programme is just perfect and the wonderful Sustrans leaders will give you all the tools you need and more.
You'll feel incredibly empowered afterwards.
Thank you Sustrans for making me better and more confident at cycling.

Find out how we can help you ditch the car and cycle to work.
Get confident on your bike with one of our cycle training packages.