48-year old father-of-two Graham Hill, from Co Antrim, was a keen cyclist before doctors discovered he had a brain tumour in 2012. Here, Graham shares his story about his diagnosis and how a programme using a side-by-side bike at our Active Travel Hub got him back in the saddle.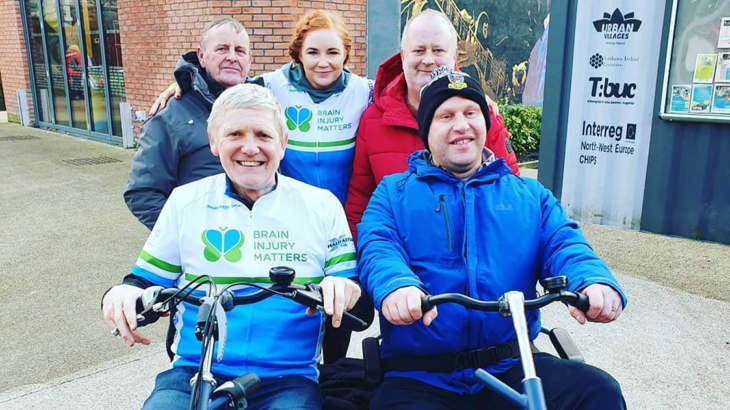 Graham Hill took part in Brain Injury Matters Pedal Power programme using Sustrans' side-by-side tandem bike at its Active Travel Hub in Belfast.
"I had started to walk funny and thought I better get this checked out.
"At first, I thought I had an ear infection, resulting from pneumonia I had earlier in the year.
"So I scheduled a private consultation at the Ulster Independent Clinic, using the Health Insurance I had through my employer. 

"The ENT doctor conducted some balancing exercises on me and a hearing test, but after drawing a blank, his last throw of the dice was a head MRI.
"Bingo! There it was, bold as brass, as I came off the scanner table, the doctor beckoned me into the scanner control room, and was pointing at one of the screens.
"There it is", he said.
"We've found the root cause of your trouble. You have a tumour or some sort of a cyst in your cerebellum, that explains your on and off balance issues."
On the road to recovery
"I had surgery to remove the tumour but it left me with a brain injury including double vision, hydrocephalus and a very poor walking gait.
"After a couple of years of recouping, I felt good again and got back on my bike but in 2017 I had a fall whilst cycling in a forest.
"I wasn't able to cycle on two wheels after that."
But Graham's cycling days were not over.
While getting treatment with a physiotherapist, she learned about Graham's love of cycling and suggested he try the Pedal Power programme with the charity Brain Injury Matters.
The side-by-side tandem sessions gave me the confidence to think I may be able to cycle independently again.
Side-by-side pedal power
Brain Injury Matters offered a 10-week programme using our side-by-side tandem bike at our Active Travel Hub in C.S. Lewis Square in Belfast.

The side-by-side tandem bike works with a pilot who controls, steering and gearing along the traffic-free Connswater Greenway which helped give Graham his confidence back.
The sessions were then stopped when the Covid-19 pandemic struck in 2020.
"I really loved it, so much so that I looked into getting a tricycle," said Graham.
"Brain Injury Matters held an event in the North Coast and Glens council area, where they showcased different types of adapted bikes on the market.
"Bikes for wheelchair users, bikes for people with poor balance like me – it was amazing, it certainly opened my eyes, in a good way."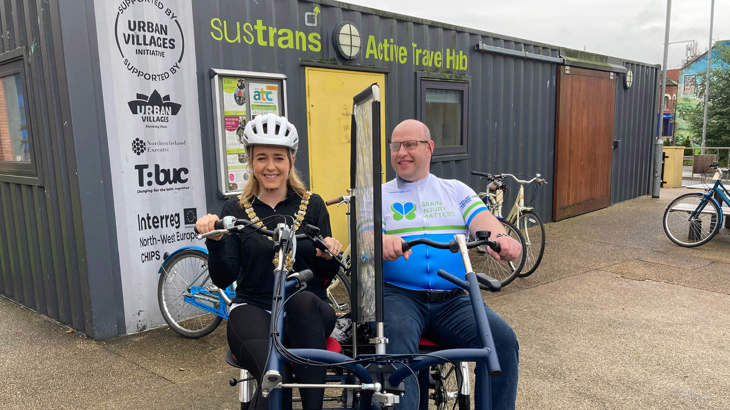 Lord Mayor Kate Nicholl and Graham Hill on the side by side bike at CS Lewis Square
Confidence to cycle independently
Graham has had his tricycle just under a year and is out on it every day, weather permitting.
He does around three to four miles each day on country roads around his home between Randalstown and Portglenone.
"I feel safe enough on quiet country roads near me. The only limitation is that I have to go on flat or fairly flat roads, going uphill where you would normally get out of the saddle is impossible on a trike. 
"I would say to other people to use a greenway or traffic-free route, to try it at first.
"I definitely recommend cycling for anybody."
Healthier and happier
"I really enjoy cycling. I had also started to put on weight, as I'm not as active as I used to be and I thought I have to do something about it.
"I've lost weight cycling.
"I feel healthier and happier. It's definitely good for my mental health.
"Just getting out into the fresh air, being independent again and free to go where you want when you want is great." 
    
Read more about our range of cycle training programmes.
    
Find out more about our Active Travel Hub in C.S Lewis Square, east Belfast.