Amanda Baldwin has been walking 10 miles a day throughout 2021 on the National Cycle Network and other routes. Here she shares the highs and lows, and explains how you can support her to finish her amazing walking challenge of 3,650 miles this year.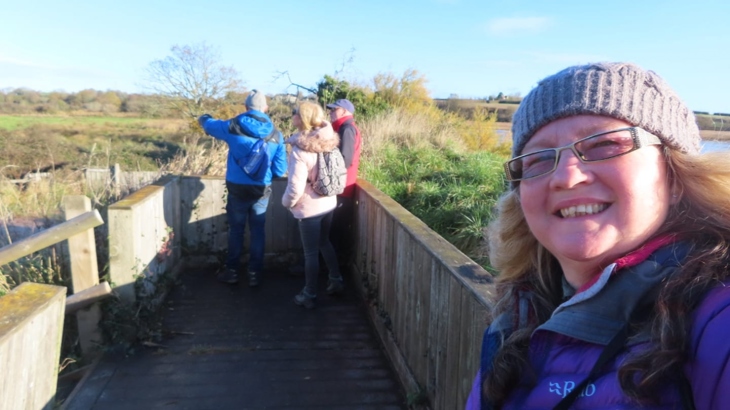 Amanda walking on the Exe Estuary Trail, National Cycle Route 2.
My epic challenge began in the depths of January's chilly winter.
But despite this first cold, as a fit and healthy 47-year old, I thought it should be a doddle.
I am lucky to have the Strawberry Line, part of National Cycle Network Route 26, on my doorstep.
And what a beauty it is to walk on; only five minutes from my house, it's flat, well-maintained and very photogenic.
So with the beautiful Cheddar located one way and the delightful Yatton the other, I knew where most of my 10 miles a day would happen.
How I'm completing my walking challenge
As a self-employed beauty therapist, I was among the many who had to stop running their business due to Covid-19.
You'd therefore have thought I'd have plenty of time to walk the miles, but unfortunately not.
I still had to work to pay the bills, so I took on a role as a care worker.
I've had to work long hours due to the minimum wage salary, which has certainly made my target a big uphill challenge.
But being half Scottish, my Highlands blood has got me through the worst of things.
I've also felt stronger than ever - sofa-surfing, binge-watching films and having a lie-in has long been off the agenda for me.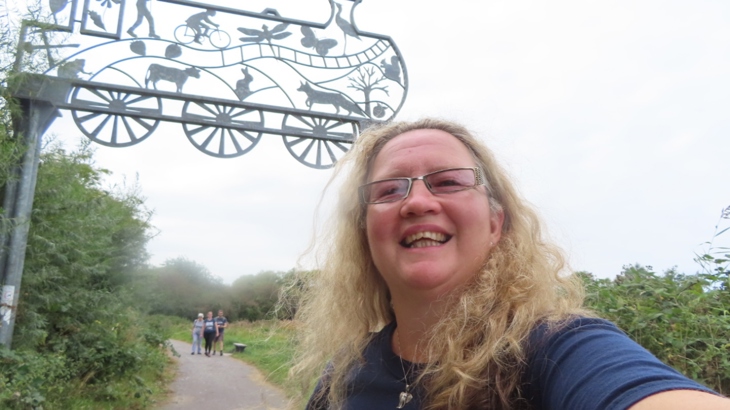 The Strawberry Line, one of Amanda's regular walks this year.
The progress so far
Checking in on Thursday 16 December, with 15 days left to go, I have a meagre 150 miles left to cover!
That's 3,500 miles done, which feels quite amazing to say.
But it hasn't been an easy year of walking.
Work, blisters upon blisters, a nasty cold and a stomach bug have all dragged me down.
So on my days off work, I've had to make up those extra miles that I couldn't do whilst working or unwell.
At my highest, I've walked up to 23 miles in a day.
I think the more that I've walked, the more I've been motivated; doing this challenge has made me realise I can put my mind to anything now.
If I were to liken myself to a film character, it would be the Terminator - nothing keeps me down, I just keep getting back up.
Walking for my health
I lost both my parents by my early 40s unfortunately, so my passion to live as long as I can burns strong within me.
I eat healthily, keep fit and keep my mind active.
I inherited high blood pressure from both of my parents, but walking really helps to lower it.
Living until my 90s is the end goal.
We are only on this planet once, so I'm making the most of my life - and I'll probably be walking until I'm in my box!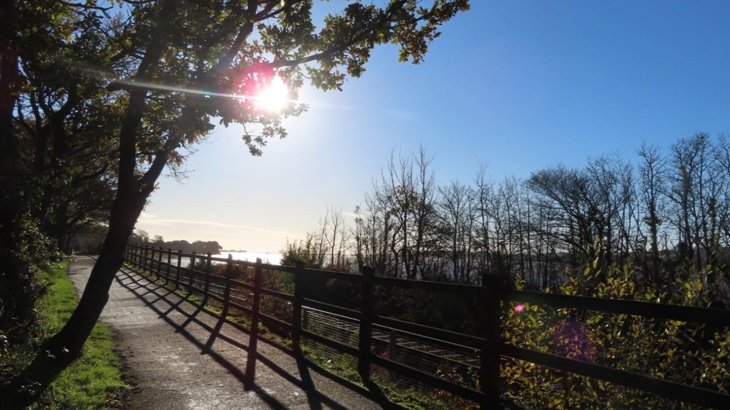 The Exe Estuary Trail in the winter sun.
Enjoying the beautiful outdoors
I have loved taking my camera out with me on my walks.
I never leave it at home as there is so much beauty out there to capture.
My Instagram account @thecurlyhairedwanderer2021 has all my pictures from days out.
I like to share my love of photography with other people, especially those who aren't fortunate enough to get out and about.
The benefits of walking 10 miles a day
The benefits of all this walking have been huge.
I've lost over a stone and a half in weight, I've dropped more than a dress size and I feel amazing.
I have more drive and determination than ever before.
I've met new friends whilst out walking and I now have new walking buddies.
My general outlook on life is so much more positive, and I hope this positivity rubs off on others.
I work less and walk more now and I enjoy the extra time to be outdoors.
I live to my means and no more - life is too precious to be stressed about not having enough money.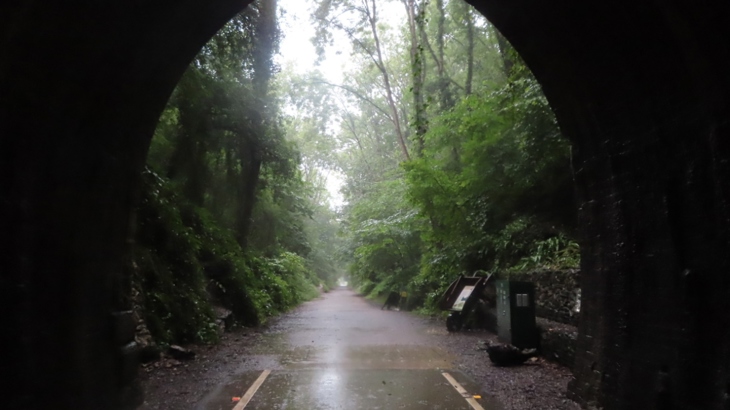 Shute Shelf Tunnel can be found on the Strawberry Line, near Axbridge.
Who I'm fundraising for
I've chosen The Marmalade Trust and Mind in Somerset as my two charities to support.
When I was a care worker, I noticed that the clients I was helping didn't have any friends or family visiting them.
This wasn't just when the lockdowns were happening but all the time.
They were lonely, they felt isolated, and their mental health was affected badly.
These two charities help people struggling with these issues, so I'm doing what I can to support their amazing work.
I've felt proud to raise vital funds for these amazing charities at the same time as making such a positive change to my own life.
How you can support me
If you'd like to donate to my epic challenge then you can find my pages (Amanda Baldwin) on JustGiving for the Marmalade Trust and Mind in Somerset.
I'd be so grateful for your support and so would the charities.
I shall be walking until the end of this year, then thinking of the next madcap challenge to complete - 2022, here I come!
Thinking of starting your own walking challenge?
To anyone else considering a challenge like mine, I would say a few things.
Firstly, and quite obviously, you need to enjoy walking, or at least be able to bear it!
Take baby steps at first and slowly increase the miles you walk each day.
You need the drive to get outside and walk in all weathers, and make sure to invest in some sensible walking boots and waterproofs.
Try to build up your network of people to go out walking with; I'm happy to walk on my own but I always relish the company of others.
There are so many great routes on the National Cycle Network that you can try out, so do some research before setting out.
The paths are brilliant, and I've never had a problem with sharing the routes with people cycling or running.
After all, we're all there to keep fit and enjoy the great outdoors!
See how you can start your own physical challenge and support Sustrans.


Get walking and enjoy the outdoors on a National Cycle Network route near you.